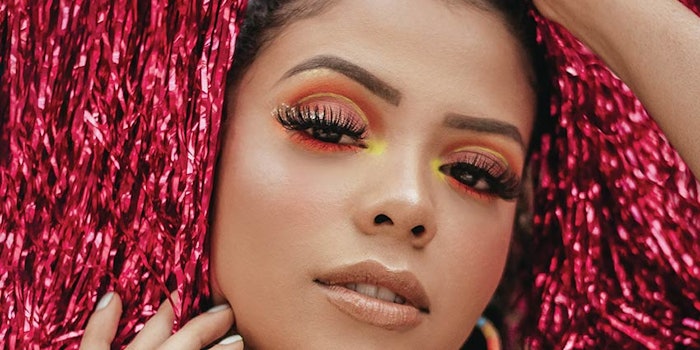 With summer temperatures fizzling out, now is the time to keep your lash trends hot. At our busy Lash Lounge, we are always trying to stay current with the cutting edge industry trends, and below you will find our top four favorites for the season.
1. Lower Lash Lift
If you have not gotten into lash lifting, then you are certainly missing out! This is a challenging technique that needs specific training, but it is a fantastic opportunity to bring more clients and revenue into your business. This is a great option for young girls who cannot afford lash extensions, or those who do not wish to be burdened by monthly maintenance. Until now, we were only seeing lifting for the upper lashes, but with special training and tiny lower lash shields, we can now lengthen and darken lower lashes as well. This could even be an option for lash extension clients to enhance their overall look.
2. The Wet Look
Take the lash spike trend to a whole new level with a wet look. This special technique can be done by using .03 or .05 lashes and high quality volume tweezers. This look can work with all lash designs and mapping. Grab a chunk of lashes from the strip without fanning. Small chunks of lashes will equate to a less dramatic look, and larger chunks of lashes will equate to a more dramatic look. Flip your tweezers towards you and use your fingertips to lightly pinch the tips of the lashes together. Dip the base into adhesive and refine your base. Apply as a spike to create this textured effect. Make sure to follow safe practices for how heavy your spike is for the natural lash. This is a perfect suggestion for those clients who have a hard time keeping their lashes open and fluffy between fills.
3. Colored Lashes
It is true in business that clients can tend to stray if they don't feel like they are being offered something new every so often. But, if we have done our perfect consultation and designed the perfect set, then how do we offer something new and fun for our clients? Enter colored lashes! This trend has existed for a while, but with more and more people choosing to express themselves creatively, letting your clients even know that colored lashes are an option might get the trend rolling in your studio.
Brightly colored acrylic retail displays can be purchased inexpensively on Amazon and fun colored lash trays can be displayed near your checkout area or treatment table to show clients the different options. Change out your color options based on the holidays and seasons; you could even add glitter lashes for New Years. Take photos of your work to show clients how colored lashes can be used to create full color effects, color blocks and streaks, or even just interspersing a few blue or purple lashes that will pop in the light and add a unique brightness to eye color. Don't forget that colored lashes come in beautiful shades of brown too. Mix this with auburn and dark orange for a unique fall look. Brown is a great option for some of your more demure clients looking for a soft and understated effect. We love Sugar Lash's mixed color trays.
4. Advanced Taping Techniques
We all learned the basics of pad placement in our original training, but if you haven't been trying some of the new more advanced pad placement techniques and taping techniques to try to get your sets to their absolute fullest, now is the time. When holiday schedules get busy, it's always great to try to find new ways of reducing your booking time. Save not only time but your sanity by using some of these taping methods. Tough inner corners? Apply a piece of tape to the outer corner of the eye, stretch the eyelid and tack down. Watch as the inner corner lashes lay out nicely and separate themselves making it much easier to apply. Tough outer corners? Try the reverse.
Straight lashes touching the pads? Place tape onto the middle of the lid and pull up slightly to lift the lashes. If you do this, be sure to double check that you haven't opened the eye.
Trying to get the lashes as full as possible, or trying to create a color effect that is more noticeable for your clients? Sifting through a full set of lashes trying to find the natural ones that are left can eat up valuable time. Lift all of the lash extensions up by grabbing the tips with a piece of tape and tack them down to the eyelid; you will now only have the un-extended lashes visible and can easily extend that front row. Apply shorter fans, classics or colored lashes to this row for an extra full or colorful effect.
Bonus Brow Trend Tip
You've heard of brow tint, and likely brow henna, but have you tried brow dye? This awesome new product is better at coloring the skin than tint, and faster at processing than henna, making it a perfect choice for those looking to not only color the brow, but enhance the shape as well. If your clients are already trusting you with their lashes, it's a no-brainer to complete the look with brows. This easy service is a wonderful way to increase your revenue.
Leah Lynch is an award-winning lash artist, master trainer, industry speaker, lash competition judge and the owner of Beautique. She is also the creator of Lash Mastery Academy, where lash artists can take their career to the next level by utilizing Lynch's advanced materials, manuals and curriculums to become a trainer in their area. lashmasteryonline.com