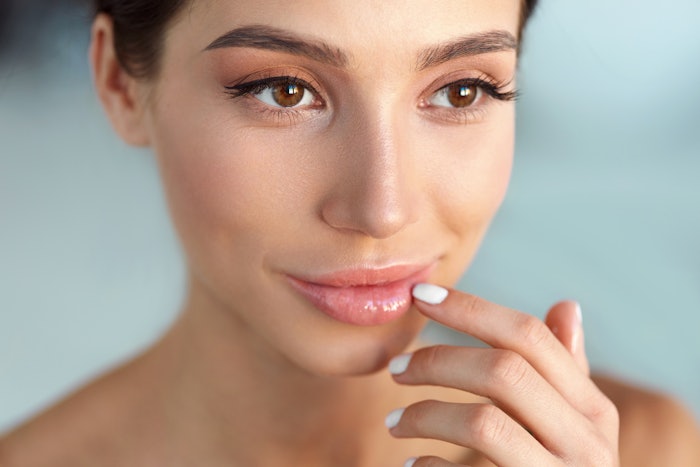 Did you know that your lips are unique? Fun fact: Just like your fingertips, there is no one our there with a lip print like yours. Unfortunately, the skin on the lips is thin (3-6 layers of cells), highly susceptible to sun damage, becomes dry easily and gets thinner with age. We invest so much time and effort in caring for our skin; we should also be dedicating the same care to our lips, and encouraging clients to do the same. Here are some of my favorite lip products to incorporate into your treatments, put the finishing touch on a service or retail by your checkout for last-minut retail boosts.
Lemony Lips
Éminence's Citrus Lip Balm is the perfect balm to keep everywhere for regular maintenance or when lips need extra moisture. It contains shea butter and sunflower seed oil for hydration and critical vitamins. Botanical peptides are also included to keep lips looking young, and the scent is fresh and happy.
Sugar Scrub
I apply FarmHouse Fresh's Whoopie Lip Polish to my lips every morning when I get ready, especially in the winter. It sloughs off dead skin cells with Georgia sugar cane and confectioners sugar, while shea butter and sunflower seed oil moisturize. Just try not to eat it, because it smells that good!
Finishing Tint
I used to be obsessed with Sorella Apothecary's Avocado Oil Lip Hydrator, and then they came out with a tinted version. Mind blown. The Tinted Lip Hydrator is the perfect finishing touch to any treatment—with both treatment and a little color combined. It is packed with moisturizers, anti-aging peptides and vitamins to ensure your client's lips are always looking good, and it comes in in three shades, named after the founders' daughters.
Plump Pout
We can't stop our lips from getting thinner as we age, but we can counteract it with Dermaquest's Stem Cell 3D Lip Enhancer. This treatment plumps lips with coffee, peptides and a lip-enhancing complex for immediate results and even more down the road.
Custom Color
The perfect lipstick is so hard to find. Imagine if you could make it for clients; you'd keep them coming back for more and solidify them as a client for life. Colorlab Cosmetics has created a Custom Blend System for lipsticks where you are given all of the elements—base, pigment, effects, additives, tools and packaging—to create custom lipsticks for your clients right in front of their eyes. I can hear the cash register now.