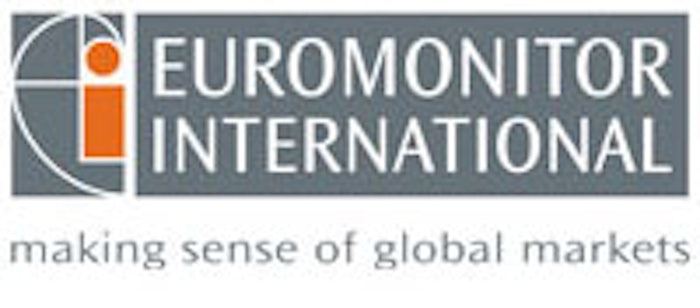 The recession has seen mixed fortunes for body care products. Body skin care has proven to be one of the more susceptible beauty and personal care categories to consumer trade-down during the recession, and suffered a drop in value growth to 5% in 2008 from 7% the previous year.
Body care products with multiple functions or those that were naturally positioned did experience growth during 2007 and 2008, primarily driven by some of the emerging markets. Euromonitor International examines the reasons behind the different growth patterns in these categories, identifies which countries are contributing the most to growth and predicts where opportunities exist for future success in body care. These trends can be directly translated into the skin care products and services offered at your spa, and may provide guidance on how to budget for body care in the coming months.
Body care threatened
The introduction of ultra budget skin care products has been a distinct trend in body skin care during the recession. Many consumers who previously purchased premium-priced brands are now trading down to cheaper and private label products as a means of compensating for more limited budgets brought about by widespread job losses and low consumer confidence. This trend is most prevalent in general purpose body skin care and hand creams, categories in which consumers are likely to compromise on price.
The same consumer tendency is reflected in spa-goers' service preferences, which are leaning toward more health-focused treatments and less luxurious, pampering options. To address this trend, many spas are offering shorter, lower priced services or those that offer multiple benefits in one sitting, eliminating some of the cost burden on the consumer.
The main threat to the growth of body skin care during 2008–2013 will be the continuing precarious state of the global economy. However, solid product innovation will remain paramount in driving demand.
Body skin care suffered from intense saturation and competition in many mature markets, such as Australasia and North America. As a result, the category in both of these regions posted negative growth in 2008, with a 2% decline in the former and a 1% decline in the latter. Many skin care brands have crafted their body ranges to target not only specific problems, but also the needs of particular age groups in a bid to prevent consumers from switching to cheaper alternatives. Consumers are continuing to restrict their beauty budgets by shopping around for their products and opting for multipurpose products that offer more value for the money. Manufacturers, keen to cater to these needs, are responding with multifunctional skin care products with a variety of benefits, such as moisturizing, anti-aging, firming and toning. The downside to this is that cosmetic manufacturers are now increasingly competing with general purpose body care sales. Whereas consumers may previously have bought separate firming, tanning and moisturizing body creams, they now only need to buy one product, and this has led to the aforementioned negative growth in key regions such as North America.
Firming/anti-cellulite body care
There is a stark contrast in the performance of firming/anti-cellulite body skin care in emerging regions and mature markets.
In Western countries, such as the United States, which saw a rather painful value decline of 5% in 2008, growing consumer skepticism about the efficacy of anti-cellulite products is having a negative impact on sales and is set to dampen sales further in the coming years. This is a result of comparatively poor media coverage. Unlike facial care, where new products are frequently and enthusiastically reviewed, most of the market-directing fashion press take the position that firming and the reduction of cellulite requires exercise and diet improvements rather than creams. As a result, there is a feeling among many consumers that most products do not live up to their claims. Because of this, the category is set to slow throughout 2008–2013 to a 3% compound annual growth rate (CAGR) globally, and even worse post a CAGR decline of 3% in the all-important North American region. This mind-set may also be reflected in firming/anti-cellulite treatment services and retail products that are available at your spa. Offering these types of products might not be a good fit for your clientele, or perhaps additional education about the benefits of these products and services can help them remain a solid seller on your menu.
Emerging regions, on the other hand, are helping to prop up sales globally. Consumers in Eastern Europe stocked up on firming/anti-cellulite products to produce a strong value growth of 19% in 2008, driven primarily by Russia, which achieved 30% growth. Latin America also produced a double-digit growth of 10% during the same period. There were several reasons for these discrepancies: Disposable incomes are on the rise in these regions; firming/anti-cellulite products are growing from a lower base; and this area of body skin care is a newer concept, meaning that consumers are not yet as cynical about the products' efficacy as those in markets where they have been available for a long time. As a result, firming/anti-cellulite products are a major area of new product development in many emerging regions. Sales soar in particular during the spring and summer months when women start visiting beaches. Anti-cellulite products are appearing as brand extensions in the portfolios of many body care manufacturers. Multifunctional anti-cellulite products, such as anti-cellulite body lotion with self-tanning and ranges with offerings for particular areas of the body, are also driving sales in up-and-coming regions.
Natural/organic body care
The naturally positioned body care segment is showing signs of better withstanding the effects of the recession. "Natural" brands are resisting trade-down far more than products that are simply premium priced but with no discernible difference in the types of ingredients used. Many consumers worry about the use of parabens in standard skin care products, and those that are marketed as being "free from" such ingredients have found a loyal group of consumers who are far less likely to switch to less expensive standard brands than those who buy regular products. With natural body care brands increasingly moving out of specialist retail outlets, such as health food shops, and into spas, having a presence in the flourishing naturally positioned body care segment is an increasingly attractive proposition for manufacturers. Spas that focus on sustainability and green initiatives also can benefit from this consumer tendency, relying on a natural/organic perspective to act as a competitive difference in a market that increasingly requires differentiation.
Outlook bright for some
As traditional key markets, such as the United States, are set for very lackluster sales in body care, manufacturers should continue to focus their attention on consumers in these emerging regions, especially because they are far less jaded by a multitude of brands all trying to make themselves heard. Demand for natural body care is likely to remain as long as consumer concerns about these ingredients persist. Organic spas, for example, are expected to grow quickly, offering more environmentally friendly products and services.