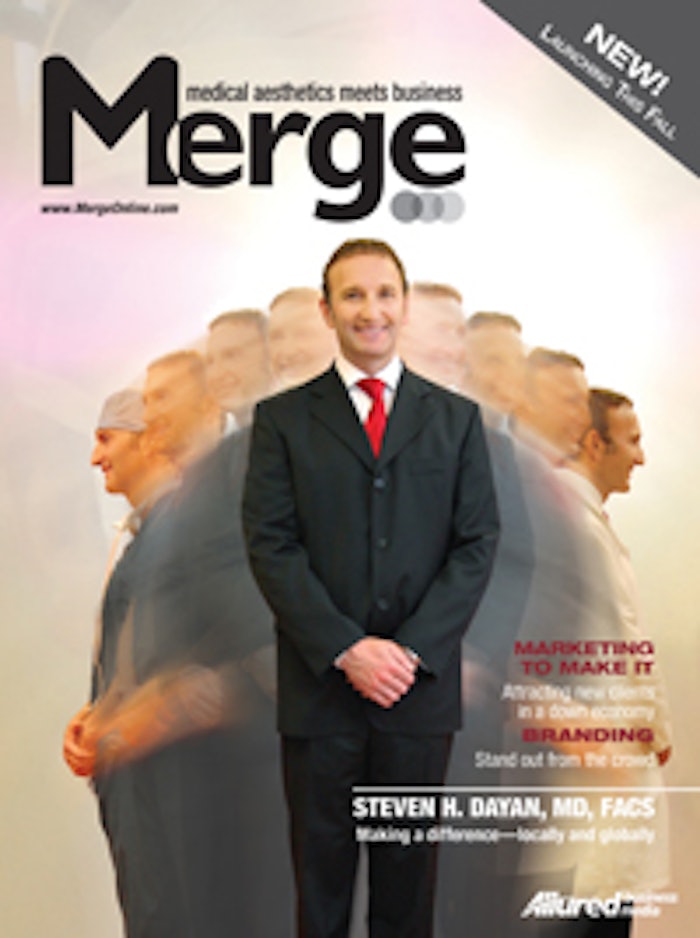 A recent survey, conducted by the American Academy of Facial Plastic and Reconstructive Surgery (AAFPRS), addressed how "The Lipstick Effect" theory can parallel current trends in noninvasive cosmetic procedures.
A parallel effect
The Lipstick Effect—derived from a phrase recently re-coined by Leonard Lauder, chairman of Estée Lauder, when he saw a huge jump in lipstick sales after Sept. 11, 2001, in spite of economic uncertainty—is compared in the survey to the 80% of board-certified facial plastic surgeons who reported an increase in noninvasive cosmetic procedures within the past year. This increase was due to consumers looking to delay the effects of aging and to avoid more costly surgeries. The most requested procedures? Botox, 96%; dermal fillers, 93%; and ablative skin resurfacing treatments, 92%.
Despite a repressed economy, both women and men are willing to spend hard-earned money on noninvasive procedures to help them look and feel refreshed, with some even opting for procedures in order to stay competitive in the workforce. "In challenging economic times, clients want value when it comes to investing in their health and the appearance of their face," says Donn Chatham, MD, president of the AAFPRS. "Value does not mean cheap, it means quality gained for the investment."
According to the International Association for Physicians in Aesthetic Medicine (IAPAM), "During times of economic uncertainty, consumers load up on affordable luxuries as a substitute for more expensive items." Medical spas and medical aesthetic practices are seeing patients choosing dermal fillers over face lifts, and laser lipolysis over surgical liposuction.
Merge magazine
In the recent years before the recession, the industry witnessed the growth of the medical spa format, which is an area that even today has been relatively unhurt by the current economic climate. According to the International SPA Association (ISPA), the medical spa industry is showing a 19% annual growth rate—the fastest-growing spa type, and the IAPAM says that the medical spa industry in the United States has experienced a growth rate of 133% during the past five years.
On this note, I am so pleased to announce the debut of Merge magazine, a new publication from Allured Business Media designed to help cosmetic medicine providers—including physicians, office managers and medical estheticians—grow their practices by supplying business solutions in a focused, easy-to-read format. Merge magazine is dedicated to helping its readers succeed in strong economic times and, even more importantly, thrive during weak economic times. Merge magazine has been designed, reviewed and contributed to by industry peers.
Set to debut this fall, a preview of Merge magazine can be viewed at www.MergeOnline.com. I'd love to hear your thoughts, so please e-mail me at taschetta-millane@allured.com.
Whether your spa offers noninvasive procedures or a more traditional menu of services, the opportunity to help your clients look their best is attainable. Look for new ways to reach out to this stressed population, and become the personification of the Lipstick Effect in your community.
Until next time,
Melinda Taschetta-Millane, Editor in Chief