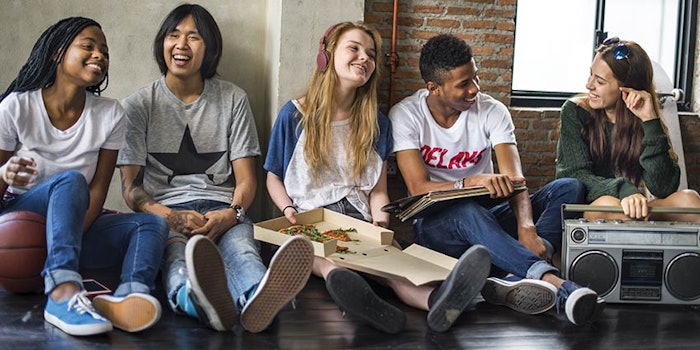 This month I interviewed 10 next generation humans about their skin routine, who buys their products and how they are influenced. The results were fascinating! Some loved talking about their skin and some "didn't even think about it" before we spoke.
1. Discomfort. "I usually don't wash my face. I don't really care what I look like, but the pimples…they kinda hurt." Jace told me he didn't care, but he agreed to try some samples after we discussed some home care options, so maybe he does care. -Jace, 13, Los Angeles
2. Scent. "I wash my face when I take a shower and use the same soap that's in the shower. I like products that smell like flowers. I'm not wearing makeup yet, just lip gloss." Kristen also shared with me that she only wears SPF when her mom tells her to. -Kristen, 14, Manhasset, NY
3. Social media. "I wash my face almost every night and use a clay mask 2-3 times a week because I think it helps my skin feel cleaner and less oily. I might see something on social media like Tik Tok that influences me to want to try a product. I also like the look of the packaging and want products that don't have a strong smell." Taj only thinks about wearing SPF if she's going to the beach. -Taj, 16, Vallejo, CA
4. Freshness. "I take a shower after lacrosse practice and use these acne wipes my mom bought me in the morning. I have some pimples, but it I don't really think about it. I would be open to getting a treatment." Will also only applies SPF when his parents say so, and he likes products that smell minty (not flowery). -Will, 13, Burlingame, CA
5. Feel. "Twice a month I use a face cream of my mom's. Sometimes it feels like I should wash my face, so I just do it. My mom chooses my products." Konner told me that she puts on SPF herself whenever she goes skiing or swimming and doesn't need her parents to remind her! She likes products to feel smooth. -Konner Sue, 10, Carnation, WA
6. Sister. "I use a face soap that my sister told me to use. My sister and my mom usually give products to me; I don't pay attention to social media suggestions for my skin care routine. I wash my face every morning and evening and put on a moisturizer. I apply SPF when I'm in the sun because I hate the feeling of a burn." Luca likes the packaging to look basic and simple. -Luca, 17, Seattle, WA
7. Mom. Harry uses an OTC face was and blemish gel. His skin care routine was created by his mom and he follows it occasionally. He has ZERO interest in skin care. -Harry, 15, Darien, CT
8. Responsibility. "In choosing products, I prefer glass packaging and I try to purchase from brands that are corporately responsible. I started wearing SPF every day by choice." Isabella's main skin concern is hormonal breakouts. -Isabella, 18, Southampton, NY
9. Eco-friendliness. "To be honest, I don't wash my face every day. Texture is important because I want it to feel good on my face. I think corporate responsibility is very important! I like to buy from brands who are trying to make reusable/compostable packaging, are cruelty free and care about more than just making a profit."
10. Tik Tok. "Tik Tok rules all! I choose my skin care with friends and Tik Tok." Anna washes her face every day and she and her friends use pre-packaged face masks while FaceTiming each other! She uses SPF (reluctantly) when her mom tells her too. -Anna, 13, Darien, CT
The next generation has strong opinions about their skin care (or lack of)! Parents and social media influence product choices and appling daily SPF is still a challenge for most.