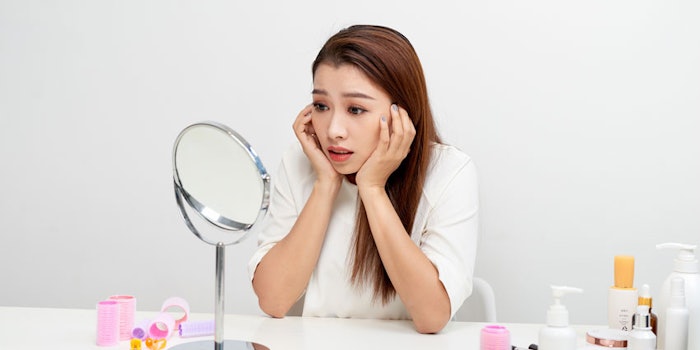 Many people who have acne are negatively impacted by the perceived social stigma around the condition. Researchers Aisling O'Donnell, Ph.D., and Jamie Davern conducted a survey to prove just that, investigating whether people who suffered from acne had correlations with psychological and physical health concerns based on stigmatism from society. The authors published their findings on PLOS One Journal.
Of the 271 survey participants, females reported greater impairment in their quality of life due to having acne. The participants in the survey revealed how their own negative perceptions of how society views their appearance is associated with higher levels of psychological distress as well as physical reactions to the body like sleep disturbance, headaches and gastrointestinal problems. The higher the level of stigma the survey respondents suffered, the more intense the correlation between psychological and physical distress became, including some who suffered from anxiety, depression and respiratory illness.
"We know from previous research that many acne sufferers experience negative feelings about their condition, but we have never before been able to draw such a direct link between quality of life and perception of social stigma around acne," explained O'Donnell in an interview with ScienceDaily.com.
The findings discovered in this survey shed light on the limited amount of studies investigating the physical health problems that people who suffer from acne experience. They also offer useful information for both clinicians dealing with acne conditions, as well as people who are close to those suffering with acne. The more recent acne-positive movements on social media have been helping to bring awareness to the normalcy that acne can be for people.