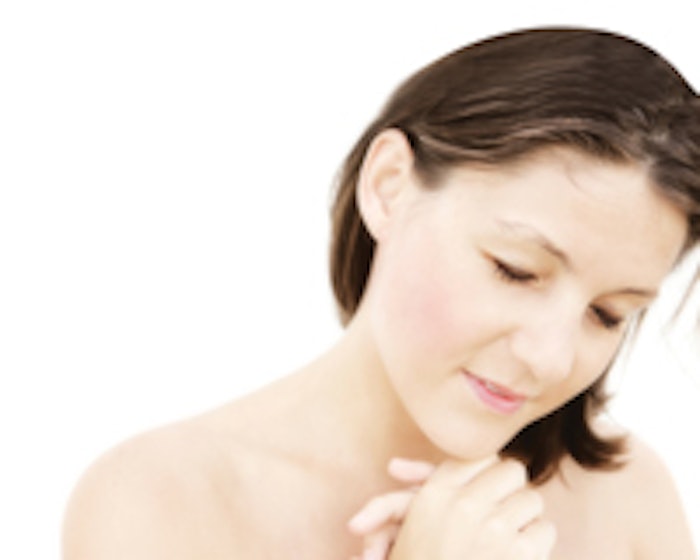 Because of everything that is happening in the world around us, it's sometimes hard to remember to take a moment and think about all of the things in life that we truly have to be thankful for. Even though the economy is having an effect on the spa industry, consumers still value the benefits and are scheduling appointments, just not necessarily to the extent that they did in the past. According to an International SPA Association (ISPA) survey to its members this past June, 86% reported an increase in the number of shorter treatments—30 minutes or less—and nearly half of its members experienced a decrease in the amount spent by clients per visit in comparison to last year.
However, I know that for most of you, it's not just about the money, even though realistically we all need some sort of income in order to survive and keep the doors open. You are passionate about what you do, and how you touch so many individuals' lives each and every day. So don't lose faith on your focus. Times may be challenging now, but even though the revenue stream isn't what it was a year ago, you still continue to touch peoples' lives in a very intimate and appreciated way. Many of your clients are going through the same struggles, fears and challenges that you are, but when they step into your treatment rooms, they can forget about those stresses for even a short period of time—all because of you.
We hear so many inspiring stories from our readers that I'd like to share a few of my favorites with you, in hopes that they will inspire you to keep believing in your profession and yourself, and realize the value of what you do each and every day. So, during this season of traditional thanksgiving, I leave you with some words of encouragement from your colleagues. Their thoughts, from recent online Vocal Point surveys, inspired me, made me laugh, made me cry, and also made me realize that there is an awful lot out there to be thankful for.
"We recently had a family spend their vacation with us. A family emergency forced them to cancel their much-anticipated trip to Hawaii. My client brought her four children to the spa for a combination of massages, facials, manicures and pedicures. They were all dressed for Hawaii: shorts, leis, flip flops. Looking at the group, I realized I have known the family since even before the children were born, and it was a real honor to be considered the equivalent to a Hawaiian vacation. We had such a great time with everyone, and it reminded me once again why I do what I do."
Jessica Campbell, owner, Spa Scotta, Seattle, WA
"My most uplifting moment came when I received a thank-you note from a client that we had recently cleared of acne. She had been struggling with breakouts for more than a year and was very upset about her skin because during that time, she had gotten married. In her letter, she not only thanked me for clearing her skin issues, but also for 'helping me get myself back on inside and always listening.' Being in this industry, we have the opportunity to help in more areas than just skin, and this card is something I hold on to, reminding me of that."
Nicole Newlin, lead esthetician, Salon Bordeaux, San Diego, CA
"My most uplifting and inspirational moment with a client was when I volunteered to do a few facials on young teen girls who are in a girls' home. One particular client I had was very sweet and charming, but I could tell that something deep inside her was wrong. I therefore made my client feel comfortable and relaxed, and treated her like royalty. When I finished her facial, I kindly walked her to the front, and out of the blue, she gave me this big huge bear hug, held on to me tight and said, 'This is the nicest thing anyone has EVER done for me.' She walked away with a big smile on her face that was never-ending. From that moment on, I realized that I have a purpose for being where I'm at and doing what I do. You never know what people go through, but if you love what you do and make that person feel special, you could brighten up someone's day. And I'm glad I brightened up hers."
Jasmin Jones, esthetician, Jasmin's Mobile Esthetician Services, Palmdale, CA
"I work in a hair, skin and nail salon. I currently offer complimentary skin care consultations. One of the salon's nail clients had a visit with me. She was a more mature woman and had been through a lot. Cancer was one ordeal she survived. I learned a lot listening to her and thought she was a very positive person. On her way out, I gave her some free samples, and she looked at me, surprised, placed her hand on my shoulder and said, 'Thank you.' I could read in her eyes how sincere she was and that the time I gave to her meant a lot. I had wanted to leave the salon early that day. I have been trying to build a clientele and most of the time I was working, I was not earning, and it was starting to get to me. This reminded me why it was important to treat everyone the way I would want to be treated. It also made my day that someone appreciated my time and service so much. This is what inspires me to do esthetics. I feel like I can make people feel good."
Pamela Sarantis, esthetician, Aesthetics by Pamela at Textures, Danvers, MA
"My most inspirational moment actually came from doing no treatment at all. I had a client come in to see me, desperate for some answers. She had large wheel-type lesions all over her face. She had layers of makeup on trying to cover these oozing lesions. Of course she had seen many dermatologists who kept treating her as an acne patient. Nothing was helping and she was overwhelmed and was ready to give up. She was hoping a facial or peel might help. I took one look at her skin and decided that this condition was out of the scope of my practice. Now being that we cannot diagnose, the best I could do was to offer recommendations. I also have a background in dermatopathology, so I had to pull from that part of my knowledge. I asked her to please see an endocrinologist and a rheumatologist for blood work, thinking this was most likely autoimmune. I also thought she needed cultures of the lesions for antibiotic treatment. I gave her as much information as I could and sent her on her way with no treatment from me. I assumed I would never hear from her again. Several months later, I could not believe my eyes ... she walked through the door minus the makeup and her skin was gorgeous! The lesions had healed and she was smiling from ear to ear. She hugged me and actually had tears in her eyes. She told me that she had been diagnosed with autoimmune disease, which caused the staph on her skin to overgrow, resulting in the infected lesions. Now that she was finally being treated for the correct problem, her skin healed correctly very quickly. She was so thankful and sincere. It made me feel so much pride that I could help her just by pointing her in the right direction. Even though I never made one penny off this client, it made me realize that these are the real reasons we become skin care professionals in the first place."
Trina Nesselrotte, medical esthetician, Clinical Skin Care Services , Bushnell, FL
Until next month,
Melinda Taschetta-Millane, Editor in Chief