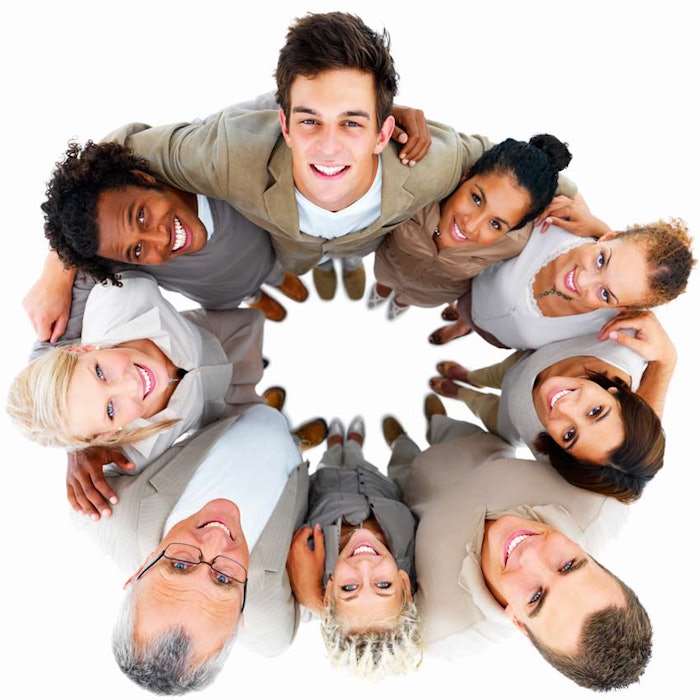 A good job is hard to find, but every business owner or spa manager knows a good employee is even harder to keep. Great business leaders have many characteristics, but one thread that weaves among the best is their ability to foster culture and talent so staff (and clients alike) look forward to coming to work.
In the spa world, owners are often also operators that still personally service clients in addition to managing a team, and this creates a challenge. By 7p.m., energy is depleted to "empty husk" level, and there's no patience for staff squabbles, training needs or a clogged dermabrasion machine.
Contrary to belief, a fat paycheck is not the sole root to motivation. To build a championship team it takes effort, creativity and most of all, praise. If you are feeling a bit of a "husk" yourself and recognize that staff morale needs a boost, give a few of these a try.
1. Be transparent about the numbers.
Ensure you have ongoing open communication about the business, the good and the bad. Share these in monthly and weekly meetings. It helps the team understand spending, the meaning behind tasks and encourages ownership, accountability and commitment.
2. Set goals and targets.
Champions need goals with clear expectations for results to be achieved. Everyone needs to know their daily, weekly and monthly goals, and attention needs to be given to this on a daily basis. There's nothing worse than an individual missing a goal by a leg wax or sale of one cleanser. As a manager or owner, it is your duty to help them reach these goals, which starts with them knowing what they are.
3. Recognize a job well done.
Have "shout outs" at team meetings, and compliment a team member when you witness outstanding customer service, teamwork and/or skilled performance. Start a public recognition program like employee of the month, share on your social media pages and physically hang a picture of the team member in your business for clients to celebrate them too.
4. Encourage attendance to education.
New modalities and ingredients get introduced into our industry daily along with skin scientific discoveries. Support your staff and encourage their progress and achievements. Get them to share new skills or relevant information with your other team members on their return. Champions aren't created without training.
5. Support new ideas.
When staff members voice an idea or a solution to a problem they believe is for the betterment of the business, it shows that they care. Supporting new ideas and giving an individual the chance to 'run with it' is motivating, whether or not it works out in the end.
6. Empower decision making.
The salon or spa should not crumble if you are gone for a day or week. If you have trained and empowered your staff to make decisions, let them take full ownership, let go of the reigns and let them roll.
7. Don't let boredom sneak in.
Keep it fun with planned outings and group activities. Host a best smoothie recipe taste-off, book an early spin class or arrange a group hike and picnic. Have someone suggest a team building activity quarterly..
8. Give together and grow together.
Have one day per quarter where you all volunteer for your chosen non-profit, be it a cut-a thon, complimentary skin treatments and makeovers for a woman's shelter. Giving feels good and goes a long way to boost empathy and team spirit.
9. Hear from them.
Have a different person each week run the meeting to break up the monotony. Have different team members update about different areas of the business like new client acquisition, social media engagement, retail figures and new products.
10. Write to say thanks.
Send a handwritten note or card for a job well done be it for client retention, delicate handling of a customer compliant or achieving a retail target for the first time.
11. Treat them.
Chocolate and good coffee are always a winner. Purchase a small surprise unique gift for an outstanding team member. Bring in homemade treats, or let them organize a potluck.
12. Help them to prioritize.
Learn to recognize burn-out and make sure your team knows it is part of the teamwork culture to ask for help.
13. Celebrate.
Celebrate important markers, be it team birthdays, hitting targets together, work anniversaries or milestones.
14. Challenge.
Whether it's to spearhead a new project, social media campaign, new service promotion or event, give them the responsibility and guidelines to run with it.
15. Encourage friendly competition.
A competitive environment is a productive environment. Champs love to participate in competitions or challenges for increased camaraderie.