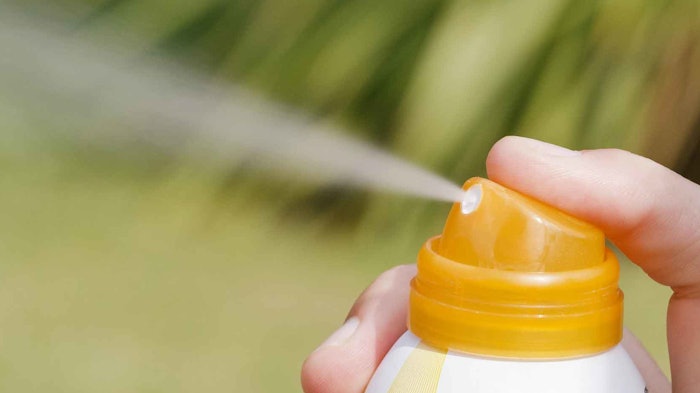 Product safety is paramount for fast-moving consumer goods such as cosmetics and personal care products. Recent recalls and class action suits highlight this fact and in some ways suggest perhaps the industry is too fast-moving.
For example, methanol content in hand sanitizers and lead in a baby skin care cream are the latest recalls published by the U.S. Food and Drug Administration (FDA). In addition, dry shampoo and spray sunscreens persist in class action suit headlines due to benzene concerns. Following is a roundup.
See related: Tighter Rules Now in Effect for USDA Organic Seal of Approval
Methanol in Hand Sanitizers
Fortunately, it's been a while since we last reported on recalls due to methanol in hand sanitizers. In February and March 2023, however, two new reports emerged.
On March 27, 2023, Jarman's Midwest Cleaning Systems, Inc., of Canton, SD, recalled all lots of its Alcohol Antiseptic 80% Topical Solution Hand Sanitizer Non-sterile Solution, and Isopropyl Alcohol Antiseptic 75% Topical Solution Hand Sanitizer Non-sterile Solution. According to the company, FDA testing found the presence of methanol. To date, the company has not received any reports of adverse events.
In addition, on Feb. 14, 2023, nanoMaterials Discovery Corp. of Seattle voluntarily recalled all lots of its Alcohol Antiseptic 80% Alcohol Solution branded as "Snowy Range Blue" in 4 fl. oz. spray dispenser packaging. According to the company, certain batches of the product may exceed FDA limits for methanol. To date, the company has not been notified of any adverse events.
See archived: Methanol Content and How to Test for it, FDA Guidance
Lead in Baby Cream
On Feb. 1, 2023, Shop Me Ca of Herndon, VA, recalled its 10-g tubes of Diep Bao Cream for potential lead contamination. The cream was sold nationwide through Shop Me Ca's Facebook page and Vietnamese moms' Facebook groups. The recall was reportedly initiated after testing by the Oregon Health Authority (OHA) found high levels of lead in two samples of the product.
As a result of using Diep Bao Cream, two infants were found to have elevated blood lead levels. One case was identified after an initial post on Facebook in December 2022 alerted customers about the contamination. The second case was reported by OHA in January 2023.
Shop Me Ca initially posted on its Facebook page in December 2022 that the products tested positive for lead. The company has now voluntarily recalled the product and sales of the product have been suspended while the FDA, OHA and the company continue to investigate the source of the problem.
Benzene Class Actions
Among the safety alerts and lawsuits Cosmetics & Toiletries has reported in recent months, benzene contamination has appeared the most frequently. And here we are again—although in one case, the suit was dismissed.
Banana Boat/Edgewell: According to a March 16, 2023 report by Top Class Actions, a suit against Banana Boat will move forward with just four of the original seven plaintiffs. The suit cites Edgewell for not listing benzene as an ingredient in certain sunscreen products. 
An independent lab tested Banana Boat sunscreens and allegedly ruled out the possibility that benzene was created as a degradation product. The lab concluded the carcinogen most likely entered the products during the manufacturing process and as such, U.S. District Judge Jeffrey Aker Meyer of Connecticut dismissed claims for products not involved in that process. Meyer allowed the case to continue, however, with limitations. 
Klorane/Pierre Fabre: In December 2022, two Illinois consumers filed a suit claiming Klorane brand dry shampoo contained benzene and the ingredient was not disclosed on the product label. The plaintiffs asserted they would not have purchased the shampoo had they known it contained the carcinogen; Pierre Fabre responded by filing a motion to dismiss the suit.
On March 10, 2023, the plaintiffs filed a motion opposing Pierre Fabre's motion, according to Top Class Actions. Reportedly, the plaintiffs' allegations that the "defendant put adulterated products into the marketplace without adequate testing or screening" sufficiently refuted Pierre Fabre's preemption argument because federal law prohibits the sale of adulterated products. 
Wella/Sebastian, J&J/OGX: Finally, Top Class Actions also reported on two separate suits filed in December 2022 by an Illinois woman against Wella's Sebastian brand and Johnson & Johnson's (J&J's) OGX brand dry shampoos. The products were allegedly found to contain benzene at levels higher than the FDA permits and again, the ingredient was not disclosed on the product labels. On April 3, 2023, the plaintiff dismissed the suit against Wella without prejudice, leaving it open to refile claims in the future; the J&J suit is still pending.
These alerts and lawsuits serve as an important reminder to test products as close as possible to their reaching consumers' hands. Such cosmetovigilance is a critical component of assuring public health.