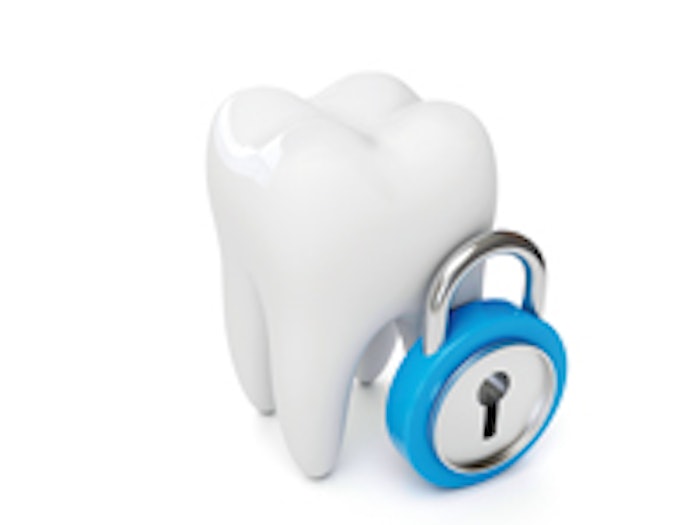 After seeing a display at a trade show, Kelly Markos thought teeth whitening would be a great addition to the services she offered at her Montgomery, Alabama, spa, d'Markos.
She spent approximately $8,000 on a system that promised quick, noticeable results and launched the new service in November 2007. It was $8,000 Markos now wishes she'd never spent.
Sixty days after she began offering teeth whitening as a treatment, state dental inspectors came to Markos' spa demanding that she stop offering the service. "I would never, ever have imagined what I was doing was illegal," she says—but in Alabama, it was.
Teeth whitening seems like a simple process. Apply the product, rinse it off, and your client leaves the spa thrilled with her bright, gleaming smile. It's so basic that she could buy her own kit at the drug store. However, at the American Dental Association's (ADA) urging, many states are starting to take a closer look at teeth whitening, and the potential harm of having a nondental professional, such as an esthetician, conduct the treatment.
Hawaii, Illinois and Missouri all announced legislation in 2009 that would regulate the types of professionals who may perform teeth-whitening procedures.
In September, Kansas adopted legislation that requires teeth whitening be performed under a dentist's supervision. All told, more than a dozen states have teeth-whitening regulations either in place or pending.
Regulation
The devil is in the details, says Deedee Crossett, Skin Inc. magazine advisory board member, member of the California State Board of Barbering and Cosmetology, and founder of the San Francisco Institute of Esthetics and Cosmetology in San Francisco. "The challenge within the state of California is that it's outside the scope of practice to insert anything into people's mouths. If clients place the items into their mouths themselves, that might make it legal in some states," she says. However, she reminds professionals to make sure they know what their insurance does—and does not—cover in the case of an accident. "If you're driving a semitrailer truck but your driver's license only covers you to drive a car, your insurance company isn't going to help if you get into an accident. The same goes for professional liability insurance," says Crossett.
Teeth whitening isn't black and white, even among states that have been early adopters of the legislation. In Ohio, for example, professional-level teeth whitening can take place outside a dentist's office, but only if the client places the tray in her own mouth, similar to the rules in California. Illinois' proposed legislation would ban even the sale of professional-grade teeth-whitening supplies by nondental professionals.
Most states that regulate teeth whitening classify the treatment as a dental procedure, so an esthetician who performs a whitening service would violate the state's dental licensing rules. The ADA petitioned the U.S. Food and Drug Administration (FDA) in November 2009 to review and regulate teeth-whitening products so that consumers who do seek teeth-whitening services outside of a dental office will make more informed decisions about electing the procedure.
"The ADA has legitimate concerns about the safe use of teeth-whitening products without the benefit of professional consultation or examination," wrote ADA president Ronald L. Tankersley, DDS, and Kathleen T. O'Loughlin, DDS, ADA executive director, in a letter to the FDA accompanying the petition..
Although teeth-whitening products are generally very safe, if the solutions are applied incorrectly, the possible dangers are real. Most teeth-whitening solutions contain a gel form of carbimide peroxide, a type of hydrogen peroxide. Over-the-counter (OTC) teeth-whitening products usually contain a 10% concentration of carbimide peroxide, while professional solutions reach a concentration of as much as 35%, according to the ADA. The most common side effect is temporary tooth sensitivity or gum irritation. In rare cases, the peroxide solution can cause irreversible damage to teeth and gums.
Most importantly, a nondental professional might not recognize existing oral problems that could contribute to complications from the potent chemicals, says Michael Blicher, DDS, a Washington, D.C.-based dentist and past president of the District of Columbia Dental Society. A client might have an infection, for example, that should be treated before a teeth-whitening procedure takes place.
"The mouth is a window to the body," he says. "A dentist will take a look at it before whitening to see if the patient has gum disease or systemic problems." If the chemicals interact with such problems, the client could experience major tooth sensitivity—an issue a dentist is able to address, but one for which a spa owner might not be prepared.
Dental dilemma
Markos says the formula she used was no stronger than OTC teeth-whitening products, although it was created specifically for use in spas, salons and stores. The only difference was that her system included a light that sped up the process: A degree of teeth whitening that could take up to three weeks at home could be achieved in just 12 minutes at the spa.
In anticipation of an action from the Alabama Board of Dental Examiners, Markos and the teeth-whitening supplier filed suit against the group. They argued that the teeth-whitening system as it was used in the spa was not a dental procedure and thus didn't violate Alabama's dental licensing requirements. The judge felt otherwise.
In February 2009, the judge determined teeth whitening falls within the scope of dentistry and should be performed only by a dental professional. Markos and the teeth-whitening supplier lost their appeal in October 2009.
Value-added?
Violating teeth-whitening regulations could lead to hefty fines. Some spa owners are beginning to question whether the service adds value to their business, while others believe that it does.
Teeth whitening was initially popular when Jana Gwin, owner of One Eighty Wellness Spa in Auburn, Alabama, added the service, but soon the demand decreased. "It was kind of OK when Alabama banned it," she says. Gwin received a few calls from clients after she stopped offering teeth whitening, but otherwise, it didn't have much impact.
Although teeth whitening isn't hugely popular at Serendipity Boutique & Day Spa in Kansas City, Missouri, spa manager Crystal Taylor says she would miss the opportunity to perform the service if Missouri's legislation passes. "We're here to make people look and feel better," she says. "It's a great form of beautification."
Teeth whitening is one way Melanie Vasseur, owner of Vasseur Skin Salon & Spa in San Diego, makes her spa a little more full-service. "We're doing treatments on clients' faces and styling their hair, so it wouldn't make sense for them to leave with yellow teeth," she says. "Everyone drinks coffee and red wine. Does everyone get tooth whitening done? No. Should they? Yes." Vasseur's found that the best way to market teeth whitening is to offer a discount. Clients will then combine teeth whitening with other services they receive during their visit to the spa.
Read the fine print
If you've already invested in a teeth-whitening system, and your state enacts new regulations, just make sure to read the fine print. Changing the method by which the teeth whitening takes place—perhaps having the client insert the tray herself, if that's a safe option—can be enough to keep you legal in some states.
The ADA details the regulations in a number of states on its Web site, www.ada.org. The best tactic to keep abreast of new or changing teeth-whitening laws is to keep in touch with your state's board or dental board. After all, it never hurts to have one more service to entice clients to your spa.