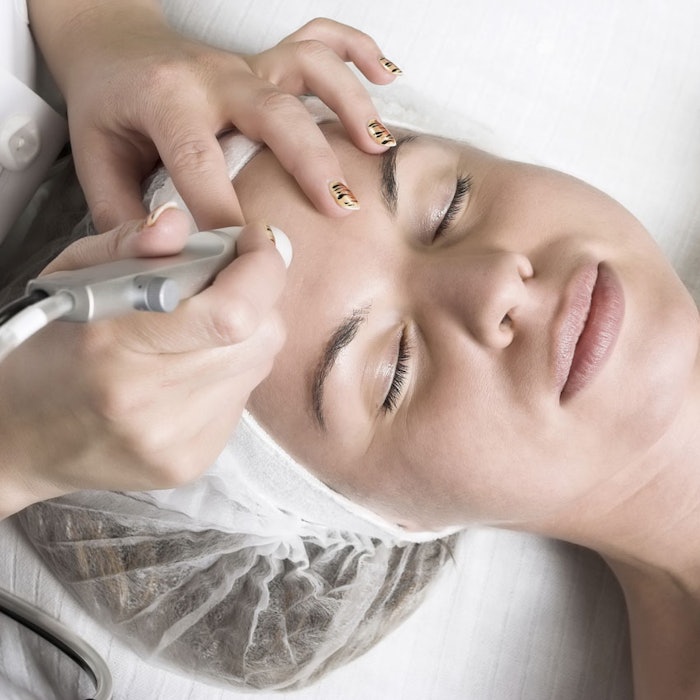 Oregon estheticians who perform advanced treatments using lasers and other high energy devices can breathe a sigh of relief. Oregon legislators enacted House Bill 2642 on July 2, 2015, which creates a separate governing board to establish scope of practice rules for estheticians who operate intense pulsed light (IPL), laser and other energy devices such as radio frequency and ultrasound.These estheticians will be known as Certified Advanced Estheticians.
Estheticians in Oregon have been operating in the gray area for years.
Gray Area and Ban
Estheticians in Oregon have been operating in a 'gray' area for years. Approximately 10 years ago, a state statute mandated that laser hair removal treatments must comply with ANSI 2007 standards and referenced appropriate record keeping, but that was the only statute that touched this area of esthetics.
Evolving technology meant that estheticians branched out to perform other laser and energy device services without strong repercussions from the state, but without a clear scope of practice in the law. Because of negative media pressure, the state declared an 'emergency' in 2013, and announced the intention to impose a 180 day ban on esthetic laser services performed by estheticians while they sorted out the logistics on the scope of practice.
Public Hearings
A public hearing preceding the ban was well attended by estheticians, physicians and consumers. Estheticians voiced their concerns about their possible loss of income for six months, also noting the training and education they had received prior to doing advanced esthetic treatments. Physicians expressed their concerns about their loss of revenue if estheticians were not allowed to perform the treatments they were hired to do, and consumers vented about their inability to receive the treatments they expected and were accustomed to if the ban was instigated.
The Board of Cosmetology voted to postpone the ban and opted to form a Rules Advisory Committee to bring recommendations on the scope of practice back to the board. The Rules Advisory Committee was comprised of estheticians who had a current practice involving laser treatments, physicians, business owners and schools. They met multiple times, and the final analysis was that they could not go forward unless there was a change in the state laws that would reflect the current changes in technology. The Rules Advisory Committee disbanded.
Bipartisan Legislation Passed
A few members of the committee formed an Ad Hoc Committee to continue the journey toward changing the regulations. Sen. Val Hoyle, Oregon's speaker of the house, was approached along with Rep. Margaret Doherty and Rep. John Huffman. These three legislators agreed to introduce bipartisan legislation when the Oregon session opened in February 2015. Many meetings and phone conferences ensued with policy analysts, legal counsel, the Oregon Medical Association and the Oregon Health Licensing Office to refine language for a clear scope of practice. The bill traveled through the House Health Care Committee, the Joint Ways and Means Committee, the Ways and Means Health sub-committee, back to the Ways and Means and then to the Senate. Several amendments were added to make the language more complete.
This historic legislation clearly defines a scope of practice that allows Certified Advanced Estheticians to perform non-ablative energy device treatments including hair removal, skin rejuvenation, photo rejuvenation, dyschromia reduction, body contouring, cellulite reduction and tattoo removal. CAEs must disclose professional liability insurance and have a written agreement with a physician or nurse practitioner for referral, among other things. This allows the CAE to practice independently providing non-ablative beauty treatments. The training requirements include practical experience in addition to didactic education. This legislation went into effect immediately.
Board of Certified Advanced Estheticians
The Health Licensing Office has until Jan. 1, 2016 to get the new board up and running. The nine-member Board of Certified Advanced Estheticians will be appointed by the governor. It will have five estheticians who are experienced in laser and other high energy device treatments, two members of the public, two physicians, and also a non-voting representative from the Radiation Protection Office. This new board is charged with establishing rules of professional conduct and setting standards for safety and sanitation as well as advising the Health Licensing Office on matters pertaining to lasers, IPLs and other energy devices. There will be an 18 month grandfathering period.
Experience and Training
Estheticians who are already performing treatments with these devices will have to provide evidence of 500 hours of experience. Estheticians who do not have 500 hours are required to have 40 hours of training in theory and fundamentals and 24 hours of hands-on experience in each of the seven modalities listed (hair removal, skin rejuvenation, photo rejuvenation, dyschromia reduction, body contouring, cellulite reduction and tattoo removal). This comprehensive education and training will allow a CAE a great deal of flexibility in the job market as well as protect the consumers of these services.
Oregon joins other states in the country who recognize that estheticians are the right professionals to provide treatments that restore skin to a healthier state and beautify its appearance with appropriate education and training. It is a huge step forward for the professional and a measure of safety and reassurance for the consumers.