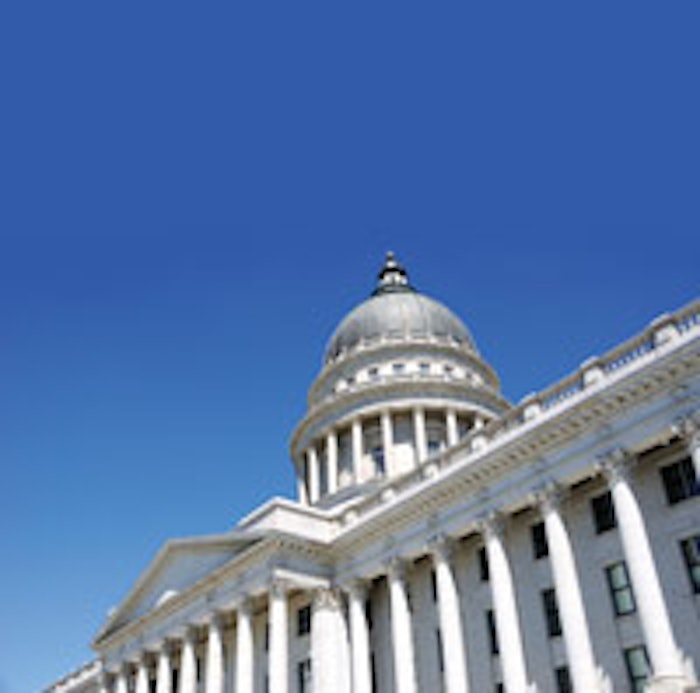 On April 18, 2001, Utah House Bill 105 (HB 105), sponsored by Representative Sheryl L. Allen and signed into law by Governor Michael O. Leavitt, officially established the first master esthetics license in the United States. Since the passage of this act, the states of Virginia and Washington have followed, with California very close to doing the same.
This significant licensing act did not happen due to a passive demeanor. It required dedicated involvement. Members of the Utah Beauty Association and I functioned as guiding forces in the interest of the Esthetician's Act for the state of Utah to ensure this license would pass into law.
Despite overwhelming odds, those involved carried out their due diligence and were persistent in contacting state legislators; emphasizing the importance of licensing for consumer protection; organizing with the Utah Medical Association legal team; hiring respected and experienced lobbyists; and working closely with Representative Allen to sponsor the bill. Hundreds rallied to demonstrate at Utah's Capitol Rotunda to express support for esthetic licensure, and made sure the news media was aware of the agenda.
In addition to my principal actions and hard work in the passage of the bill, I also served on the Esthetician's Act task force to establish safety guidelines for Utah's master esthetics license and have been involved in contributing essential test questions.
Getting engaged with licensure and the board is integral in order to change old, outdated laws established decades ago for estheticians. Today, so many states are starting to revolutionize their antiquated practices to move forward and raise the bar for the profession of esthetics. Make no mistake: It requires dedicated estheticians getting involved with licensure and the state board. Do you have the passion and ability to become involved at your state level to upgrade and protect laws for esthetics?
Lobbyists
An experienced lobbyist— a person who tries to influence legislation on behalf of a special interest—plays a central role in licensing actions. According to Candace Daly, the lobbyist for the Utah master esthetics license, the following steps are crucial for estheticians who are considering becoming more involved in their state board.
Be active in a local association and attend meetings so you know the issues. Know who your state and local elected officials are, and make sure that they know who you are.
Also, be active in a national association. Find out what issues are going on in other states, because what goes around comes around and, if it's something good, you can implement it in your state. If it is bad, you can work to stop it from happening in your state.
If you are considering starting the journey to initiate a master esthetics license in your state, begin a coalition of interested parties. Hire a lobbyist who can help you navigate the legislative process in your state. Review code from the states that do have master esthetics licenses and come to an agreement with the coalition on what you want in your state. With the help of a lobbyist, contact a legislator who would be willing to sponsor your legislation—and give it a try.
Networking
Networking with experienced individuals who have been involved with licensure and the state board will assist you in understanding how to go about making changes for estheticians at the government level. Brenda Scharman, government relations chairperson for the Utah Beauty Association and chair of the state relations committee for the American Association of Cosmetology Schools, advises estheticians to get to know the legislators for both their homes and businesses so they know who you are. Develop a relationship, so when a bill comes up during a legislative session concerning an esthetic issue, they will have you review the bill and provide your opinion.
Attending your town hall meetings is of great significance, according to Scharman, so town politicians know who you are and what you do in your skin care business. This familiarity will give you a voice in legislative decision-making. It is important that your voice representing estheticians be fair, calm, collected, respectful and professional. This demeanor is also appropriate for state board meetings, licensing agendas, and when speaking with a legislator or attending a get-together for skin care schools.
Attending state board meetings should be a regular event in order to protect your license and know what is going on. Keep in mind that you, the individual, make it all happen, and the state board relies on you to keep the state government current. Scharman has a valuable saying: "If you are not at the table, you are on the menu."
Your education is critical to getting involved with the state board and licensure, so stay up to date on your knowledge and skill set. One way to lose respect when speaking at a state board meeting or with a legislator is to lack progressive knowledge pertaining to the professional skin care industry. You should always be aware of new innovations, ingredients, treatments and techniques, as well as dangers that could compromise the esthetic profession.
The fruits of esthetic labor
Getting involved with licensure and the state board does get results. Recently, a group of estheticians from Washington followed the protocol outlined in this article and worked to establish a master esthetics license.
Although in its infancy, Frank Trieu, the ambassador of Evergreen Beauty College with campuses in Renton, Bellevue and Everett, Washington, affirms the master esthetic license now raises the standard for the profession and puts a focus on progressive training. He believes the new license is critical for esthetic progress, protection of the profession and to finally achieve the respect estheticians deserve.
According to Trieu, it is important for estheticians to get and stay involved with licensure and the state board, because it keeps them informed in the event of any legislative changes and the repercussions to follow. It also protects the license and the profession.
A challenge
I challenge every esthetician to get involved in their state board and licensure. What if those in Utah maintained an apathetic attitude about licensure? The master esthetic license would not exist today. However, look what has evolved because of the persistence of many to make a difference: three states now offer advanced licensure, with a fourth in the making. Will your state be next?
Christine Heathman is a licensed master esthetician, massage therapist and burn specialist with more than two decades of clinical practice and research at institutions such as Stanford University in Palo Alto, California, and the University of Utah in Salt Lake City. Honored in 2003 as an industry legend by the American Association for Esthetics, she believes the future of skin care is now.