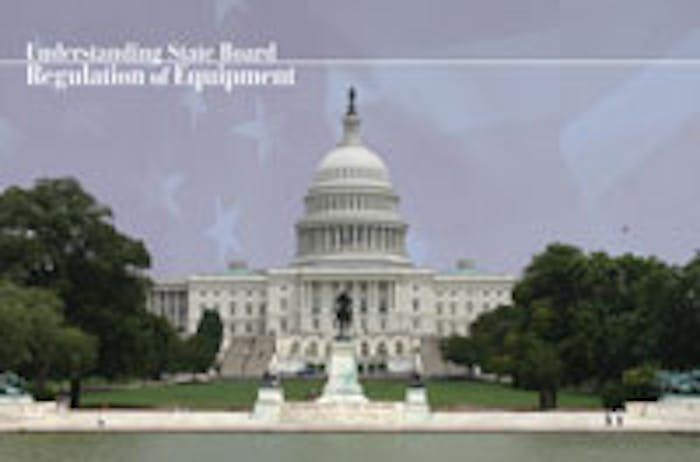 It has been reported that almost half of all inspections of licensed facilities that occur are initiated through a consumer complaint to the state regulatory board. Skin care professionals who purchase devices from a manufacturer or distributor are often unaware of the regulatory requirements and/or the state board's lack of understanding of the devices and their uses, which can lead to fines and sanctions. Many of these situations could have been avoided if industry statutes, rules and regulations were current with industry standards, and if the skin care professional had a better understanding of device regulations in order to provide a better defense. It is every licensee's responsibility to research the technology they purchase and ask better questions of the seller in order to make an informed purchase. Following are the answers to commonly asked questions about esthetic equipment.
Q: Who regulates esthetic equipment?
A: There is no such regulatory language as "esthetic equipment" or "medical equipment." All equipment is covered under one term: "medical devices." The U.S. Food and Drug Administration (FDA), Department of Health and Human Services, regulates a broad range of medical devices, including complicated, high-risk medical devices, such as artificial hearts, and relatively simple, low-risk devices, such as tongue depressors, as well as devices that fall somewhere in between, such as sutures. The FDA has the authority to regulate medical devices before and after they reach the marketplace.
Q: Which state board regulates equipment used by estheticians?
A: No state board regulates equipment. Neither the state regulatory board for the skin care industry—often called the cosmetology board or board of professional regulation—nor the medical board regulates equipment. The FDA is solely responsible for regulating firms that manufacture, repackage, relabel, and/or import medical devices sold in the United States. In addition, the Center for Devices and Radiological Health (CDRH) regulates radiation-emitting electronic products, both medical and nonmedical, such as lasers, x-ray systems, ultrasound equipment, microwave ovens and color televisions.
Q: Then who tells estheticians what they can and cannot use?
A: Each state regulatory board is responsible for regulating their respective licensees by determining if the intended use of the device is within the licensee's scope of practice. Review of state law, and the governing rules and regulations provide the framework for the board to make the determination as to whether it decides to allow licensees to use a particular device.
Q: How does the intended use of a device differ when used by an esthetician as opposed to a physician?
A: It doesn't. If a device is being used for the same intended use for which it was designed, there is no difference. However, if the manufacturer proposes a different intended use for a device that it already has in commercial distribution, the 510(k) regulation specifically requires a 510(k) submission for a major change or modification in intended use. Intended use is indicated by claims made for a device in labeling or advertising. Most, if not all, changes in intended use will require a 510(k).
Q: So, the equipment that estheticians use are in fact medical devices?
A: Yes. Once the FDA started to regulate all devices sold in the United States, this is the correct terminology to describe the equipment that is used by skin care professionals. The galvanic and the high frequency machines that estheticians use have been around long before the FDA began regulating medical devices. Medical devices are classified as Class I, II and III. Regulatory control increases from Class I to Class III. The device classification regulation defines the regulatory requirements for a general device type. Most Class I devices are exempt from Premarket Notification 510(k); most Class II devices require Premarket Notification 510(k); and most Class III devices require Premarket Approval. For example, Class I includes some microdermabrasion devices; Class II includes some intense pulsed light (IPL) and ultrasound devices; and Class III includes some laser devices.
Q: How does the FDA determine safety of these medical devices?
A: It doesn't. Standards are met by the manufacturer of the device and submitted to the FDA in the form of a 510(k) Summary of Safety and Effectiveness. The device's summary includes the submitter's information, device information, predicate devices, intended use, device description, performance and clinical data, and substantial equivalence. Upon review by the FDA, the device may be given approval to go to market, subject to the general control provisions of the Federal Food, Drug and Cosmetic Act. These provisions include requirements for annual registration, listing of the device, good manufacturing practice, labeling, and prohibitions against misbranding and adulteration.
Q: Where do lasers and light devices stand—are they medical devices?
A: Yes. The FDA has classified and described more than 1,700 distinct types of devices and organized them in the Code of Federal Regulations (CFR) into 16 medical specialty panels, such as cardiovascular devices, or ear, nose, and throat devices. Laser and light therapy devices fall under the classification name: laser surgical instrument for use in general and plastic surgery and dermatology. Device classification depends on the intended use of the device, and also upon indications for use and information about marketing requirements.
Q: What is the meaning of "intended use?"
A: The CDRH's scientific expertise enables it to exercise considerable discretion in interpreting intended uses in the labeling and promotional materials for predicate and new devices. Thus, a new device with the same intended use as a predicate device may have different specific indication statements and, as long as these label indications do not introduce questions about safety or effectiveness different from those that were posed by the predicate device's intended use, the new device may be found substantially equivalent.
Although a new device must have the same intended use as a predicate device in order to be substantially equivalent, the FDA does not require that the new device be labeled the same. Label statements may vary. Certain elements of a predicate device's labeled indication may not be critical to its intended therapeutic, diagnostic, prosthetic or surgical use. For the purposes of determining whether or not the new device has the same intended use as a predicate device, the CDRH assesses any difference in label indications in terms of the safety and effectiveness questions that may arise. The CDRH considers such points as physiological purpose—such as, removes water from blood, transports blood, cuts tissue; condition or disease to be treated or diagnosed; professional or lay use; parts of the body or types of tissue involved; and frequency of use.
Q: Why can an esthetician use a device such as a laser for hair removal in one state and not another?
A: There are a variety of reasons.
Poor advocacy by the skin care profession. State board members and legislators needs to be educated on who estheticians are and what they do.
Existing statutes, rules and regulations are not up to the advancements in the industry. There have been so many scientific and technological advancements in equipment safety and product efficacy, that the laws, rules and regulations have not kept pace with them.
No esthetician representation sitting on the board. There are currently fewer than 12 states that have estheticians sitting on their state boards.
Cosmetologists are legally allowed to do everything an esthetician can do. This is the truth in more than 30 states and many cosmetologists have less than 250 hours of skin care training. Would you consider it safe for the board to allow this sector of licensees to use a laser?
Medical specialty lobbying. Physicians have more credibility than estheticians, who usually have only 600 hours of training—five states have even fewer than 600 hours. More credibility combined with a greater understanding of why advocacy is so important should be obtained by skin care professionals in order to protect their share of the market.
Q: What about additional certifications on new devices as they come to market?
A: Some states are now requiring certification or credentialing that includes a mandatory number of hours of training before operating a laser. The downside of over-regulating is that for every new device that comes to market, an esthetician would need to stop working in order to take a week-long course. Rather, the industry should be considering continuing education (CE) units approved by a national commission and increasing the initial hours of training for licensing of estheticians.
Q: Why can't these devices be used under medical supervision?
A: Many states have not yet defined "medical supervision" in their statutes or rules. The interpretation of medical supervision can mean anything from physicians being available by telephone to them being physically in the same office. If medical supervision becomes a state requirement for use of laser and light therapy devices, it could mean that estheticians would more than likely have to become an employee of the physician. Also, the corporate practice of medicine is a legal doctrine, which generally prohibits corporations, entities or individuals from practicing medicine. This would also prohibit lay entities (estheticians and spas) from hiring a physician to work as a medical director or provide medical supervision.
Continued evolution
To be successful as a skin care professional in today's industry, it is necessary to become more aware of the regulatory issues that affect how you provide services. Do not forget that regulation of the profession is provided by state regulatory boards, and that, as science and technology evolve, so must you. Any other respected profession allocates funds to educate and protect the future of its industry through advocacy efforts with not only state board members, but also legislators, and getting involved with national associations or coalitions. Asking better questions of the manufacturers and distributors with which you do business can help you make better-informed decisions. If your equipment company is not advocating and helping to protect your business, then take your business elsewhere. Safeguarding estheticians' rights is everyone's responsibility, and understanding the regulation of the equipment you use to provide services is a good place to start.
General References
www.fda.gov/MedicalDevices/DeviceRegulationandGuidance/GuidanceDocuments/ucm073944.htm
www.fda.gov/MedicalDevices/DeviceRegulationandGuidance/Overview/ClassifyYourDevice/UCM2005371.htm
www.fda.gov/MedicalDevices/DeviceRegulationandGuidance/Overview/DeviceLabeling/default.htm#link_2.htm
www.fda.gov/MedicalDevices/DeviceRegulationandGuidance/Overview/DeviceLabeling/default.htm
(All accessed Dec 6, 2011)
Susanne S. Warfield is president/CEO of Paramedical Consultants, Inc., a consulting, publishing and association management firm. She is a New York state-licensed esthetician, is NCEA-certified, holds both CIDESCO and ITEC diplomas and worked for more than 13 years in a dermatology practice. She has authored more than 425 articles, and 15 books for the consumer, medical and skin care sectors. Warfield served on the American Academy of Dermatology's (AAD) Allied Health Committee, and currently serves as the executive director of the Society of Dermatology SkinCare Specialists (SDSS) and the National Coalition of Estheticians, Manufacturers/Distributors & Associations (NCEA). She can be contacted at 201-670-4100 or askpci@aol.com.