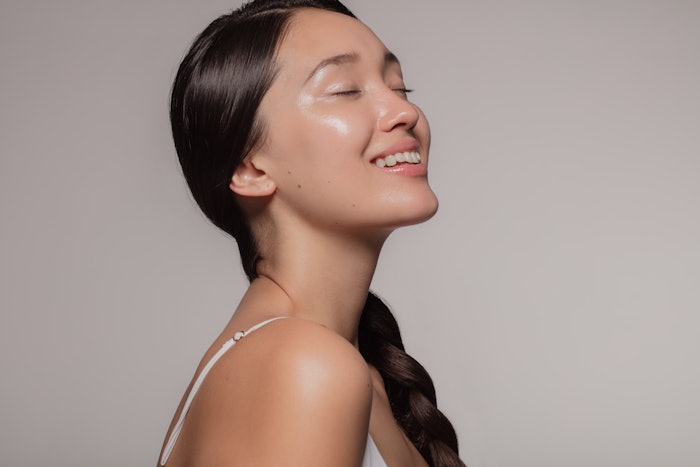 Dr. Ahnee Min-Yau, doctor of Tractional Chinese Medicine (TCM) and founder of Tao Natural Healing joined our Face & Body Northern California event on Aug. 20, 2023 to discuss natural therapies for achieving glowing skin. 
Dr. Min-Ya is also a licensed acupuncturist who  specializes in women's health, fertility and facial rejuvenation. She is a holistic health educator and teaches classes on how to tap into the body's innate ability to heal using acupuncture, herbal medicine, nutrition and mind-body therapy.
To kick off her advanced education class, Dr. Min-Yau shared trends in skin care that professionals should pursue further techniques and information in to increase their overall revenue. 
Trends in Skin Care
As we move past the pandemic, there has been a shift from cosmetic surgical procedures, and a growing interest in non-surgical cosmetic surgeries. Dr. Min-Yau shared that she has noticed an increase in demand for alternative and holistic therapies free of toxic ingredients, and more natural based and self-care focused treatments. 
The wellness pro also revealed three top trends that she is noticing in her practice, and in the beauty industry. These trends included: "Notox" product and devices, "skinimalism" and whole body wellness.
1. Gua Sha for Anti-Aging & Glowing Skin
Gua sha is rooted in TCM, and it helps stimulate circulation and increase blood flow, and move out stagnant blood and qi so the body can return to balance. There are a few precautions to take with gua sha; be sure to start off with gentle pressure. Be aware that redness or "petechia" is normal. There is a caution for clients' on blood thinner medication or blood disorders. Make sure to gradually work up to daily practices. 
2. Cupping as An Ancient Healing Therapy
This practice is founded in TCM, and uses glass cups to create suction on the skin to promote increased blood circulation, which may help relive muscle tension, promote cell repair, and initiates the body's ability to heal. Dr. Min-Ya shared  facial maps with the class room to demonstrate how to follow facial cupping pathways. 
Facial cupping best practices include following a uniform frequency and using a slip agent to glide the cups effortlessly. There are a few precautions for cupping treatments including using gentle pressure to start, anchoring the skin using the other hand and to proceed with caution for those on blood thinner medication or those who have blood disorders.
Related: Bringing Traditional Chinese Medicine Into Facial Treatments
3. Microneedling for Glowing Skin
This service naturally rejuvenates wrinkles without any painful surgery or injections. According to Dr. Min-Yau, the therapy is collagen inducing, an alternative to Botox and provides long term anti-aging results. This service can immediately reveal glowing/glass-like skin, and it aids in a 2,000% increase in product absorption.
Dr. Min-Yau discussed the difference between microneedling vs. a derma-roller device. She advised to be aware of your state's regulations on microneedling treatments, and to do your research when it comes to purchasing and using these tools. Other precautions include not performing this service on client's who have used Acutane in the last three months, are pregnant, or on anyone who has not waited a month in between microneedling treatments. 
It is important to prioritize your intake form and discuss any possible medical contraindications,. She also shared that you often performs microneedling with LED light therapy to accelerate healing. 
4.  TMC Approach to Aging & Skin Care
Dr. Min-Yau explained that TMC takes a whole person approach to aging, prioritizes beauty from the inside out, and works to increase qi and blood circulation. A TMC techniques often used to address total body wellness includes acupuncture, specifically for the ear. 
For her clients outside of the treatment room, she often recommends ear seeds for promoting balance and calming stress. When placed on the different acupoint and pressed into the skin, the herbs in the ear seeds can soothe the mind and are great for clients who experience anxiety.