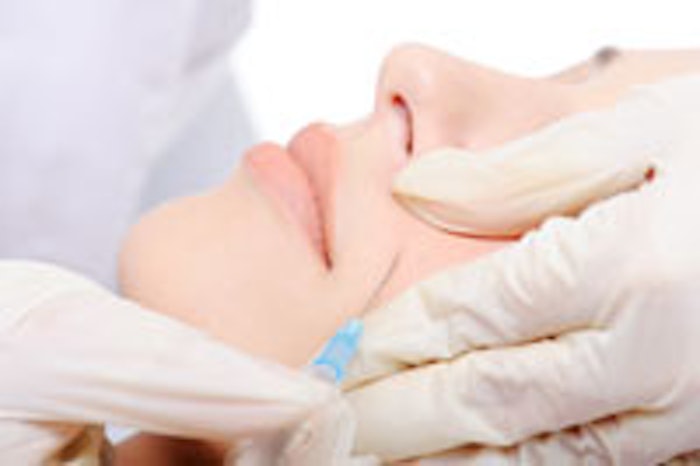 A trip to the spa used to mean rejuvenating facials and relaxing massages, but in the past decade the industry has grown to encompass treatments that take the phrase "skin deep" to a new level.
Medical spas are a hybrid of skin care facilities and doctor's offices. They provide invasive procedures such as Botulinum toxin injections, liposuction, electrolysis, laser treatments and makeup tattooing.
The marketing firm Marketdata Enterprises released a study in November that tagged the number of medical spas in the United States at 2,100—up from 224 in 2002. Spa associations place the number even higher, and since most states don't license them in a single category, statistics are hard to verify.
Several factors are fueling the trend: aging baby boomers trying to turn back the hands of time; people battered by the economy looking for a cheaper alternative to plastic surgery; doctors, frustrated by shrinking insurance reimbursements, looking for a way to expand their pool of self-pay patients.
It's unfolding in a field with spotty regulation at best, raising concerns about potential hazards such as burns, bruising, infections and even an occasional death.
In light of that, some states have toughened regulation. Mary Broz-Vaughan, spokeswoman for the Virginia Department of Professional and Occupational Regulation, said medical spas in Virginia fall into a no man's land of sorts.
The Virginia Department of Health doesn't regulate medical spas as it does hospitals, nursing homes, home-care agencies and abortion clinics. Virginia does regulate esthetics spas—where services such as facials and chemical peels are given—and nail and cosmetology salons, but there's nothing in the code that defines a medical spa.
Some treatments they provide, such as manicures and facials, are regulated by the state and require a license. But doctors are exempt from those regulations, so if a medical spa has a physician directing the facility, the doctor is expected to oversee such treatments.
When procedures go awry, the Virginia Board of Medicine steps in to determine whether a doctor is fulfilling his or her duty, which is spelled out in state code. That's a complaint-driven system, so enforcement is uneven because there are no regular inspections.
One of the most recent local cases to come before the Board of Medicine involved Dermacare in Chesapeake, a business that advertises laser hair removal, Botox injections and laser skin tightening. The board reprimanded the clinic's medical director, Michael Keverline, and fined him $4,500 in April for allowing team members to perform laser surgery, inject dermal fillers and provide facial injections without proper supervision.
He also allowed prescription drugs to be dispensed without a physical examination or medical history. His attorney, Michael Goodman, said that before Keverline opened the Dermacare clinic in 2006, he visited other medical spas and observed an "indirect" supervision model, defined as being available by telephone and within a 30-minute drive.
The interpretation of supervision, though, differs from state to state and even from board to board within the same state, Goodman said. The meaning also differs depending on who is being supervised. A nurse practitioner and physician assistant, for instance, require less oversight than a nurse.
Because of that, it's difficult for operators to understand all that's necessary. Goodman said he has represented five to 10 medical directors of spas before the Board of Medicine during the past several years, and it's not just unhappy clients who turn them in, but also competitors.
He said most of his clients have done a good job training staff but are unaware of the level of supervision required, particularly when it comes to establishing a patient-doctor relationship that includes a medical history, informed consent and examination. He said most are surprised when investigators from the Board of Health Professions arrive asking questions.
"You could knock them over with a feather," Goodman said.
Keverline has sold the Dermacare facility and returned to full-time practice of ophthalmology. The current owner of Dermacare said the facility is now in compliance.
Two years ago, Peggy Meder was surprised to find health investigators at her spa in Norfolk. The registered nurse owns Skin A Medical Spa.
The medical director of her business, Barry Clark, was reprimanded and fined $5,000 for allowing unlicensed staff members to inject dermal fillers and local anesthetics and to perform cosmetic laser procedures. He also allowed drugs such as Demerol and Valium to be prescribed and dispensed in his name without documenting that he had examined the patients or taken their medical histories.
Board documents indicate that Clark practiced full time in the Washington area while serving as the spa's director.
Meder was fined and reprimanded by the Virginia Board of Nursing for giving treatments she wasn't authorized to perform. Meder's frustration is that she had worked for other medical spas that operated in the same way.
Since then, though, she has restructured the business. After shutting it down for a week, she hired a nurse practitioner with the authority to write prescriptions, obtain informed consent and medical histories, and do assessments. She also hired a plastic surgeon to oversee the nurse practitioner.
"It's made us a better business," she said. "I was running a top shop. I was going over and above what I did anywhere else. And even then, I fell short."
She said she believes her shop is safer now, and she also works as a consultant helping other medical spas operate within the code. She does question, however, how many medical spas operate outside the law.
It's a concern for a number of organizations, including the American Society for Aesthetic Plastic Surgery and the American Academy of Dermatology. Both have issued guidelines to help people choose safe treatments.
While severe complications are rare, they do happen. In Maryland, a 59–year–old woman died of an infection last September after a liposuction treatment at a medical spa.
Florida and California, hot spots for medical spas, toughened laws after complaints of complications and deaths. Florida now authorizes the state to inspect any clinic that removes more than 1,000 cubic centimeters of fat during liposuction. California has set up agencies to inspect and accredit outpatient surgery settings, including medical offices and spas.
Richard Rosenblum, who has a plastic surgery practice and medical spas in Virginia Beach and Norfolk, said patients should educate themselves and become informed, not just about a procedure but who is providing it.
"Every procedure has a risk to it," he said. "We wish they had zero risk, but there's always a risk. If you have someone with little to zero cosmetic experience doing it, you may not get the desired effect, and if there's a problem you don't have a doctor to correct it."