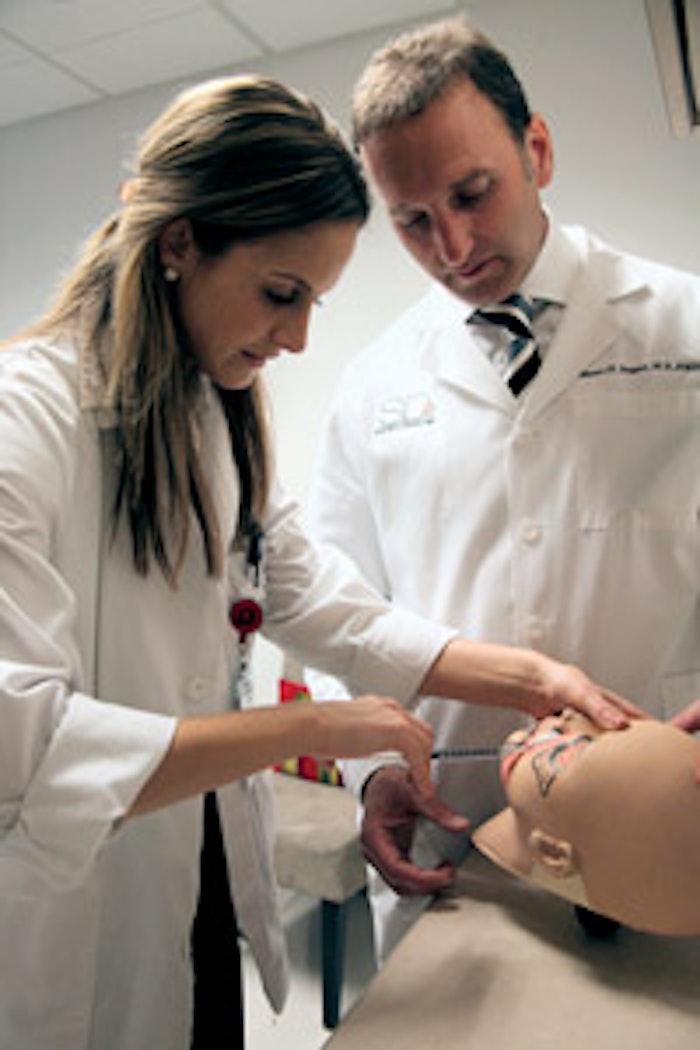 Upon entering the offices of Steven H. Dayan, MD, FACS, located in the heart of Chicago on Michigan Avenue, you are greeted by an urban setting, comfortable yet modern, with no Norman Rockwell pictures of kind doctors and trusting patients in sight. And yet, after taking the long walk down the bustling corridor leading to the physician's office boasting a panoramic view of the city, there behind the desk you will find a doctor with a Norman Rockwell soul. Hardly old-timey and simple, Dayan is complex and fast-paced, but his motivation lies in the ideals portrayed in those famous illustrations: the notion that a doctor is invested in the well-being of his patient and the patient trusts that doctor implicitly.
Dayan insists aesthetic medicine is the last great frontier in medicine where the Norman Rockwell experience can take place. "We watched our forbearers practice medicine, and they got to be creative and got to be very one-on-one with patients. They were invested; they weren't just some name on a list. It was a whole different world," Dayan says of the lifestyle he aspired to when he decided he wanted to become a physician. "Doctors weren't dictated to about how to practice medicine. They weren't double- and triple-checked and asked to fill out forms. They weren't being investigated by every organization and body possible, they weren't doubted. Aesthetic medicine is the last bastion where you get to be a doctor. You get to talk with your patients and invest in them."
A focus on education
Dayan has built a career—some would say an empire—on just that kind of patient investment. This 42-year-old facial plastic surgeon has known since he was young that he wanted to practice medicine. At the age of nine, Dayan's mother was diagnosed with multiple sclerosis. That, coupled with a heart attack experienced by his father, resulted in an early introduction to the field, although he narrowly avoided missing his calling by being a middle-of-the-road student in high school.
"I was a C student in high school. I got into college based on football," Dayan explains. As an all-conference wide receiver, he was offered a football scholarship at Washington University in St. Louis, and took that opportunity to focus on his education. "Once I got there, I started studying really hard. I didn't end up playing football because I couldn't do both. All of a sudden, I started getting A's, and it just kept rolling," he says. "Now I go to my high school reunions and my friends say, 'You're a doctor?' And the people in my office don't believe I played football."
After graduating as one of the top students in his class, Dayan was accepted to nearly every graduate school he applied to, but decided not to pursue the Ivy League because of the expensive tuition, and ended up back home, attending the University of Illinois at Chicago College of Medicine. "In retrospect, it was a great experience, because I was in Cook County going to all of these inner city hospitals, and I really learned a lot; it helped make me become resourceful. So, there were a lot of advantages to going there as opposed to a private school," he says.
After graduating again near the top of his class in medical school, Dayan struggled to choose a specialty. "I decided to become a neurosurgeon because I thought it was the pinnacle of the pinnacle, and I called a doctor I have respected for a long time and asked for a recommendation on where I should go. His advice: 'Absolutely do not become a neurosurgeon.' He said I was romanticizing it and pointed out that my lifestyle would never get better, and my patients would always get sick and die. It's not a happy field," Dayan says.
As a person with a vibrant creative side, Dayan had long dabbled in art and sculpture, leading him to consider plastics, which he eventually chose by studying otolaryngology first. "Plastics is the last field in medicine where you can really be creative," he says.
A big impact
Although Dayan is one of the best in his field, he didn't rise to the top on his surgical skills alone. The combination of his leadership ability, marketing know-how and altruistic personality have resulted in his becoming a medical and business powerhouse. Dayan is an international lecturer, a national physician educator and has achieved double board certification by both the American Board of Facial Plastic and Reconstructive Surgery and the American Board of Otolaryngology—Head and Neck Surgery. He also heads up five different companies: his facial plastic surgery practice; True Skin Care Center, which offers aesthetic skin care services, and True University, providing advanced education programs for estheticians and students; the College of Cosmetic Medicine, offering aesthetic medicine education to physicians; IF Marketing, a complete marketing firm; DeNova Research, specializing in aesthetic medicine; and perhaps his most unique venture, Enhance Educational Foundation, a nonprofit educational charity he created to promote the ongoing education of students in the Chicago Public School (CPS) system.
Through this foundation, Dayan donates a $25,000 scholarship every year to a deserving student and provides additional smaller scholarships, as well. "I wanted to provide a big scholarship because I wanted to make an impact," he says, and he also opens his office to an internship program that allows students to spend time there shadowing him and his staff to get an idea about what medicine is like. "When the students are here, I ask them if they ever thought about practicing medicine, and many say they didn't think it was possible. But when they leave, they do think it's possible and it makes me feel good," Dayan says.
With that inspiring feeling driving the way, he also believes in the power education has to improve the world. "Education is the key to getting ahead, and it's the key to inner growth. People who are educated typically aren't racist or bigoted; education destroys all prejudices," he says, and his attempts to foster education don't stop within the Chicago city limits. In fact, Dayan has recently set his sights on building a school in Cambodia where, on a recent visit, he says he simply became affected by the conditions. "I couldn't believe these people who lived in utter poverty, and the only thing keeping the kids from being educated was the lack of a physical structure," he explains. He hopes the project will become a reality in the near future.
An outstanding leader
So, what's the secret of Dayan's success? He says that, although communication is key, understanding and meeting the needs of your patients and staff are crucial, and none of that can be done unless you are an outstanding leader. "Nothing compares with you doing the work," he says. "If the leadership's not there, the practice doesn't succeed. You lead by example. If you work hard and treat people great, your staff will, too. That comes from you. You've got to be ethical and honest; if you're dishonest, you'll lose them in a heartbeat."
And ethics is a word Dayan knows well, as he was recently awarded the 2008 Leadership Award from the American Medical Association (AMA) Foundation. The 56 recipients of this award have been recognized for demonstrating outstanding nonclinical leadership skills in advocacy, community service and education.
Dayan isn't one to keep the lessons he has learned to himself. He is the author of four books, including Keys to Success: Marketing & Practice Management (College of Cosmetic Medicine Press, 2007); Instant Beauty: The Complete Consumer's Guide to the Best Nonsurgical Cosmetic Procedures (Hatherleigh Press, 2008); Thrive: Pearls to Prosper in Any Economy (College of Cosmetic Medicine Press, 2009); and his newest book, Mastering Medical Esthetics (College of Cosmetic Medicine Press, 2009).
Of course, not only is Dayan an author, he also is an avid reader, often finishing two books a week and favoring nonfiction titles related to the people who inspire him, including Albert Einstein and Abraham Lincoln. "I'm inspired by some of the great men who inspire everyone. I do think all the great people who make a difference and are remembered in history have to be criticized. Those people stuck with what they believed was right and true, and history has remembered them for it. Had Einstein been so involved in the establishment, he probably wouldn't have made all of his advances," explains Dayan.
Failure is mandatory
In spite of all his successes, Dayan also insists that failure is mandatory. He shares this philosophy with everyone in his life, from his staff of 22 to his three daughters at home. He does admit, however, that this isn't an easy concept for physicians to accept. "Surgical training and medical training are not consistent with growing and building a practice mostly because, as a surgeon in training, you are not allowed to fail. If you fail, someone dies or you get sued. You are not allowed to admit you failed. Nothing could be further from the truth in real life," he says. "Progress doesn't occur without failure first. It has to be controlled, but you have to fail. Everyone who works with me knows you have to fail 25% of the time or you can't work for me. We have to talk about failures and figure out solutions, but it is clear to me that it is beneficial."
Dayan ensures those failures add up to successes, however, and acknowledges that he excels at compartmentalizing information and multitasking, but believes he doesn't really do much more than the average person. "I'm not doing more than most people, I just leave a lot of facts behind. I have some good ideas, I put them on paper, and it becomes a book. I take that extra step of jotting things down. My staff members know all these facts and solutions. They aren't allowed to give me a problem without a solution. I want to know they've thought through it," he explains.
This type of effort with his staff has led to a loyal group of people who genuinely respect their leader. According to Urakay Juett, an employee at DeNova Research, "It is rare for a leader to offer the creativity he brings to all of us throughout the entire office. He gives us the opportunity to come up with ideas that benefit the patients. Dr. Dayan is diligent and persistently follows through and establishes timelines; he forces you to think about each step before you get there. Everything is very detail-oriented and the plans are executed according to the details."
Do what's best for the patient
As necessary as these plans are now, they will prove even more so in the future, predicts Dayan. "Aesthetic medicine is going to continue to expand because people always want to feel better about themselves, but they want less invasive, quicker results at an affordable price. Patients are expecting perfection, and doctors can't deliver that, so there's a disconnect there that will have to settle out," he says.
He also sees better products in the future. "Botox changed medicine. Before Botox, if you wanted to look good, you knew you were going to have surgery and you were going to have downtime. After Botox, people come in with no downtime and little expense. Everything we do is measured by that standard." Dayan believes aesthetic medicine is caught somewhere between retail flair and general medicine, and it needs to be handled differently than either.
When asked whether retirement is in his future, Dayan instantly responds, "I will never retire. I'm not sure I believe in retirement." What does the future hold for this difference-maker? "I hope to be doing the same thing. My ultimate goal is to make people happy, whether it is through surgery or the different projects I'm doing," he says. "The ultimate goal cannot be financial and if it is, you won't succeed. In the end, you've got to do what's best for the patient and it will always come back to you."