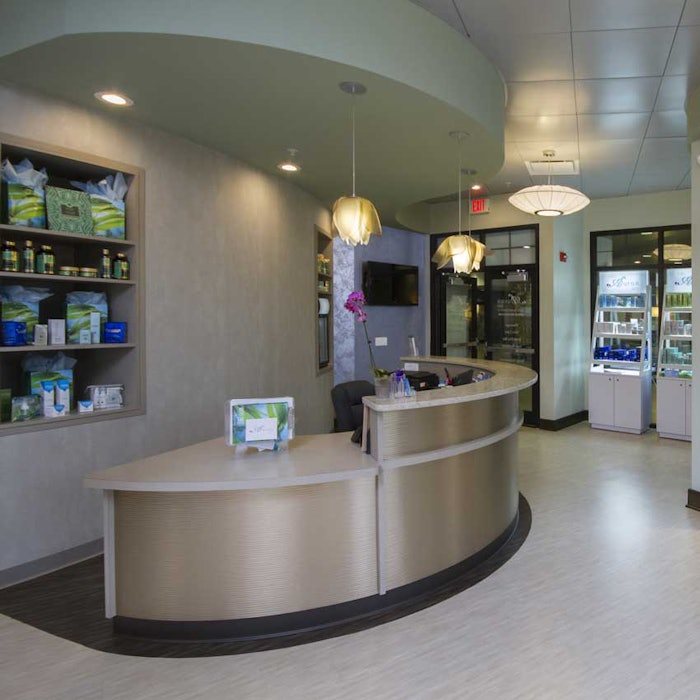 Imagine an esthetic business where clients can seamlessly integrate plastic surgery with facial and body treatments, all under the aegis of trained plastic surgeons and licensed estheticians using effective, professional skin care. That would be a win-win-win-win situation—one where the plastic surgery practice, the spa, the skin care company and, most importantly, the client, all win. You don't have to imagine this: this fabulous partnership already exists between the Aesthetic Associates Centre for Plastic Surgery and Advance Skin Care and the Trés Auraé Spa just outside of Buffalo in the hamlets of Amherst and Williamsville. What really makes this an esthetic marriage made in heaven? The plastic surgeon and spa manager are husband and wife. I understand the benefits of working together with a spouse to grow a business, as I work closely with my company's COO and my husband David Sarfati.
Buffalo native Joni Shatkin is the proprietor of the Trés Auraé
While Dr. Shatkin's staff had performed medi-spa facials on clients and patients at his Aesthetic Centre for many years, it was when he and his wife were approached by the Wyndham hotel owner to open a spa in the hotel that the idea of creating a true plastic surgery/medispa experience came to fruition.
Watch a video on the spa's launch, and learn about Dr. and Joni Shatkin's approach.
Today, nearly two years later, the business continues to grow, offering a unique medical spa program unlike any I have encountered. I talked with Dr. Shatkin and Joni Shatkin about their successful business model and their future plans.
Lydia Sarfati (LS): Why did you decide to open [the spa]?
Joni Shatkin (JS): My husband came back from one of his medical conferences with compelling information about the benefits of massage pre and post treatment and decided to incorporate these as well as skin treatments into his protocols. As a result, the spa now gets 10 to 15% of our new clients as referrals from the Aesthetic Associates Centre. We offer free consultation to his patients and vice versa. We find this beneficial to the clients because both men and women have many questions about how to look better. With both the Aesthetic Associates Centre and Trés Auraé Spa, they have many options, customized to their needs.
SS: Our clients frequent both locations, as the services complement each other for the best in wellness, antiaging, beauty and relaxation.
LS: Why did you choose the Buffalo, New York area?
SS: For one, we have our roots in Buffalo and the Western New York area. I joined into practice with my father, also a board certified plastic surgeon, in 1989 and had 20 plus blessed years working side by side. In addition, Buffalo is a tremendous market for beauty and wellness services. It is a thriving community, and there is a renewed focus on health and wellness here. Buffalo has always been known as the 'City of Good Neighbors' and is such a close knit community that it thrives on word of mouth. In this area of Western New York, between New York City and Toronto, Canada, having award winning services with an exceptional staff makes for a successful business.
JS: My husband has been incorporating medispa treatments for many years in his practice. When we were approached by the Wyndham owners to open a spa in their new hotel, we thought it would be the perfect opportunity to expand this concept into a fuller experience for spa clients and for his patients. It incorporates good skin health with surgical treatments. He and his staff can perform Botox and filler treatment, laser treatments, as well as surgical procedures, while the spa can focus on the health, wellness and appearance of the skin.
LS: [You] will be open for two years this November. How has the collaboration gone so far?
SS: Although we haven't done an official study on this, I have noted that my patients heal quicker, have faster swelling reduction and overall increased recovery rate since we incorporated massage and skin therapies into our protocols for plastic surgery treatments. And my patients have noticed the difference as well. Yes, they like the pampering, but they can also see how the two modalities work synergistically together. I have been in practice for 27 years, and since we started our collaboration, in the last 12 months, patient recovery and satisfaction has definitely increased. Using products and treatments from Repechage, face texture has improved. I think my patients are looking better than ever. This "combination rejuvenation" approach has done wonders for our patients and our bottom line.
JS: Since we opened, we've found it to be a great way to access referrals. We can take care of the quality and texture of the skin, and Dr. Shatkin can take care of major sagging. We can tighten and tone the body, but he can take over when it comes to body contouring or breast augmentation and shaping. My estheticians are well educated on making the clients look better, and Dr. Shatkin can complement this with medical treatments. One of the key collaborations came from his interest in learning more about the actual benefits of massage in conjunction with facelift surgery. Incorporating massage pre and post surgery, can be essential to proper recovery, and help to relax the muscles in the neck area to maintain head mobility. From this came the development of specific protocols for both massage and skin care pre and post surgery. His patients are my clients, and vice versa.
LS: Why is your model so unique?
SS: Our collaboration is unique, probably one-of-a-kind in that we can offer all aspects of health, beauty and wellness. Having the medical component of the practice gives our clients/patients a chance to get all their services under one organization to look and feel their best. As a plastic surgeon, I have discovered that looking great is more than just pulling the skin. It is really about putting it all together in protocols that incorporate spa services with surgical and non-surgical rejuvenation. The combination rejuvenation results in better outcomes, as well as a more holistic and healthier approach to looking and being your best.
We use clear, concise protocols for skin management, for both superficial and deeper treatments to maximize results. To this end, in conjunction with Trés Auraé Spa, we put together protocols used by our patients. This holistic approach includes nutritional supports, getting them on at-home programs such as brightening skin care or nourishing body cream if they are having a body procedure. Whenever possible, we send our patients to the spa one week before the surgery for a nourishing facial and lymphatic neck and facial massage. For pre-body treatments, they go to the spa for a body scrub and seaweed detox two weeks before surgery, a focused body massage and body wrap one week before surgery and a massage four weeks post-op as well.
JS: Conversely, from a spa owner's point of view, I've found this is the solution to so many questions we get from clients. Our clients may still be bothered by something in their appearance that skin care alone cannot change. They come in for a facial or a peel, but ask us how they can fill fine lines around the lips, fill the valleys under the eyes or relax muscles that they feel make them appear angry or tired. We refer them to the Aesthetic Associate Centre right down the street, and let them know they can get a free consultation.
SS: Because all the staff in both facilities are knowledgeable about the other's fields of expertise, there is a constant interplay between locations which gives the patient the confidence that they will receive the utmost attention and referrals to the entire team.
JS: My estheticians are constantly going over to the Aesthetic Associates Centre for classes and education on the latest procedures, while the staff at the Centre are always getting further education on the latest skin care treatments and the skin care products we carry.
LS: What's the most important thing to consider with this program?
SS: "We have a unique collaboration between the spa and the plastic surgery practice, but you don't have to have the staffing or spa services to promote good ancillary skin treatments. You can still refer out to other places. Seek out a spa or plastic surgery facility locally in which to collaborate, providing the same interactive incentives and referrals that we provide. This is the win-win-win of the equation. You win, the spa wins and the customer wins. The key is that the spa needs to recognize there are things they cannot perform in their facility and that the surgeon recognizes that there are things they cannot do as well as a spa or skin care salon. If you are looking for the best possible result for your clients, you need to go to both ends of the spectrum to provide full service.
LS: What they have in store for the future?
SS: "Being on the 'cutting edge' of the esthetic industry allows the medispa to offer new innovations on a regular basis. Most recently, the medispa has added platelet rich plasma (PRP) with collagen induction therapy (CIT) to rejuvenate with the use of growth factors in the clients own blood. New technology and devices have emerged to potentiate beautification and optimize results, but all of these innovations need attentive all encompassing management of the clients needs. Having the collaboration of estheticians, cosmetologists, physicians, nurses and physician assistants will assure the best outcomes.
Disclosure: Repêchage is the exclusive partner for all professional skin care treatments available at Trés Auraé Spa.