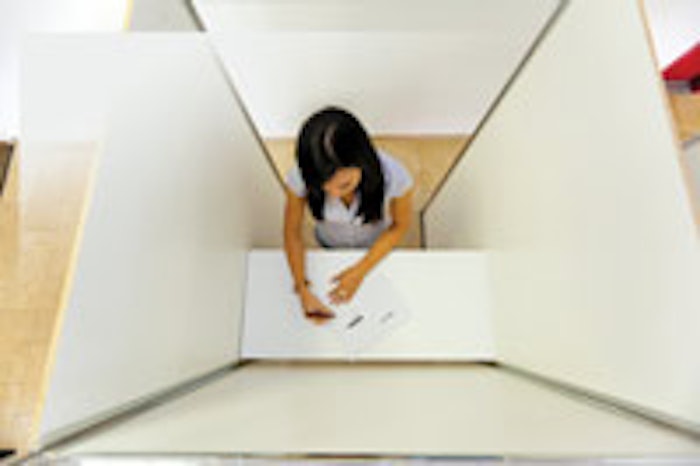 The skin care profession has faced a remarkable amount of scrutiny in the past five years, and what it really boils down to is a scope grab. Decisions are made by state legislators who have little to no understanding of the skin care profession and the day-to-day work it involves. Often, it seems that decisions made under the guise of public protection are really only intended to appease various interest groups outside of the skin care profession.
What does this mean for estheticians?
Skin care professionals spend so much time in treatment rooms taking care of clients' skin that it is a challenge to pop out and take a look around. However, the luxury of staying unaware of what's going on is no longer an option. To protect the livelihood of the profession, estheticians must get involved. Take a quick look at the nation's history—in many different instances, a single group of motivated individuals has had the power to inspire change or right an injustice. Estheticians can do the same thing for the skin care profession.
Following are some tips skin care professionals can use to let their voice be heard regarding legislative topics that greatly affect their careers.
Get to know your local representatives. Skin care professionals should be able to name the person who represents estheticians in their state legislature. Know the basics: her name, what party she is affiliated with and how she can be contacted. People have a right to contact their elected leaders with concerns. In order to be taken seriously, of course, being a voter is necessary.
Register to vote, and do it. Honor the right to vote and use its power. It can sometimes feel like one person's vote cannot make a big difference, but do not get discouraged. It does make a difference.
Understand the legislative process. Become informed about how new laws are passed—the process varies from state to state. The National Conference of State Legislators has a useful overview of this process on its website: www.ncsl.org/research/about-state-legislatures.aspx.
Attend cosmetology board meetings. If you are unable to attend a meeting in person, request the meeting minutes to be aware of any rule changes being proposed. Concerns can be voiced at public meetings of the board or submitted in writing.
Know your cosmetology statutes and rules. Know whether or not a specific concern is already written into statute. If the issue is based on something that is already written into statute, just voicing a concern is not enough. Statute can only be changed by a legislator who is willing to sponsor a bill to that effect in the state legislature. This means more organization is needed. A coalition of people must come together to voice their concern and raise money for the bill.
If the concern is about something that is written in administrative rules, but not in statute, then approaching the board is the first step. There are laws that govern how a board must respond to written inquires by licensees. Gather supporting evidence to bring to the board, and provide the answers to questions like these.
How is the public's safety impacted?
What is the economic impact to the profession?
How is the issue impacting the lives of professionals and clients?
Is there significant scientific evidence to back up the viewpoint? This is important if the goal is to improve scope or to have a prohibited practice revisited.
Are other estheticians or affected voters offering their support? Board members and legislators listen to groups—the more people standing behind an issue, the more likely voices will be heard. Professional associations should be able to help, as well.
Know how to respond. If something in a bill is concerning, take the following steps.
Read the bill analysis. This is the document legislators use when considering the bill. It gives a general overview of the bill's purpose.
Create a written response to raise concerns about the bill. Make sure to identify a specific goal—in other words, don't just voice a complaint, but also provide the desired solution. For example: "Stop the shrinking scope of practice for estheticians by expanding the scope to work within the epidermis." In this case, be prepared to educate legislators on what the epidermis is and the typical services that would be included. End on a positive note; for instance, mention benefits that would occur for the public and the state as a result of the suggested solution.
Create a social media campaign and a petition. Remember, a coalition of people is needed to make an impact. Ask why they should care, and then communicate those reasons. Reach out to professional associations, bloggers and local media to generate interest.
Understand legislative terminology. For example, when looking to protect the esthetics license title—meaning that no one without a license can call themselves an esthetician—this is called "title protection." This is not written into the rules, but it is a statute. It is important to know and understand this in order to avoid sounding uneducated about the legislative process when approaching the board.
Keep cool. When emotional individuals who do not understand the facts testify in board meetings, their concerns are generally quickly dismissed. The issue being raised might be one that should be addressed, but emotional messages will be lost in the heat of the moment. Lack of understanding about the issue or the legislative process will be obvious, and any potential supporters will be alienated. Getting angry or speaking in a demeaning way can ensure a battle lost.
Watch the state medical board. Don't only keep an eye on your state's cosmetology board. Stay alert for upcoming proposals that may be concerning for estheticians by watching the medical board. This should involve just a quick check-in every couple of months.
Join an association. There is power in numbers, and professional associations exist to offer support. Many associations have a government-relations department that can help speed up communication. An association is an organized group of people with a common interest and a common purpose—benefit from this resource. See www.SkinInc.com/education/associations for a complete list of some of the major associations in the professional skin care industry.
Band together!
Speaking up and taking a stand for what you believe in can seem overwhelming. After all, estheticians tend to be nurturers, not fighters. However, this does not mean you can't make a difference. When you band together and rely on each other for support and advocacy, there's no question about it: You can do it!
Susanne Schmaling is the director of education for Associated Skin Care Professionals. A licensed esthetician and experienced instructor with more than 15 years of experience, Schmaling is also a member of the 2014–2015 Skin Inc. Editorial Advisory Board.