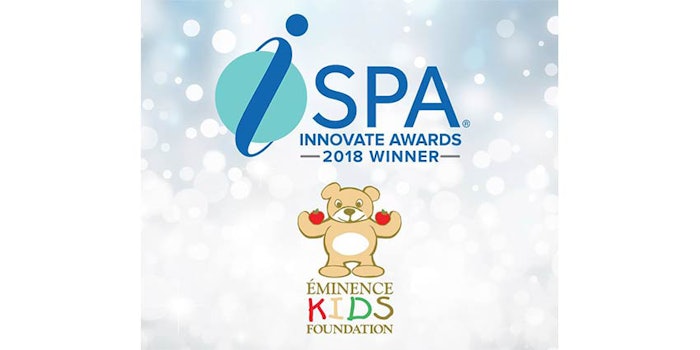 @EminenceOrganicSkinCare/ via Facebook.com
In recognition of its work with children around the world, Eminence Organic Skin Care will take home the Innovate Award—for the third year in a row—at the 2018 International Spa Association (ISPA) Conference & Expo.
The ISPA Innovate Awards recognize companies with innovative and successful spa industry-related initiatives. Eminence is being honored for its philanthropic efforts through the Eminence Kids Foundation, which offers organic, locally-sourced and nutrient-rich foods to sick children around the world; to date, it has donated more than 65,000 meals.  
Boldijarre Koronczay, president of Eminence Organic Skin Care, will accept the award on the brand's behalf at the 2018 ISPA Conference & Expo, focusing on the topic Leadership & Philanthropy. (Eminence will also receive the Leadership & Philanthropy award.)
"I have dedicated my life to the spa industry and the organic skin care movement," said Koronczay. "Being granted this award is extremely humbling and it makes all of the late nights, sacrifices, and thousands of miles spent on the road each year truly worth every second. I am grateful beyond words that the spa industry has recognized the efforts of the Eminence Kids Foundation."
"Constant innovation is the nature of the spa industry," added ISPA President Lynne McNees. "We are so proud to be able to recognize the achievements of our forward-thinking members year-in and year-out with the ISPA Innovate Awards. Congratulations to all of this year's winners."
The 2018 ISPA Conference & Expo will be held Sept. 24-26, 2018 at the Phoenix Convention Center.