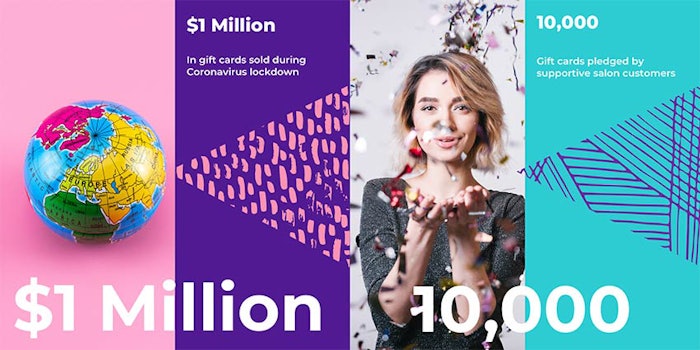 Phorest Salon Software is helping salons sell gift cards online in support of small and medium businesses trying to continue thriving during the COVID-19 crisis. Salons and spas across the United States are still managing to generate revenue despite being closed due to government measures against the pandemic.
Previously: 30Days2Grow Challenges Salons & Spas to Expand During Quarantine
Since April 1, 2020, salons have sold over $1 million in gift cards to be redeemed once non-essential businesses are allowed to open their doors again. During the first three weeks of April, the average gift card value was $130.
Sales happen online, 24/7, via the salon's website or their social media channels. Every business using Phorest Salon Software can activate the gift card service at no extra cost and can make the sale through their own personal page generated by the software. The payment system is managed by Phorest and salons/spas receive the payments weekly.
According to Phorest's CEO Ronan Perceval, this was the company's way to support small and medium businesses to survive the crisis. The company also started a campaign using the hashtag #SupportYourSalon, where salon owners can reach customers via social media, email and SMS, using pre-built templates.
"A moment like this requires creative solutions," Perceval said. "We knew cash flow would be a common problem for most salons, so this is our contribution to support the ecosystem. There are salons who sold up to $15,000 since the start of April, so we believe this has been a success so far."
He concluded, "#SupportYourSalon is the most popular template on our marketing suite at the moment. In fact, nine out of our top 10 revenue-generating salons got there by using this marketing campaign with their customers and the video has had over 5.5k views."