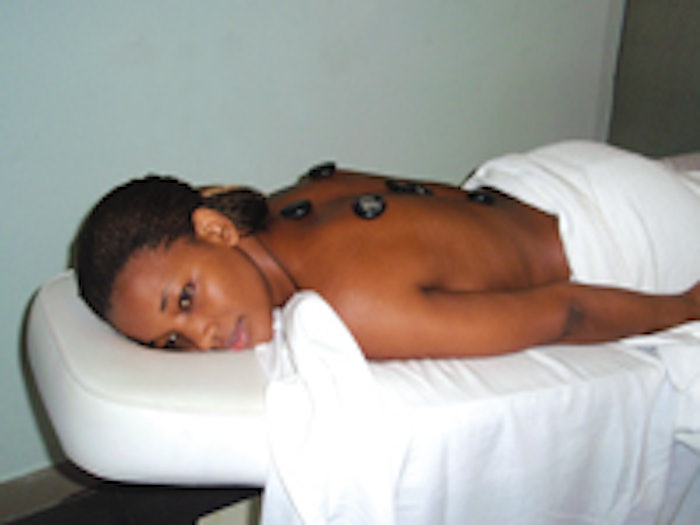 Picture this: An American couple on its first trip to Africa is mesmerized by the exotic beauty of the undulating bluffs of the Great Rift Valley and marvels at one of the world's largest wildlife movements in the Maasai Mara park reserve.
And after a day out, the couple retreats to its bush lodge in the middle of the Maasai Mara wilderness to rejuvenate at the lodge's spa and wellness center. It sure does feel good to be in Kenya.
While nothing is wrong with the setting, it is quite deceiving. Though many tourists visiting Kenya—and those from Britain andthe United States in particular—are requesting spa services, especially after the long haul flights into the country, the high demand for health and beauty services among the young Kenyan population can hardly go unnoticed, as well.
The right stuff
Today, Kenyans are big spenders when it comes to beauty, cosmetic and personal care products. This East African nation boasts not only one one of the largest manufacturing bases for such products, but has one of the leading markets in East and Central Africa, and a Euromonitor International market report from June 2008 noted that the country's growing economy has spurred people to become more demanding and discerning in regard to their premium personal care products. So, thanks to a large youthful population that accounts for more than 70% of total Kenyans, a progressively rising middle-class society with disposable income and an image-conscious society, Kenya currently boasts some of the top spasin the region.
"People, especially the youth, are spending more on maintaining healthy bodies. And after a hard day in the office, many come to the spas for various treatments that will help them relax and rejuvenate their minds, bodies and souls to face the challenges of their daily lives," says Zuri Zenate, spa manager of the Silver Spa at Nairobi's Silver Springs Hotel. According to Zenate, spas were once considered an extravagance by many Kenyans because they were mostly available in luxury hotels in Nairobi and Mombasa. However, the rise in demand for affordable beauty and treatment solutions by young Kenyans has driven the mushrooming of quality spas, especially in Nairobi where there is a large pool of young business executives and businesspeople climbing the corporate ladder.
Nairobi has led this trend, with the resort towns of Mombasa and Malindi following closely. However, most spas and wellness centers in these two resort cities on the Kenyan coast are tailored to the tourist market that offers a higher demand for the services. "But with many Nairobians opting to spend weekends and public holidays at the coast, it means they will need to seek these services while visiting the Kenyan coast," notes Titus Mwangangi, general manager of the Sunrise Resort Aparments and Spa, located in the leafy Nyali suburbs of Mombasa. Continuing, he explains, "We have therefore been innovative in our service and product offerings that are tailored to meet the demands of these market segments. We are quite flexible with our clients as we want to offer them the best value for their time and money."
Charles Muia, general manager of Mombasa's Serena Beach Hotel and Spa, home of the Maisha Spa, and Mohammed Hersi, general manager of Sarova Whitesands Beach Resort and Spa, which is also in Mombasa and home of the Tulia Spa, echo this sentiment. They both concur that Kenyan women attending business meetings and conferences in Mombasa are frequent visitors to the spas there. "It is not just about the beautiful look," notes Muia. "It is also about total relaxation after a stressful day. They want to unwind after a hard day's work so they can be re-energized as they move forward."
Top treatments
While traditional massage has been one of the most popular services, hot stone massage is also quickly gaining prominence among Kenyans. According to Jane Kanyi, a massage therapist in Nairobi's Hadassah Spa, the hot stone massage is deeply relaxing to the body and packs a punch of energy on every muscle through heated volcanic stones of varying sizes placed on an herbal-oiled bare back.
The heated stones give a deeper massage by creating body sensations of comfort and warmth. "The direct heat relaxes the muscles, allowing manipulation of a greater intensity than with regular massage. This ensures that every cell in the body receives more oxygen and nutrients while at the same time waste material is removed more effectively through the corresponding increase in lymph flow," Kanyi says. "It is quite an experience to feel the deeply relaxing, penetrating heat from the basalt stones."
Government involvement
The Kenyan government has identified tourism as one of the major engines for its economy under a new master plan dubbed Vision 2030 that is set to propel this East African nation into a medium-income economy by the year 2030. Under the Vision 2030 blueprint, the government intends to provide incentives encouraging investments in tourism, and while international tourists have been key drivers for the sector, the government is also shifting its focus on the growing domestic tourism sector that continues to show remarkable growth fueled by the young population and a growing middle class society.
Contained in the draft policy on tourism, the government has recognized the development of spas and wellness centers across the country as one of the niche tourism products that could attract more local and international tourists to the country's destination spots. Tourism minister Najib Balala explains, "Health spas are tailor-made to provide relaxation and curative benefits to users and are of high benefit to visitors who have chronic health complications, as well as stress-related problems. Health spas also are ideally located in serene areas characterized by naturally occurring hot spring water and geysers, and the Great Rift Valley is a high potential area, with its mineral content that includes curative elements and can serve as a core attraction. Some of the proposed health spa services include hydrotherapy baths, Vichy showers, inhalation therapies, mud baths, massage therapy, aromatherapy, reflexology, cosmetology and chiropractic services."
Under the development objectives, the Kenyan government, through the Ministry of Tourism, intends to take the development of spas and wellness centers a notch higher. To this end, the Ministry announced the proposed development of a spa and wellness resort city in Diani on Kenya's south coast. Dubbed the Diani Spa City, the government has pledged to pump in more than KSh 18.5 billion, the country's shilling curreny—which equates to approximately U.S. $247 million—to help the development of the resort city, though this excludes private capital and infrastructural development plans that will include auxiliary development plans for a new golf course, boutique hotels and a culinary school.
Spa necessary
Checking in with many spas in the Nairobi and Mombasa metropolitan areas reveals women are the biggest spenders and clients at the spas. According to Zenate, many women make regular visits to the spas, as compared to men, who will go for the occasional massage or facial treatment. "Men are mainly interested in physical fitness and neat haircuts when they come visiting," adds Joseph Mrema, assistant spa manager at Silver Springs' Silver Spa.
But why spend so much money on body maintenance? When this question was posed to women in Nairobi, they respond with a variety of reasons.
"I work very hard to earn my money, and I have to take care of my body," says Natasha, a corporate communications executive in Nairobi. Stacey, a Nairobi lawyer, notes, "In the past, men and women cared less about how they looked. Today, you will find spas and beauty clinics in almost all neighborhoods in Nairobi because people want to look attractive. They care about how they look because, in business, first impressions matter. Simply put, great looks win you business."
On average, Kenyan women have been known to spend between U.S. $195–650, or KSh 15,000–50,000, per month to pamper their bodies in the country's spas and wellness centers. And this is exclusive of other beauty-related expenditures such as makeup, perfumes and hairstyling. The figures are not expected to come down any time soon because of the constant rural-urban migration, which is set to guarantee new recruits in the spas and wellness centers across Nairobi and Mombasa.
A spa future
With the growth of this nation's middle class, along with its government's tourism initiatives and the importance of looking good to its up-and-coming young population, it's clear the spa industry has found a good fit with the country of Kenya.