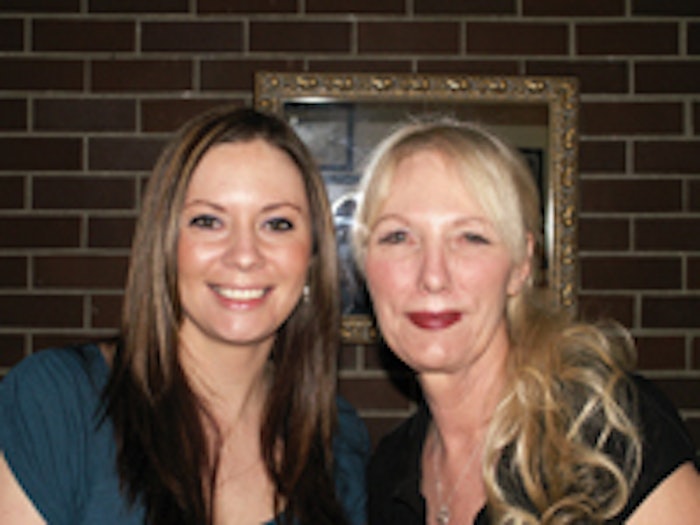 Cat Nickerson, co-owner of Forever Young Skin Care in Mount Vernon, Washington, knows her skin care. In fact, with Louisa, her daughter and other owner of the business, they live it, breathe it and have a passion for it that is so genuine, it is no surprise that their business, which has been open for less than one year, is enjoying great success. "Between my daughter and me, it's all we talk about," laughs Nickerson, who formerly worked as a nurse at Skagit Valley Hospital in Mount Vernon and now is the skin care specialist at Forever Young. Louisa, a former retail professional, is the spa's sugar hair removal expert and works the business end, focusing on retail and marketing. Both went to school together and received their esthetic licenses from Paroba College in Everett, Washington, in 2008 ... just in time for the recession.
And although Nickerson acknowledges that the economy hasn't been easy on the new business, her clientele is growing and her retail-to-treatment ratio is a whopping 50%. "We're hoping that starting and maintaining during a down economy will allow the spa to grow during the good times in the future," she explains. Her current success, however, can be directly traced to her sincere desire to relieve stress and promote skin health to her clients. "There is an idea that spas are just luxury, but you have to offer services that aren't just luxury, such as acne and anti-aging treatments. We believe in skin health so much. I had a client come in a few days ago that I'd been trying to convince for four months. Her skin issues were so bad and her stress level was so high. She called me right away after her treatment and said she couldn't wait to get her next one. She couldn't believe it took her so long to come in."
As evidenced in this exchange, one of the team's biggest marketing tactics—along with take-away brochures, a website and a Facebook page—is talk. "I'm the one out there with the big mouth because I talk to everyone about Forever Young," laughs Nickerson, who is notorious for handing out brochures in any situation. Although she becomes modest when discussing this tendency, it really makes a big difference for the spa. Her willingness to verbally share her passion for skin health also translates into retail sales for her business, which works with Dermalogica, (h2t) and Sugar of the Nile for sugar hair removal. "Unless the clients let me know they prefer silence, I discuss what I am using on them during treatments and explain if the products would benefit their condition through at-home use in between spa visits. They usually buy something," says Nickerson. Along with preaching the benefits of home care, Nickerson also credits her and Louisa's decision to carry smaller sizes in the retail area. "We offer smaller sizes of products instead of huge, expensive sizes," she says, explaining that the smaller amount and smaller price tag make retail products more accessible to her clients. "Most will buy the smaller size, decide what they want and come back and buy the larger size."
Another offering that is marketed through talk at Forever Young is sugar hair removal. "Louisa and I do sugar hair removal on each other and show the results to potential clients. Everyone notices that it makes the hair sparser and finer, and it doesn't come back as quickly." Both owners chose to get certified in sugar hair removal while obtaining their esthetic licenses, and Nickerson says that decision was totally worth it. "That certification has led us to a good market and it was definitely worth the extra hours," she says.
Looking to the future, Nickerson foresees a time when the two-room facility may expand, but for now, she is simply enjoying offering the benefits of skin health and stress reduction to her clients, and sharing her dream with her daughter. "I'm so happy to be able to work with my daughter. It's wonderful that we're both able to do this, and that we have so much in common," she says.
And although, from a business perspective, the women at Forever Young are doing everything right, it is evident that the real reason for their success is their genuine passion for their clients' well-being.