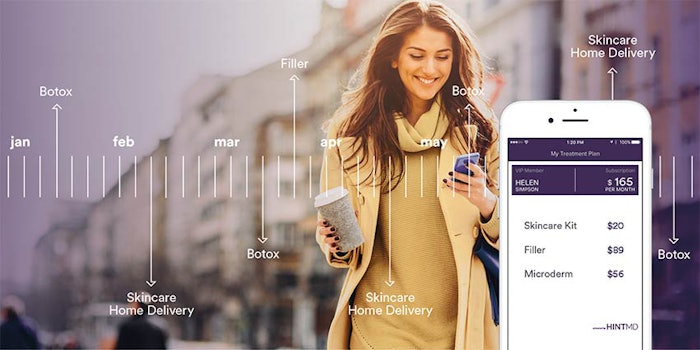 HintMD, an application which allows customers to pay for treatments in monthly subscription payments, has launched.
The app, which is available on iOS and Android devices, allows physicians to input individual treatment plans by product, unit and frequency. Patients can follow and track their treatments through the app.
Plans inclusive of a neuromodulator—such as Botox, Xeomin and Dysport—filler, skin care or other esthetic treatments average $171 a month. During a two-year beta-test including more than 6,000 members in 50 aesthetic practices, patients' annual visits increased from 1.4 times a year to 2.9 times a year while using the service.
Additionally, the app allows for unified integration of existing rewards programs, such as Galderma's ASPIRE points, and medical-grade skin care purchases such as Alastin. 
HintMD launched to physicians at the American Society of Aesthetic Plastic Surgery (ASAPS) Aesthetic Meeting in July 2018, the same month it went nationwide with 250 esthetic and dermatology practices.