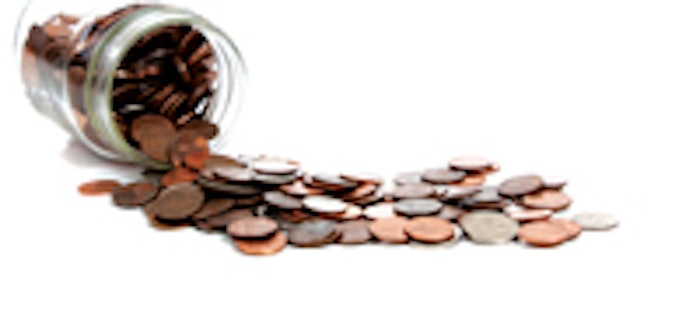 The service side of the beauty industry is commonly seen as a luxury and tends to suffer during economic downturns. Clients may receive treatments less frequently or cut them out of their budgets altogether. As beauty professionals and business people, it is important to consider smart solutions to adjust how money is spent while keeping services top-notch. A close examination of some of the basic necessities can reveal avenues for savings and an appropriate redistribution of funds.
Retail
It can be easier to sell products if there are only one or two items on the shelf, as opposed to it being fully stocked. When clients see fully stocked shelves, some might think that they can come back any time, and the product will be ready and waiting for them. One way to create urgency is to keep only a limited quantity of the best-selling products on the shelf, thereby encouraging clients to purchase immediately since it appears as if it may be not be available tomorrow.
Perhaps the best strategy is to offer outstanding customer service by the way of custom orders. Customized ordering makes great economic sense and provides the opportunity to stretch your customer service muscles. Through customized ordering, you do not need to keep your shelves stocked because orders are placed as clients need to replenish their products. That is not to say that you should place orders on a daily basis, just that your ordering schedule may increase to accommodate clients' needs. Set a schedule, and let clients know when the next order will be placed, taking payment up front for the product and calling clients when it is delivered.
In this economy, many suppliers are willing to work with spas by either waiving their minimum order requirements, or dropping them altogether, making customized ordering possible. If a supplier still requires that its minimums be met, negotiation is a must. Often, simply asking the vendor if the minimum can be waived is all that is needed. Many people don't even ask because they believe a requirement is a requirement, but rules are made to be broken, and if the question isn't asked, than the answer can't be given. Keeping your accounts current and in good standing will give you a lot more haggling room when negotiating with suppliers.
Additionally, with customized ordering, you can schedule seasonal consultations for clients to adjust their home care on a regular basis, giving them optimal results. And because most products last about three months, this keeps them on track to restock on a regular basis. As an added bonus, the extra attention and care this brings to clients will go a long way in building a lasting and trusting relationship, while allowing you to spend wisely and when needed, rather than in anticipation of a yet-to-be-defined need.
Backbar
Most product manufacturers offer professional-sized products for backbar use, and they are a necessary part of performing services in the treatment room, but do you need the largest sizes available? Consider swapping your larger professional backbar sizes for the more economical retail sizes to save a little money while still providing the product that you and your clients have come to love. As business owners, you need to be able to assess your own individual needs and spend your money accordingly.
Blankets and linens
A huge part of the relaxation experience for clients revolves around the comfort of the treatment tables. One great item that all estheticians should have on their table is a heated blanket or heated pad of some sort that will keep clients warm and toasty from neck to toes. These blankets are available through professional vendors, and other versions can be purchased in mass market venues, as well.
Whether you use specialty sheets, a laundry service or something in between, there are ways of maximizing your linen usage to minimize cost while maintaining sanitation guidelines. When setting a bed for a facial service, it's common to use two sheets, allowing clients to slip in between them for comfort and warmth. The same end result can be accomplished by using just one sheet and enlisting the mummy or cocoon technique.
With the client lying on top of the sheet, pull one side of the sheet up and around the client's torso and legs.
Repeat on the other side to gently cocoon the client in comfort.
At this point, you may add a bolster under the client's knees to lessen the pressure on the lower back, further lulling her into relaxation.
To top it off, add a nice fleece throw. They are snuggly and soft and are available in a variety of colors to go with each season.
A little more effort
Although these changes may seem small and loaded with common sense, they can be easily included without adversely affecting the end result for clients. It may take a little more effort on your part, but the money that is saved can be used toward those necessities that are truly important to keeping your business alive. Although penny-pinching may be seen as a negative quality, she who pinches pennies always has a penny to pinch.