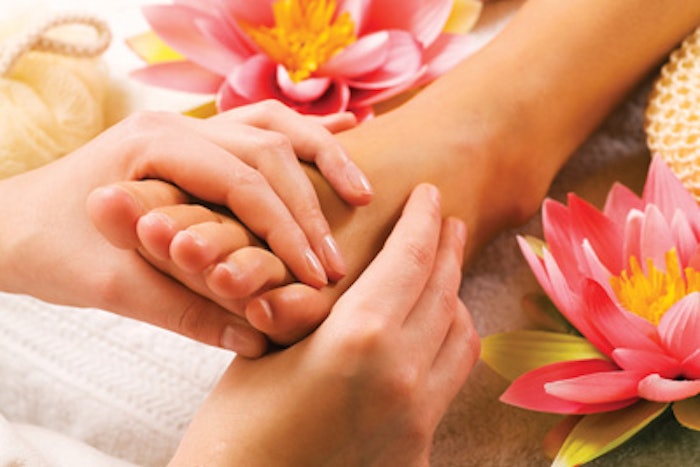 This industry thrives on trends—the latest and greatest takes on what clients want and need from spas. Multiple spa publications, organizations and Web sites even grandly announce their top 10 lists for what will be big at the beginning of every year.
This year, however, things are different; clients' needs and wants have changed, and so the trends may not be as catchy or gasp-inducing or exotic beyond belief. This year, clients need and want spas to make skin maintenance and stress reduction accessible and affordable, and a variety of initiatives are taking place to make sure that happens.
Skin maintenance vs. stress reduction
These battling concepts of maintaining skin health and soothing stress from the body are both crucial for clients, especially during this recession. Because of the level of stress that has been stoked by the economic downturn, clients require an escape from their worldly problems now more than ever. But they also need solid results in order to keep spa visits as must-haves in their budgets. "When things are tough, because of the field we're in, we focus on having a peaceful, serene environment. In stressful times, people need that. When they come here, they don't want to leave. We have to focus on addressing clients' needs and looking at their stress levels," says Sandra Donovan, owner of Donovan's Serenity & Wellness Spa in Alpena, Michigan.
Jane Wurwand, founder of Dermalogica and a longtime proponent of skin maintenance, believes the recession has brought an end to pampering in the spa. "For me, skin therapy has nothing to do with luxury or relaxation. It's a necessity, a part of health and well-being like fitness or nutrition. Pampering and luxury doesn't resonate, and no consumer is going in that direction," she says.
Of course, these opposing perspectives both have their merits and in the end, their balance will result in a happy, well-served clientele. "We need to try to reduce stress and be focused on results because clients don't have money to waste," says Donovan.
Promotions and add-ons
Many spa owners are thinking on their toes and have kept a close eye on the country's economy, allowing them time to react thoughtfully. "We've been feeling the economy for about a year. We listened to the news and followed up with our clients who are losing their jobs and businesses and homes, and we started understanding it at that time," says Rayda Ireifej, owner of The Brow & Skin Studio in Huntington Beach, California. Anya Aderibigbe, manager of A-Skin CareSalon in Arlington, Massachusetts, also saw the recession coming. "We would be hurting if we weren't doing anything about it. We started preparing for the economy awhile ago and are putting all of our efforts into making our spa work better every moment," says Aderibigbe.
One of the ways to do this is to identify how to remain an affordable part of the clients' skin care regimen. It's not a question of whether spas are offering incentives to clients in this economic climate; it's a question of how they are doing it. There are a variety of options available when appealing to clients' thinning wallets, and every spa has its own preference. Although many frown on flat-out discounting, add-ons and promotions can offer price breaks to clients while introducing them to different services they may fall in love with. "We don't want to take away from the dollar amount coming into the spa," explains Donovan. "We have decided to offer more value instead of discounting, so, for example, with a facial, we'll do an LED hand treatment for free. It doesn't cost us any money, and it introduces the client to a new element of hand care."
Aderibigbe also sees discounting as something she would like to avoid. "We have decided to cut back on discounting and instead add on services for free. We try to pick things that wouldn't be very time-consuming to offer. This month, we have a special where we do a free mini facial when a client gets a hot stone therapy massage. That's easy to incorporate," she says.
Cross-promoting is another method being used to help clients save money in a way that is beneficial to the spa, as well. "Some services tend to bring in more money than others, so, for instance, we make more off of a massage than we would a nail service. Because of this, we will offer our clients a discount only if they book a massage and a nail service at the same time," explains Stephanie Chwah, owner of Touch Companies, Inc. Wellness Center & Day Spa in Rosemont, Illinois.
Donovan is also utilizing this method to introduce her skin care clients to her hair services. "We are being more progressive about cross-selling for our facial clients. We are moving into hair a little bit more and will be offering a referral card for clients' friends for 20% off on their color. We are trying to work more efficiently on cross-promoting and have always done well between massage therapists and estheticians, but have not explored the hair area," she says.
Filling the books
Spas are figuring out creative ways to fill those empty slots in their schedules, too. "During Christmas, we normally are slow, but we saw an even bigger slowdown in 2008," explains Kelly Swalheim, operations manager of Balance Day Spa in Greensboro, North Carolina. This increase spurred the spa to place ads on Web sites such as TomorrowOnly.com, which showcases limited-time deals for local consumers. "If we saw that we were slow tomorrow, we would decide to place an ad offering a 60-minute massage for the price of a 45-minute massage," explains Swalheim, who also attacked the problem by writing specials on a board and placing it outside the spa because it is located in a high-traffic area.
Another popular method of filling open slots quickly is e-mail blasting your database of current clients or reaching out to them through business partnerships. "We are collaborating with Edible Arrangements and just trying to come up with ways to get as many people through the doors as possible," says Aderibigbe. Along with collaborations, the team at A-Skin CareSalon keeps its books full by letting current clients know they care by composing handwritten, personalized cards. And many spas believe this type of catering to clients is the very best way to keep them coming back.
Catering to current clients
Although new clients are a definite plus, now is the time to make those loyal clients even more faithful to your business. "We've been receiving all of our clients for a long time, and they've been generous, so we've decided that it is our turn," says Ireifej. "We've been very giving with discounts and are creating new treatments, as well." These new services aren't just shots in the dark; Ireifej and her daughters Rowena and Sylvia take measured steps in offering client-friendly treatments by looking closely at what their current clients have preferred in the past. "It's helping us and helping the clients," Ireifej says.
Aderibigbe's team is also examining its current menu. "We're constantly revisiting our services and trying to see how we can make them more appealing to people," she says. When considering a new service, they fall back on one of their spa's strengths: knowing their clientele. "We have a pretty predictable clientele for the most part, and we just brainstorm about what it might like. We try to add personal touches to what we do, and always greet clients as friends and family because a lot of them have been coming here for years," Aderibigbe explains.
When it comes to taking care of clients, Donovan's Serenity & Wellness Spa not only offers new client-focused treatments, but also identifies products that work and can't be found anywhere else in their area. "We've decided to offer a Breakfast in Bed spa day that uses different breakfast ingredients, such as egg whites, coffee scrubs and orange oils," says Donovan, who polled her current clients about what they thought sounded like a good spa day.
She also dedicated herself to research and identified a new product she personally supports and retails at her spa—even selling out of the first inventory in two weeks. "We always try to have something that nobody else has. I knew that it was an innovative item for this area and our clients trust what we say because we would never sell something we didn't believe in," explains Donovan.
Ireifej also is helping clients through her product options—specifically, products for clients with severe skin problems. "Some of my acne clients are teenagers and can't keep up with their products. I did a program where I gave them a product to try for two weeks. They felt like we were giving them something they could take home, and at the same time, I felt like I gave a hand to someone who really needed it and has a serious situation. I picked it up off the shelf and gave it to them and they turned around and gave me a hug," says Ireifej.
I'm coming out
The recession has cleared the way for the acceptance of an innovative spa concept: bringing treatments out of the treatment room. Two leading skin care product companies—Repêchage and Dermalogica—have been backing models that encourage a more salonlike setting in an open area of the spa where clients can get quick, focused treatments. This not only helps keep clients returning to the spa—despite financial concerns—to get their needs met, but it also provides them with a more cost-effective and efficient way of maintaining their skin. Additionally, it introduces the services to those who are seeing treatments being done and can lead to more retail purchases and treatment bookings.
One of the innate problems with the current spa setup is that clients can't see other services taking place. "There is nothing up front that says a spa is engaged in spa activity. It's either hidden upstairs or downstairs. The clients that go through the door don't ever see skin care activity," says Lydia Sarfati, founder and CEO of Repêchage. "This formula spells disaster and lack of sales." Sarfati's Facial Bar Concept provides a variety of short, focused treatments for clients who may not be able to afford the full-blown service, although this taste of the treatment should result in more interest for the 60-minute service. "The bar is an appetizer, and for the main course, they go into the room," explains Sarfati.
Wurwand, founder of Dermalogica's MicroZone treatments, which also offer shorter, focused treatments out in the open, likens the shift in service to the chair massage. "The seated chair massage hasn't replaced the 60-minute massage, and the MicroZone treatment outside the room doesn't replace the one-hour service in the room," she says. "It offers an alternative, and it's perfect for this economic period. You have to give clients the opportunity to come in and maintain their skin at a lower price point with a more results-oriented service."
The main goal
Although the trends this year aren't as entertaining or indulgent as in years past, they reflect the utilitarian, business-oriented focus spas are taking in order to survive to see 2010. And in the end, that is the main goal.
"We are in a week by week, day by day process," explains Swalheim, and this process has had to become a more diligent one. "We are making our decisions much more carefully than we did in the past," says Donovan. "You know those business classes that you took … you are using those now. The tough economy is making people better stewards of their money. Clients are also being more careful and that's a good thing. It has forced individuals and businesses to think about what they really need."