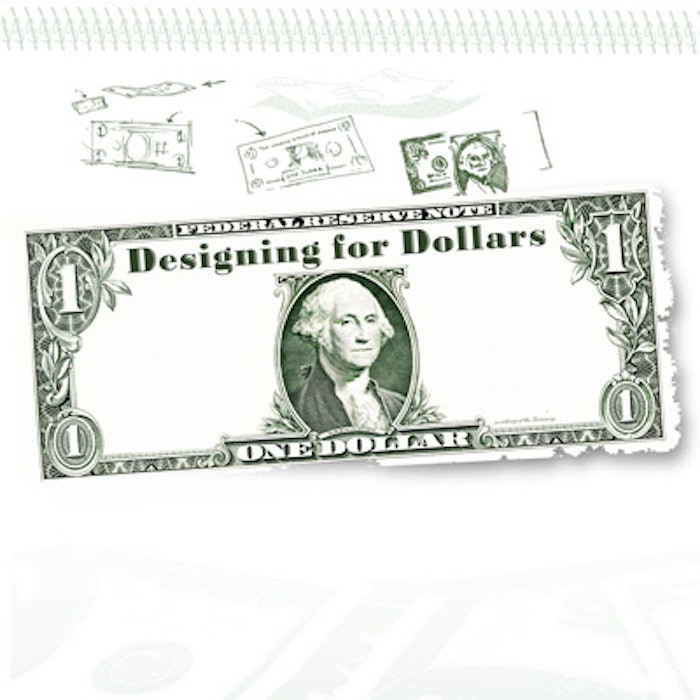 In a perfect world, money wouldn't matter, and this article would consist of pages and pages of expensive up-to-the-minute spa design trends that would make your heart race and inspire you to begin that next round of incredible high-end enhancements and additions to your spa. Unfortunately, it has become very clear lately that money does indeed matter, which makes it more crucial than ever to make your spa an enticing sanctuary that keeps your clients coming back, ensuring that your business will make it through the current economic crunch.
It is difficult to make a sweeping statement about how spas are faring during this downturn because every business' experience is different. Some spas, for a multitude of different reasons, may be weathering the storm well. Some owners may have saved conservatively, paid off all existing debt and operated within their means. Those who've played it safe may not have reaped the benefits of wowing their clients with amazing, trendy offerings, but they are currently feeling pretty secure and are resting on fat savings accounts that are just waiting to be spent.
Other spas—perhaps most spas—are somewhere in the middle and are breaking even on their revenue and expenses. They aren't ready to close their doors, but they also won't be adding a new nonrevenue-producing space anytime soon.
And then there are some spas that have had the bad luck and bad timing to invest in a huge, ornate relaxation area or six new water treatment rooms before the economic crisis became a reality, and now they are stuck with their decisions—and the monthly bills—for years to come.
Each of these situations can benefit from spa design during the recession; perhaps not in the same way, but the results could help a business not only stay in the black, but perhaps even add to the bottom line.
Feeling $ecure
If you are a spa owner who has always felt like one of the ants—not the playful grasshopper—in the classic Aesop's fable, toiling away while others sang and had fun, now may be your time to shine. "When the slump is over, the momentum will be regained and people will be looking for spa facilities," predicts Hugh Jones, president and owner of HUW Enterprises, Inc., a design and operations consulting firm for national and international high-end spas and fitness facilities. Now may be a good time to make sure they will want to come to your spa first by dipping into that savings account and making some design enhancements that will put you ahead of the pack when the economy improves.
"You can get some good deals and rates with consultants and tradesmen right now, as well as quantity discounts on materials," says Lyn Falk, registered interior designer, sustainable design advocate and president of Retailworks, Inc. and Solterra Studios. Sylvia Sepielli, founder and owner of SPAd, Sylvia Planning and Design, a company that specializes in spa design and operations, agrees, saying, "Contractors and tradesmen are able to get in and do some renovations during this time because they have more availability and lower costs due to the screeching halt of the housing market."
In order to get a good idea about the enhancements you want to pursue, it is important to enlist some help. "Have professionals come in to assess the current situation and make recommendations," advises Jones, and Clodagh, founder and owner of Clodagh Designs and a leading designer committed to the green movement, agrees about getting a fresh set of eyes to help you make the right enhancements for your space. "If you don't have a good visual sense, don't do it yourself," she says. "You can't be sensitive, and you have to see yourself as others see you. Have a stylist come in and offer a boost."
After considering a professional opinion, begin bargaining. This may not come easily to those who aren't natural hagglers, so be prepared to get outside of your comfort zone. "Say you're shopping around, and make sure any trades you work with know you have alternatives," says Falk. "Tell them upfront that you're on a budget and you have to be smart about your decisions. That's when the person on the other line is going to start sharpening his pencil. Often, if you are working with a vendor that you have an existing relationship with, you can say that you know what the going rate is for something, but your budget is set and ask if they can do anything for you with that amount of money."
Not only is now a good time to get discounts, but the economic slowdown may also have decreased the amount of client traffic in your spa—which can be a good thing when doing work on the space. "If you are running at high occupancy, it can be difficult to get workers in to do work. But if you have improvements that need to be made and business is slow, this is a gift because it is the best time to make improvements," explains Sepielli.
Holding $teady
If your spa is breaking even and you are making small cuts to ensure it survives the economy, you're not alone. But now isn't the time to completely stop thinking about the interior and exterior of your facility. "If it's not broken, you don't have to fix anything, but minor tweaks are necessary. Create a plan for incorporating small enhancements—such as paint colors, artwork and accessories—and implement them in pieces," advises Falk. Clodagh agrees, noting that there are many ways to make a difference in your spa without spending a fortune. The first step should be taking a very close look at your spa, the way a new client would see it. "Have one person in the spa walk through and look everywhere. Ask them to make note of what looks worn and shouldn't look worn," she says, and also recommends a seasonal cleaning to create an energy release according to feng shui principles, leaving space for good luck to enter.
A can of paint is very inexpensive and can result in a big change in atmosphere for your spa. "Altering colors can make a huge impact on the way a space feels and how people react to it. You could even make a change during the seasons for a warmer feel in the winter and a cooler feel in the summer," suggests Falk.
Adding and updating accessories are other great ways to freshen up your spa. "The key is to get items that are off-scale, not tiny little additions," says Clodagh. "Have something outside the main entrance that denotes spa, such as a tall, standing vase with leaves and flowers in it. Consider adding some big, beautiful things, such as a huge golden gong that is big, round and reflective, invoking the infinity circle—it's a beautiful thing for people to look at."
Another way to add visual interest in your spa is by having a relationship with local artists. Offer to showcase and sell their art, as long as they swap out their offerings every month or so, Falk suggests. Also, fresh fruit and flowers can give life and positive energy to your space. "There's a certain generosity in putting out a bowl of fruit, allowing clients to pick up a perfect apple that they aren't charged for. Also, if you can put a fresh flower in every treatment room you're telling clients they are special. I've found that orchids can last about two weeks if you change the water daily," says Clodagh. She also warns against the use of silk flowers. "I've stuck my nose in more false flowers, and I reel back every time and think, 'These people don't care,'" she says.
Additional ways to make spa design changes without spending big bucks can have an environmental and client-loyalty impact, as well. Switching to LED or fluorescent lighting in public walk-through areas is a good, meaningful upgrade that will hit the bottom line, Clodagh says, although new light fixtures may need to be purchased. "Also, put in a good water filter so clients can refill their own bottles with cleansed drinking water. In my design studio, I used to get water delivered, but with the filter, I save nearly $3,000 a year and reduce my carbon footprint," she explains.
None of this makes any impression on your clients, however, unless you tell them about it. Clodagh advises, "Make sure people know the efforts you're making for the environment. Figure out a delicate way of saying that you are mindful."
Needing help
If your spa recently invested in a nonrevenue-producing enhancement or an expensive addition to your space and you are feeling the burn because of a decreased cash flow due to economy, don't give up. There are several ways to take this lemon and make lemonade.
If you invested in a design with large, exotic spaces that don't have any direct revenue tied to them, consider creating ways to make them pay for themselves. "You're going to have to design some services that can be done in that area, but because they are usually public spaces, it can be a challenge," says Jones. "Consider using some interesting draping to draw a curtain around a table in that public space for a cabana effect."
Perhaps the space can be made into a self-serve spa experience, suggests Robert Dean Langdon, founder of Da Vinci Design Associates International, an international spa design and consulting firm. Langdon recently introduced this concept at the P Hotel and Spa in State College, Pennsylvania. "You have one attendant, and the client walks in and goes to the steam room for a 10-minute steam, then into a deluge shower for 10 minutes, a soaking tub with bath salts, a cold plunge and ultimately ends up in a tepidarium, a lounge with a heated lamp. The client does it at their leisure for a small fee, and it is geared toward someone who would not normally purchase a spa treatment," he explains.
By adapting this method to fit any water-based communal space, a spa could not only garner additional income from providing a self-serve experience, but it also might entice an unsure potential client into trying a full-on spa experience. It could be the perfect opportunity to reach out to a loyal client who would like to bring a loved one in who may be uncomfortable with the spa atmosphere.
Water treatment rooms often can also pose a challenge to spa owners because clients may shy away from hydrotherapy, and the plumbing and water can be expensive. Don't be rash when trying to figure out how to deal with them, however. "You don't want to cut off your nose to spite your face. If you can ride it out, hydrotherapy might come back around and become one of your best revenue-producing treatments," reminds Falk. Livening up your water treatment rooms may just involve a little creative marketing. "Consider offering a value-added experience at an inexpensive price to enhance body treatments, or schedule your hydrotherapy team members in two-to-four-hour increments, so they don't have to keep changing clothes, saving time and money," suggests Jones.
Another interesting way to make that type of space generate income is renting it out. "Ask yourself whether it can be rented to other people in the community for yoga classes, office gatherings or bridal showers if it can't be turned back into a revenue-producing room," suggests Falk.
Don't $top
The worst thing you can do is stop paying attention to the details that make your spa a special place for clients to visit. Spend the money you have saved for so long and get more bang for your buck when making enhancements and additions to your facility.
Also remember that if you lose that sanctuary-like feeling because of scuffed corners and ratty area rugs, you have lost your appeal—and will soon start losing your hard-earned clientele. Although you may be saddled with exotic rooms that offer little direct monetary value, make some changes and don't give up.
Falk advises, "Look short term and long term—you don't want to make any decisions that are going to hurt in the long run." By combining creativity with common sense, you can make the spa design decisions that are right for your business now and in the future.