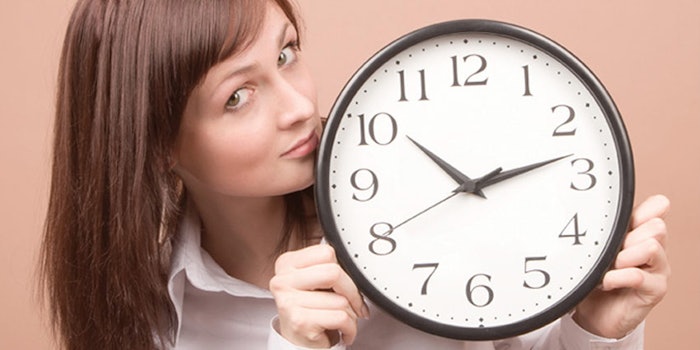 Q. How can I stop cancellations, no-shows and late runners?
A. No-shows, late runners and last-minute cancellations can rob your beauty business of $5,000-50,000 in profits each year.
The bad news is there is no way to 100% diminish these schedule setbacks. However, the good news is there are some powerful strategies you can start to implement right away to keep clients showing up on time.
Whether you are a renter, an independent contractor, spa owner or an hourly employee, the culture you create surrounding your business boundaries and policies will directly impact the reliability of your bookings. A scheduling culture that thrives must encompass well-informed customers and a mutual respect on your part.
3 Ways to Make a Respectful Booking Culture
1. Communicate policies. Create policies and clearly communicate them to your client, letting them know exactly what is expected of them when they book an appointment. Do not assume your client just knows proper appointment etiquette.
Make sure your booking and cancellation policies are disclosed in: pre-calls, the website and intake. Also, place a "booking blurb" in the business detail section of your online scheduling system.
2. Stick to it. You must own the belief that creating boundaries and sticking to them does not repel clients, but instead powerfully positions you as a professional and attracts the right type of client. Once you create and communicate your business policies, you will have to put on your business bravery cap and confidently adhere to them.
For example, if your policy states there will be a $50 fee for any no-show or last-minute cancellation, you must have a system in place which sends an invoice to the client that they must pay before they can rebook. No chickening out here. After you do this a few times, you will start to honor the process and demand respect in a loving and businesslike manner.
Through the process of honoring your policies, you will notice that the right clients will continue to invest in you and your services, and the wrong ones will leave and create the space for new and better relationships.
3. Give respect. Like any successful relationship, the respect that you demand of your clients has to be given as well. Operate from a place of integrity and professionalism by running on time and offering a delightful customer experience that leaves them longing for their next visit with you.