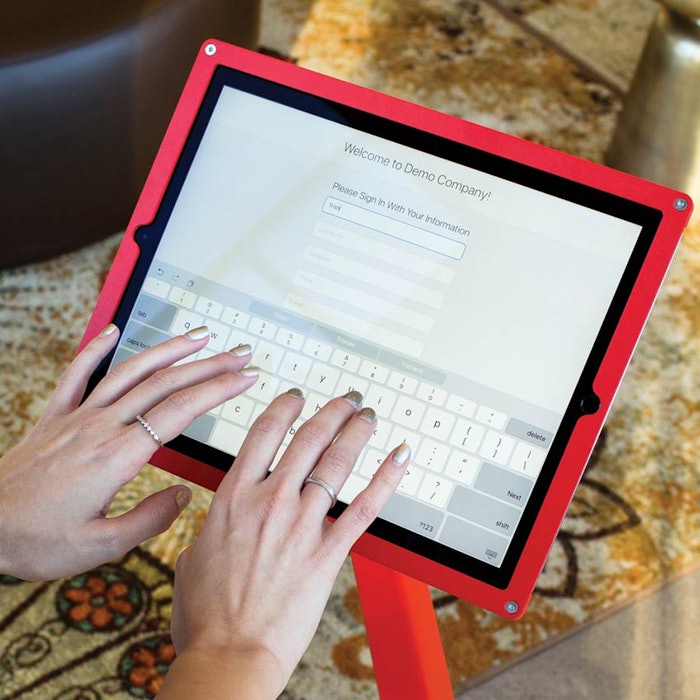 Photos by Jill Richards Photography. Equipment designed and manufactured by Heckler Design.
Consumers are rapidly growing accustomed to, and in many cases expecting, a new way of experiencing environments. In large part, this is due to the proliferation of tablets and mobile applications, which in the right combination, have the ability to enrich our experiences, streamline and simplify day-to-day processes and enhance the design esthetic of a space.
Until recently, spa owners did not have many options when it came to selecting a booking, client check-in or point-of-sale system. The software available was often expensive, complex and more than the solo esthetician needed. Furthermore, it typically required a clunky computer and a mess of unsightly wires and cords to operate it. Tablets, innovative software and sleek hardware have completely changed all of this, and clients are paying attention.
Though it was once overlooked, today clients take note when appointment booking, check-in or check-out are complicated processes. They are also more dialed into the esthetics of the space and how that plays into the experience.
In a world where mobile technology is becoming increasingly important in retail and hospitality, both small and large spa owners need to think about how to leverage technology to shape the customer experience without disrupting the tranquil esthetic of the environment.
Embracing Spa 2.0
Long gone are the days when the ability to book a facial online from a spa's website was an unexpected, yet pleasant surprise. Now it is expected. This is just one feature spa owners and the client's have come to love.
In addition to appointment scheduling, certain software applications enable online gift card purchases, automated front desk check-in, loyalty and reward programs, marketing and mobile payment processing. With the success of these elements, mobility is proving increasingly essential.
"Mobile technology is only going to become more and more prevalent, so choosing software that meets the demands of an increasingly mobile population is key," said Stephanie Jennings, senior vice president of sales at MindBody. "Features like online booking, mobile SMS communications for appointment reminders and confirmations, and having mobile business management functionality that enables you to run a sales report or check on a schedule from your phone, are all becoming more essential to stay competitive in the marketplace," Jennings said.
Selecting Software
Mobile technology has stretched into the beauty, wellness and hospitality category, and small businesses in this sector are reaping the benefits. In fact, there are more options in cloud- and application-based software specifically for spas and small business owners than ever before. Some aim to solve a very specific challenge, while others offer a host of features that promise to deliver an all-in-one solution. How do you know which to choose to deliver the best and most personalized experience for your clients and still meet the needs of your business? Follow these steps to make sure you select the right software.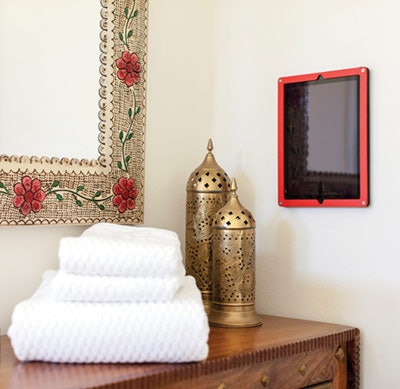 1. Take inventory of your needs. Make a list of what you are looking for in a software. Do you want clients to be able to book appointments or purchase gift cards online? Are you looking for a way to automate appointment reminders or send special birthday promotions automatically? Or maybe you want to be able to display product or promotional information or have clients sign up for your e-mail newsletter while they are checking out. Start the process by understanding the needs of your clients and your business.
2. Do your research. Don't be lured in by a special offer or convincing salesperson. The market for customer relation management (CRM) and point of sale software is diversified, and there is likely one out there specific to your needs. Before committing, request to take the software for a test drive to make sure it has all of the features you want and need, and check out the pricing structure.
"Pay attention to a provider's pricing model," Jennings said. "Some software providers charge more when your revenue or client base increases; others charge a flat rate based on the number of staff members."
3. Seek flexibility. Some software will require you to use their hardware, which can present some limitations down the road. For instance, apps like Square or Clover, while sleek and beautiful, require you to use their hardware. If you're looking for an all-in-one solution, these may be an option. Keep in mind, it can become costly to leave if you decide to migrate to a new software or tablet in the future.
4. Ensure it is compliant and current. If accepting payment, look for a point-of-sale solution that is up to speed with Europay, Mastercard, Visa (EMV) and contactless payment (Apple/Android Pay) standards. EMV cards are smart cards where data is transmitted via a chip that is "dipped" into a machine, although they also have the standard magnetic stripes for backward compatibility.
5. Support. Does the software offer customer support? Can you actually talk to someone if you encounter complications, and do they know your industry well enough to offer the right support? This is incredibly important. Take some time to find out how they help customers.
Bottom line—you have to figure out what will best support the needs of you business and your clients.
"I think customers are increasingly expecting automated options in all areas of their lives, so we try to offer high-tech choices along with high-touch solutions so we can communicate with each guest the way they prefer," said Heidi Lamar, founder of Spa Lamar. "Some like the unobtrusive confirmation of a text, while others prefer a good old-fashioned phone call."
Software and App Options
"Tech and apps are definitely streamlining the customer experience," said Christina Lee, founder of Organic Shimmer. "It is easy access, instant gratification and clients can be in control of their own schedules for the services that they are booking." Provided here are some of the new and popular software tools that are delivering on easy access, instant gratification and putting clients in control.
MindBody. This web-based software solution enables everything from appointment management and online booking to point of sale, loyalty programs and CRM. Pricing starts at $45 per month. One standout feature is the ability to book appointments from Facebook or the mobile app.
Envoy. A customizable iOS app, Envoy allows guests to check in easily, sign or fill out any necessary documents and automatically alert the appropriate staff of arrival. It also offers pre-registration, which automatically sends arrival details to guests, including information such a directions or parking instructions. It ranges from free to $999 per month.
Milano. Online booking, CRM, marketing and point-of-sale are included in this software, which also offers payroll and real-time revenue tracking. Originally created in 1989 specifically for beauty and spa, it has since expanded to other retail and wellness markets. Milano offers a web-based and client server version, as well as classes to learn the software. It starts at $699 and has a variety of software suites available.
Schedulicity. What started as a discovery and booking site for health and wellness professionals, has expanded to more than 50 industries. It offers booking, appointment reminders, e-mail marketing and customer management, and will soon add payment processing. The cost ranges from free to $20 per month.
StyleSeat. Launched in 2011, StyleSeat is a platform that connects consumers to spa and salon professionals, allowing them to book appointments directly from the site. It charges a one-time 50% commission for professionals and manages the booking, appointment reminders and payment.
Vagaro. This software enables appointment management, loyalty programs, online booking, point of sale, inventory, employee management and CRM. It is available as an app for Android and iOS. Vagaro starts at $25 per month.
Artichoke. A Baltimore-based entrepreneur who wanted to make client management easier for other self-employed entrepreneurs created this web app for iOS and Android in 2012. It enables online scheduling, appointment reminders and online credit card processing, among other features. It starts at $9.99 per month.
Shaping the Experience with Hardware
The beauty and wellness sector is a highly personal experience, and spa owners and managers dedicate a tremendous amount of time thinking about how to create a personalized experience for clients by carefully selecting decor elements such as colors, fabrics, music, aromas, etc. Yet, harware selection is just as important as these elements and the most important impersonal part of the spa environment.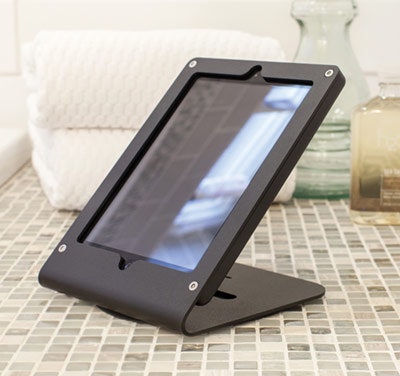 "Until recently, business owners didn't have any options outside of the bulky computer systems that completely disrupted the esthetics of the space," said Dean Heckler, founder and head designer at Heckler Design. "All that has changed. You can curate every element of it from the tablet to the color scheme and material of the hardware that supports it. Now the point of purchase or checkout can become a point of conversation."
And this is proving an important part of the customer experience. Keep in mind, nearly every client will have some interaction with your chosen hardware at check-in, check-out or through a digital display. Ensure this important touch point is on par with the rest of your spa's esthetic and underscores the personalized experience with the following recommendations.
Simplicity. Keep hardware sleek and simple and eliminate clutter and excess wires.
Eye-catching. Often the right tablet and hardware setup can become a conversation starter
Consistency. If you use premium materials and a specific color throughout your spa, carry that through to your tablet and hardware design.
Mobility. Look for hardware that offers mobility to check out clients wherever they may be in your spa.
"Attention to detail and creating the right environment is absolutely essential in the spa," said Rhonda Allison, founder and CEO of Rhonda Allison Cosmeceuticals. "Clients are paying attention to not only the cleanliness and freshness of the space, but also the overall design, and the character, is in the details."