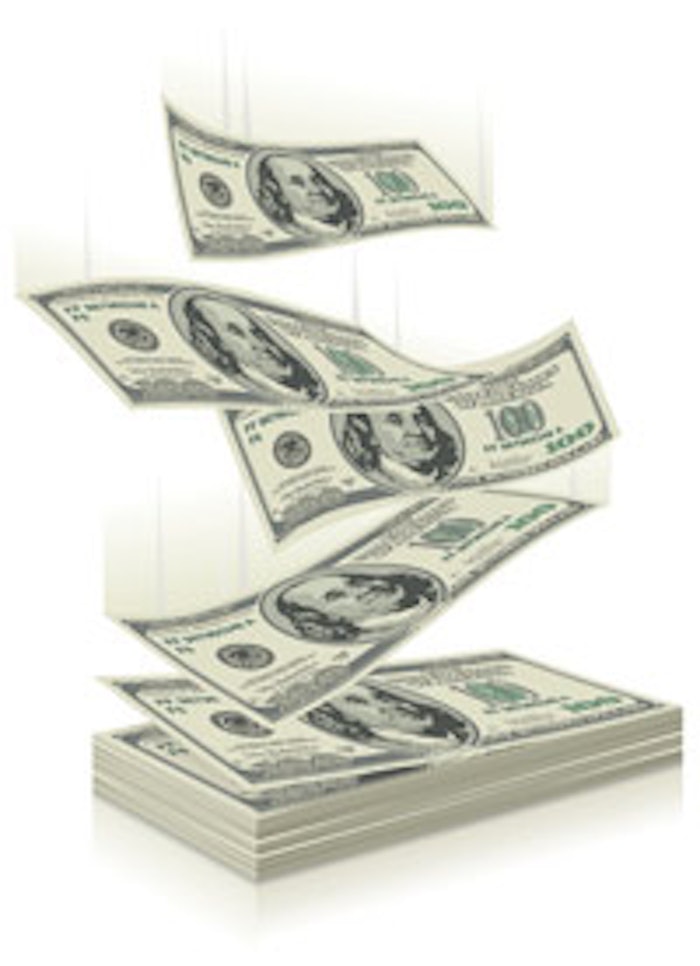 Editor's note: This article is based on the presentation that will be given by author Denise Dubois during the Advanced Education Conference Program at Face & Body Midwest® on March 9, 2013. For more information, log on to www.FaceandBody.com/midwest.
Compensation is a combination of what you pay your employees plus the benefits you provide. The right benefits program not only allows you to maintain profitability, but it helps distinguish your business and its services from the competition.
The majority of skin care facilities operate using a straight commission compensation plan, paying between 35–65% on services. This involves skin care professionals being paid a percentage of their gross sales for the work they performed during a certain period of time. Decisions for raises are often based on emotions when feeling pressured, especially if the request comes from a busy service provider. In many situations, service providers are caught feeling stagnant with no motivation to change the way they do business. This can lead to poor morale and high turnover. It is not uncommon for service providers to earn low wages and, ultimately, leave the industry all together. Many owners are losing the battle with unnecessary profit losses and a lack of accountability for their team in meeting performance goals.
Fair and equitable
It is important to have a pay structure that is fair and equitable for you as a business owner, as well as for your team. Offering a performance-based pay structured system benefits both parties. It's easy for service providers to get caught in a rut and put the blame on everyone else for their books not being busy. "The receptionist didn't book me," "The owner doesn't advertise," "Our location is bad" ... the excuses can go on and on. However, when you provide a structured plan for increased income—as well as what service providers have to do to get there—it shares the responsibility of growing professionally and definitely gets them engaged in their own growth. Now there is a career path that puts them in control. For the owner, having a structured system and setting goals takes the pressure off because compensation decisions are tied into productivity that you can both monitor and measure. It's based on real numbers and progress—not emotions.
How to do it
Organize goals based on each department within your facility: esthetics, nails, body therapy and front desk. All service providers can have the same goals, while the support staff has a separate set of goals. They have the same pre-booking targets, but they also have gift card sales goals, upgrade/add-on goals—to fill empty time slots, and retail goals. Each department can be given four monthly targets for advancement in pay, as well as a retail goal to maximize their earning potential.
Starting points for each individual are based on current numbers and clearly show everyone how they can earn more income. Working backward from the end goal, set their monthly and daily goals.
Goal-recording. Many professional software programs are available in the skin care industry that can help you customize reports, and track the growth and progress of each of your service providers and departments. Look for a software program that offers thorough reports and marketing abilities. Some also provide online booking, e-commerce integration, gift card sales, inventory, point-of-sale and much more. At the very least, you can simply put a binder together with a daily tally sheet of goals for each person. It should include a space for each day worked to track all the mentioned items and a space for the monthly totals to be tallied. You also can have a yearly tracking sheet that tracks only monthly totals for easy comparison.
Goal-recording sheets should be updated daily by each participant, and reviewed monthly with a department manager or owner. Monthly meetings help troubleshoot and provide an opportunity to enact action plans to ensure success.
Monthly goals. Monthly goals should be broken down by the number of days worked, so that service providers begin each day with a daily goal that will allow them to succeed within a reasonable amount of time. Once all monthly goals are achieved and maintained for three consecutive months, service providers advance with a pay increase and a new set of goals. It typically takes a year for service providers to hit the goals and advance.
New client retention rates
New client retention rates are a measurement of how many new clients a service provider has during a specific time period, and what percentage of them return to that service provider or even to the facility. Tracking new client retention rates can help a service provider and your business. If your skin care facility is gaining new clients, but isn't maintaining them, then knowing the retention rate for each service provider or department will help identify why, and provide you with an opportunity to coach less successful service providers and help them grow individually.
You can work on their consultation skills or hone in on what additional education is needed, whether it's technical skills, simple product knowledge or the ability to thoroughly identify client expectations. If clients are not coming back after seeing a certain service provider, then something is wrong and it needs to be corrected. Whether it's quality of service, personality, poor consultation or simply a lack of rescheduling, it is very important to track the reason for a service provider's low client retention rate. Gaining new clients is very costly, so it's important to retain them once they walk through the door.
Measure new client retention rates by calculating the new clients from a specific time period, such as January 1–January 31, and compare it to the next three months—February 1–April 30—to see how many of the new clients have returned. The percentage ensures service providers are planning for their clients' next visits and making that a part of their service plan. Again, it's an opportunity to further train the service provider on their consultation and maintenance recommendations with the client. A 40% retention rate is a good goal to reach.
New client referrals
New client referrals indicates the number of new clients that come to the skin care facility who were referred to a specific service provider. The service provider should be actively trying to bring in new business for themselves each month. When you track this number, two things happen: They take some responsibility for their growth, and they can't blame anyone else for their schedule not being busy. A good starting goal for referrals is 12 new clients each month. Providers can accomplish this by handing out business cards; getting out of the back room and introducing themselves to clients arriving at the facility for other services; getting involved in in-house events to showcase their work; and promoting their business outside the facility. Bridal shows, fashion shows, charity events and social media websites are all excellent avenues to find and bring in new clients
Another good opportunity to grow this number is to have a Refer and Receive program in place in which the service provider hands out cards to the clients in their care to pass along to their friends. When the friend comes in, she receives a special discount and the referring client is sent a thank-you along with a special gift or discount. Monitoring the new customer referral number engages service providers in their own growth and holds them responsible as well. They are rewarded with new clients and referrals for making the best use of their down time to actively seek new clients for the business.
Pre-booking percentage
Pre-booking percentage is a measurement of how many clients pre-book their next appointment before they leave on the day of an appointment. If the service provider saw 40 clients during the pay period and 20 of them booked their next appointment before leaving, her pre-booking percentage would be 50% because half of the scheduled clients are pre-booked for their next appointment. Pre-booking increases the number of appointments clients have in a given year and results in their return in a timely manner to maintain the results of their in-spa treatment. A conversation should take place with clients during every appointment about when they need to return to maintain results. For example, a nail tech should let each client know how long a manicure will last and suggest a date for the next appointment.
The goal of pre-booking can be accomplished at the front desk. Pre-booking should be the very first thing the receptionist and service provider does at check out before the exchange of payment. It increases client satisfaction by providing first-choice booking that works with their schedule, avoids any last-minute time conflicts and keeps them looking their best. For the skin care facility, it cuts down on incoming calls to the booking room or receptionist, and the potential of a client who may be unsatisfied with the availability of their preferred service provider. A good starting goal for pre-booking is 40% of the total client count during a one-month period.
Retail-to-service ratio
Retail-to-service ratio is the amount of retail sales compared to the total service sales. This percentage is derived by dividing the service provider's retail product sales during the pay period by their service sales. For example, if a service provider generates $2,000 in service sales during a pay period and, in addition, sells $300 worth of retail product to her clients, divide $2,000 by $300 and you would get a 15% retail percentage to service-dollar sales. This number is important to maximize the service provider's income and to increase client satisfaction. If products to maintain the results of clients' treatments aren't offered, it is more difficult to achieve their desired long-term goals. It is the responsibility of the service provider to offer suggestions about how to maintain the results of the day's appointment.
In addition, if service providers have and actively pursue daily goals for retail, they are once again being held responsible for their growth and income. A good retail-to-service goal is 15%, which is very easy to achieve if conversations about maintenance during and after all services are put into practice.
Another good way to set a goal is to ask team members how much they want to earn in retail commission per month. Divide this amount by the number of days they work to calculate a daily goal. The most important thing is that they have a goal that will ultimately allow them to increase their income.
Making the transition
It is important to walk through this transition confidently and fairly, in a way that is comfortable for you and your team. Educate your staff throughout the process on the appropriate profitable structures, and have an action plan for when and where changes can be implemented.
A performance-based pay structured program benefits the service provider as well as your business. When all of the goals are reached during a pre-determined period of time, the service provider is rewarded with a pay increase and a continued career path as a new set of goals and incentives is established for the next level. The skin care facility is rewarded with satisfied service providers and a support staff that is sharing the responsibility for the growth and well-being of the business.
There is likely to be a lot of excitement and motivation from team members, knowing their earning potential is really held in their own hands. Employees naturally perform better with incentives. The harder they work, the more they can earn—it's a win-win situation. As a result, your skin care facility will be able to grow with the transition and continue to do so over time.
Denise Dubois is owner and president of Complexions Spa in Albany, NY. She has been a working licensed esthetician for more than 28 years and a spa owner for the past 25 years.