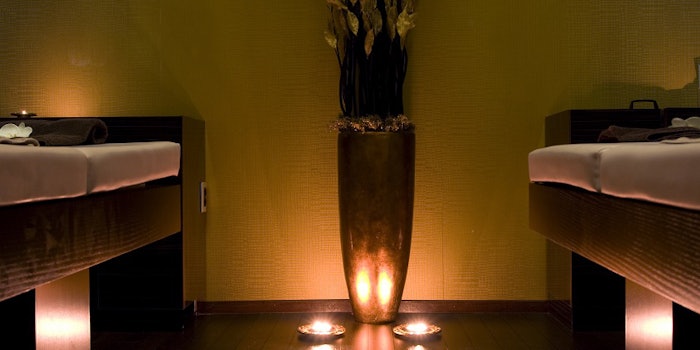 For all of the opulence of many spas' overall decor, the real profit per square foot is earned in the less expensively decorated, less glamorous treatment rooms. In the treatment room, all of the key components of the eventual sale are created, embellished and extended into the spa-goer's psyche. The efficacy and enjoyment of the treatment is the starting point for offering add-on sales, home-care recommendations and prebooking of subsequent visits. Because treatment rooms are secluded, private and hands-off to management during a spa service, this is also the space that is the most difficult to manage.
Room ergonomics and design
With the acknowledgement that a treatment room need not be overly spacious, opulent or costly, there are some parameters that should be implemented in its design. Adhering to the cardinal rule of maintaining contact with each client, creating a treatment space that it cozy, yet not confined, is crucial. Furthermore, creating a space for the skin care professional that is workable is a key consideration. Therefore, staging the facial implements within reach of the treatment area along with easy-to-use dispensers for back bar products makes the task of creating a flow between steps seamless. Furthermore, listening to commentary by VIP clients or mystery shoppers is useful in determining how each treatment room feels. See Treatment Room Questions: The Client and Treatment Room Questions: The Skin Care Professional for ideas about what questions to ask yourself in order to craft the perfect treatment room experience for both clients and spa professionals.
Individual coaching
Although quotas, team working expectations and professional standards are always useful, utilizing individual coaching practices is priceless. Standards of excellence when measured and nurtured individually create glove-fitting personal tools that reduce shortfalls and translate a winning approach to match each team member's style. Like coaching a runner not to look back at the competition during a foot race, individual goal-setting is positive, specific and immediately measurable. Key coaching points include up-selling, retail sales or home-care bundling, add-on selling and client retention. For example, a client comes in for a gift certificate standard facial and the esthetician assists the client in selecting a more comprehensive and customized facial from her repertoire and the facility's menu. The client is also offered a lash tint and brow shaping. Throughout the facial service, the esthetician educates the client on the step-by-step components of her facial. Afterward, the client is offered an easy-to-use home-care kit to ensure that the professional results achieved during her facial are maintained between visits. The esthetician also secures the client's next appointment on Wednesday after her PTA meeting but before dinner. The esthetician has integrated another successful client into her existing roster, and the client is glowing and is sure to share the news with her friends.
Improving on the every day
No matter how unique your spa is, no matter how demographically perfect your location is, no matter how much you spend on advertising, your spa is essentially selling a lot of classic services that are offered everywhere. How do you get around this—it's almost as if you are selling a commodity for the deal-of-the-day buyer? Fortunately, business people have been successfully selling very similar, if not identical, goods and services for years with great success. Take the Pike Fish Market in Seattle, for example. At Pike, most fish is bought from the same source for a similar price and brought in as the season permits. Because of this, many fish stands are selling identical fish. How does anyone make a living in this sort of environment without underselling to the point of bankruptcy? The secret is in the presentation of the fish on ice with lemons and greens; the salesmanship of the fisherman who offers cooked samples or describes the fish as only an artisan can; and the lure of fresh-off-the-boat mackerel from the cleanest waters. Get it? A skin care service must be impeccably described with visual aids that make the spa-goer want the service only from your facility. It isn't a European facial; it is a customized living cell stem skin renewal with galvanic current and an enzymatic multilayer mask. Deliver on your description, but don't blow the opportunity to tantalize the client by providing a poor presentation of the service's benefits.
Crunch the numbers
By focusing on the specifics of the activities centered on your treatment rooms, your spa's revenues can increase immediately. Measure your progress per treatment room on a daily basis. Find out how much per square feet specific treatments are costing your facility to offer. Expedite and measure your back bar usage per treatment. Analyze your retention rate per client, and assess what percentages of clients are prebooked before they leave after a treatment. Start working your rooms to enhance your bottom line and benefit the overall health of your skin care facility.
Melinda Minton has been a spa industry veteran for more than two decades. As the founder and executive directorof The Spa Association (SPAA), Minton is an esthetician, massage therapist and cosmetologist. She is the founder of the Spa and Resort Expo and Conference, an author of five industry books and host of the Spa Living radio and television franchise. Minton serves on several editorial boards, is a columnist for hotel and spa trade publications, and speaks internationally on spa management.