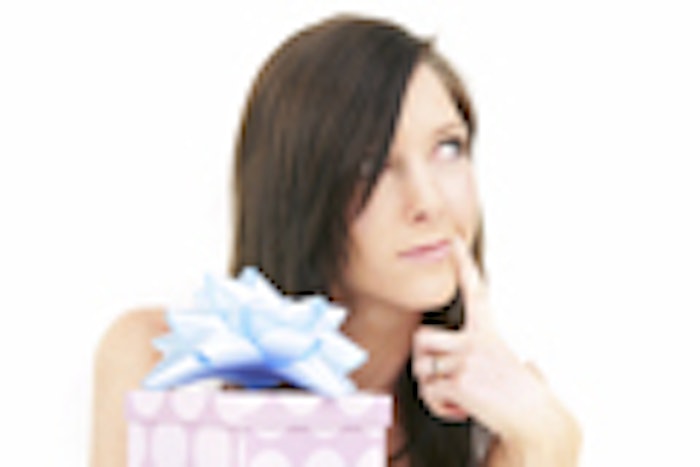 This information can provide you with guidance about how to best serve clients approaching milestone birthdays in your spa.
Women approaching a milestone birthday feel optimistic and excited at what the future holds whether they're approaching 30 or 60, according to an online survey commissioned by Cutera, Inc., a global manufacturer of aesthetic lasers. The national survey, conducted in March by Harris Interactive with nearly 1,000 women offers insights into the emotions and behaviors of women as they approach a new decade.
Key findings
Women approaching 30 are twice as likely to say they feel anxious about their milestone birthday than those approaching 60 (30% and 14%, respectively). More than 4 in 5 women (81%) approaching a big birthday say they want to improve something about their skin's appearance. More women are willing to give up sex for five years (12%) than give up the Internet for 5 years (8%) in order to stop the aging process.
Insights into the "Big Birthday"
The survey polled women who are within five years of turning a milestone birthday, from 30 to 60. The term "milestone birthday" is an indication that turning a new decade often represents an important event in a woman's life. For many, it's a time to reflect on changes in their lifestyle and appearance.
According to Debra Jaliman, MD, assistant professor Mount Sinai Medical Center, "These milestones can be traumatic for some women but certainly not for all. The survey validates what we've seen—that women are opting for aesthetic solutions because they want to invest in their appearance as a gift to themselves."
Better with age
More than one-third of women approaching a milestone birthday say turning older makes them feel optimistic because they are wiser and smarter (35%), and excited because they are looking forward to what the future holds (34%). In fact, "a fabulous vacation" was the top selection for a birthday gift (31%), winning out over "losing weight" (25%) or "looking 10 years younger" (9%). Not surprisingly, women approaching 60 were most likely to want the gift of "looking 10 years younger" (18%).
"The results of this study show that women today, regardless of age, place greatest value on a 'break' from their daily grind and relatively less emphasis on physical goals, such as weight loss or shaving a decade off their age," said Macrene Alexiades-Armenakas, MD, PhD, assistant clinical professor Yale University School of Medicine. "The high ranking of a vacation as the birthday gift of choice may be a reflection of the increased presence of women in the workforce and a greater need for time to relax and rejuvenate."
Relatively few women surveyed say they feel anxious because they are getting older (23%) or conflicted because they don't feel as old as they look (21%). Interestingly, women approaching their 30th birthday are actually more likely than those approaching their 60th to say they are anxious about getting older (30% vs. 14% respectively).
"Women turning 30 are approaching the first big birthday of their adult lives and often come to our office feeling anxious. It is typically a time of growth and transition in their lives. They may not feel settled—such as with an established career, partner or family," said  Alexiades-Armenakas. "As the survey shows, they tend to feel less anxious as they get older."
More than 4 in 5 women approaching a milestone birthday (81%) say they want to improve something about their skin's appearance. Those approaching 30 or 40 would most like to improve their uneven skin tone and texture (23% and 15% respectively), while those approaching 50 and 60 want to improve wrinkles and/or fine lines (33% and 30% respectively). Also, women approaching 40 are more likely to want to improve facial redness (12%) than those approaching 60 (3%).
The majority of women approaching a milestone birthday (64%) say they do take steps to look younger, including nearly half of women approaching their 30th birthday (45%) and more than 3 in 4 approaching their 60th birthday (76%). Popular strategies include coloring their hair (43%), wearing makeup (36%) or purchasing expensive skin care products (16%).
Other approaches used to look and feel younger: shopped in the juniors department (7%), lied about their age (5%), dated someone younger (4%) and simply stopped celebrating birthdays (2%).
When presented with a list of popular activities and asked what they would be willing to do to stop the aging process – 36% say they would give up alcohol for five years, the number one choice for all age groups. Other answers included giving up watching TV and going on vacation for five years (19% each), and giving up a favorite food for five years (16%). More women are willing to give up sex for five years (12%) than give up the Internet for the same time period (8%) if that would stop the aging process.
"Ultimately, nearly 4 in 10 (36%) were not willing to do anything to stop the aging process," said Jaliman. "I think we can project that these women accept aging as a natural progression and would not view birthday milestones with anxiety."
Methodology
This survey was conducted online within the United States on behalf of Cutera by Harris Interactive from March 19–24, 2010, via the QuickQuery(SM) online omnibus service. The demographic questions in the survey (including the age determining question) was shown in two waves of the survey to a total of 4,598 adults ages 18+ of whom 2,424 were women ages 18+. Based on the answers to this question, 934 women were interviewed for the Milestone Birthday survey, of whom 183 are ages 25–29, 223 are ages 35–39, 277 are ages 45–49 and 251 are ages 55–59.
Results were weighted as needed to reflect the composition of the U.S. adult population using targets for region, age within gender, education, household income, and race/ethnicity. Propensity score weighting was also used to adjust for respondents' propensity to be online. This online survey is not based on a probability sample and therefore no estimate of theoretical sampling error can be calculated.