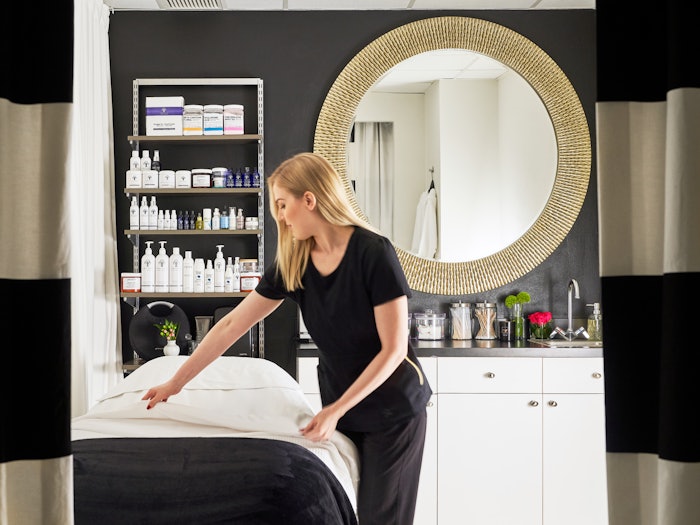 The Hopemore Spa in Dallas, Texas lives up to its name by quite literally offering "hope" on their service menu. The specialty spa founded by Gina Betts and Jeanna Doyle, was created to provide customized services for clients experiencing injuries or illnesses. While the facility has a full treatment menu for anyone interested in esthetic procedures, they specialize in services that have clients covered from diagnosis to recovery. The spa's mission is to provide a sense of normalcy and luxury at a time where many things can feel out of their client's control. The founders, along with the spa's director, Kris Astroff, have designed a space that is not only functional for their specialized offerings, but also beautiful and comfortable for clients who spend so much of their time in hospitals and doctors offices. Along with treatments that the span from corrective makeup, wig application and restorative services, the spa also offers a unique pay it forward program. Astroff designed the program to include others in their mission by giving people a way to provide funding to clients in treatment. Doyle sat down with Skin Inc. to discuss developing a menu with prices that are never a barrier to client's receiving services, the importance of training in oncology esthetics, and how to create an experience in which their clients feel cared for from booking to check out.
Skin Inc. (SI): How did you get started in the industry?
Jeanna Doyle (JD): I started in the industry through working in luxury spas and with plastic and reconstructive surgeons doing skin care and corrective makeup services for both elective and reconstructive procedures.
SI: Where did the idea for The Hopemore Spa come from?
JD: The idea was born from my work with hospitals, cancer centers and my work with plastic and reconstructive surgeons. I saw a need for corrective makeup artists and advanced skin care specialists to work together on persons experiencing injury, illness or even elective procedures. I wanted to provide these services in a beautiful, non-medical setting.
SI: How does your spa differ from traditional spas?
JD: We offer both luxury aesthetics as well as services designed specifically for those who have experienced injury, illness or elective procedures. With this dual menu our clients have anonymity because no one will know if you are coming in for a luxury facial or if you are coming because you are seeking services due to a health issue. This offers a sense of normalcy at a time when many things may seem out of one's direct control.
SI: How did you design a treatment menu that caters to people with illnesses/injuries?
JD: The goal was to provide a high level service in a luxury non-medical setting. We wanted to have a full range of services, not just one or two offerings. To do this we thought through every stage from diagnosis or incident to recovery and life after the events that brought them to us. Once you are clear on who your clients are and how you want to service them, the menu falls in place.
Continue reading our EXCLUSIVE interview with Jeanna Doyle in our Digital Magazine...