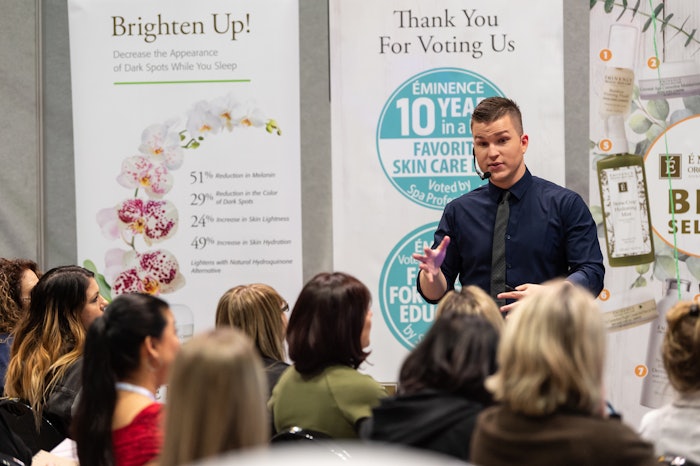 Educating is not easy, yet it looks easy when you watch and listen to Brian Goodwin, whose ability to educate and entertain his students is driven by a true passion for his craft. You can tell Goodwin loves what he does—he was hooked on esthetics after performing his first facial. Now, 15 years later and as international educator and education development lead for Éminence Organics, he has educated over 50,000 spa professionals. So, how does he keep his passion for esthethic alive, you may wonder? Skin Inc. dug deeper with Goodwin to learn more about how he is constantly learning himself, his mentors and motivation over the years, what he sees in store for professional organic skin care, and how he overcame his fear of public speaking to become one of the best in esthetics "edutainment" in the industry.
Skin Inc. (SI): How did you get started in the industry?
Brian Goodwin (BG): Though I always had an interest in skin care, due to my own skin troubles, my start in the industry was through pure happenstance. After a drastic change in college studies, I decided to go to hair school as a temporary career change while I figured things out. In my home state, basic esthetics training is offered as a part of your cosmetology certification. When I sat down to learn how to perform a facial, I immediately fell in love with esthetics and all its concepts, and realized it was what I should be doing. I then enrolled in the master esthetician program to continue my studies, and the rest is history.
SI: What were some of your first jobs out of school?
BG: I was blessed with the opportunity to work at both a high-end resort spa in Park City, Utah, and a medical spa right out of esthetics school. It was a great opportunity to learn very different, diverse channels of the spa industry, and more than 15 years later, it continues to provide value in my career.
SI: What opportunity taught you the most?
BG: There have been so many phenomenal opportunities, but if I had to pinpoint one, it was being hired as an international educator for Éminence. It taught me so much, because it connected me with industry leaders and educators that were much more experienced than me, which was a critical asset in growing my skillset. It also gave me the opportunity to train over 50,000 spa professionals throughout my career, which connected me to their incredible knowledge and pushed me to constantly study my craft, always trying to improve.
Continue reading our EXCLUSIVE interview with Brian Goodwin in our Digital Magazine...