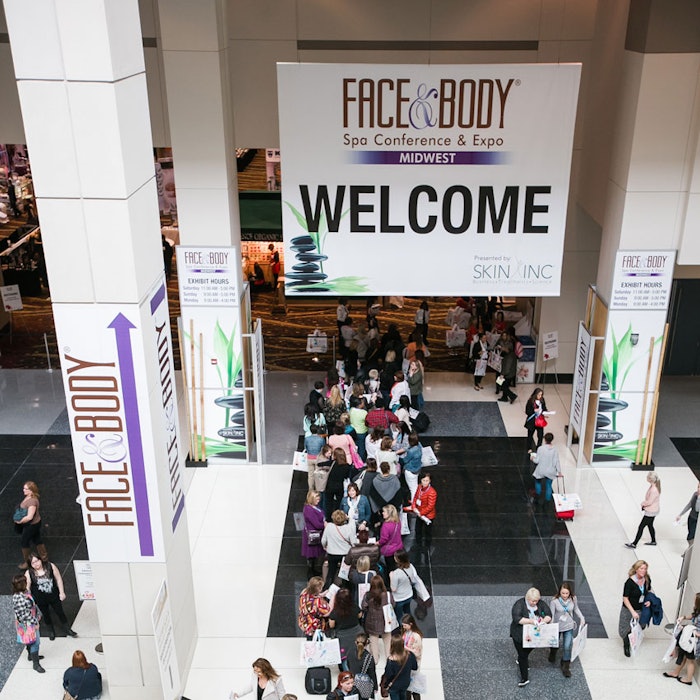 Face & Body Midwest (March 12–14, 2016) heard skin care, spa and wellness professionals' call for more ways to learn, more amazing deals and more ways to apply those things to grow their businesses.
And the response from Face & Body? More education, more expo space and more opportunities for professionals who attend the event in Chicago.
Education
Serious about growing your business and learning the newest trends, techniques and ingredients in the industry? The 2016 Advanced Education Conference Program will be held on Saturday, March 12.
Broken into four product neutral tracks (Business Summit, Science, Wellness and Treatment—with five classes each), the program kicks off with an opening panel comprised of four expert formulation chemists who will lead attendees through the sometimes perplexing maze of ingredients and formulations.
As in previous years, Advanced Education Conference attendees can earn up to 6 Illinois esthetic CEUs, and event organizers are excited to announce that these attendees can now earn up to 5 Ohio esthetic CEUs (pending approval on limited track selections).
On Sunday and Monday (March 13–14), more than 40 Supplier Classes are offered. These classes are FREE with expo hall admission, and provide great opportunities to meet and learn from industry leaders.
While the supplier classes do not offer CEUs, they do provide invaluable product information through hands-on demonstrations. In addition, they are an excellent opportunity to learn more about product lines that can help you grow your business.
Expo
With 130 companies and counting exhibiting at Face & Body Midwest 2016, an expanded show floor will allow you to explore all that exhibitors offer at your own pace. Talk to suppliers, collect samples, tryout treatments, watch live demos and make purchases for your spa all in one place.
New for 2016, show floor maps are available onsite so you can better plan out your visit to achieve all of your goals, and admission to the co-located America's Beauty Show is still included with Face & Body Expo Hall registration.
We look forward to seeing you in Chicago for Face & Body Midwest 2016!