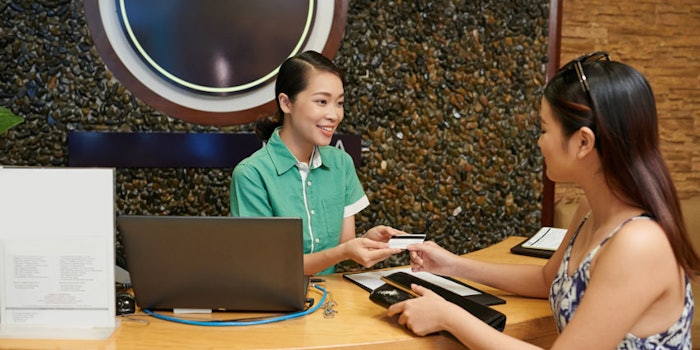 Have you heard the saying 'one hit wonder?' This phrase often refers to a musician that produces one hit song but never has another big one. You may have a few of them streaming through your mind right now.
So, how does this relate to the spa and beauty industry? I remember hearing this phrase used in reference to a client who came once for a waxing service but never returned. This phrase stayed with me. While analyzing client retention for many years, a service provider with many 'one hit wonders' (clients who never return) was always a red flag.
After all, for waxing and facial services, clients need to return every four to six weeks to stay on track. If a client hasn't returned, they have likely booked somewhere else. That is a lost opportunity. For example, a $60 Brazilian wax can generate $720 in a year. That can make a difference over time. In five years, this adds up to $3,600. In 10 years, you raked in $7,200. All of this from only one client who took a mere 15 to 30 minutes of your time per month. Add to that, referrals that this client would have sent to you, other services they would have likely scheduled, add in positive reviews and social media tags, and even one client becomes too much to lose.
Avoiding the 'One Hit Wonder'
There are many reasons a client doesn't rebook. Learning how to ensure clients will return for a second visit, third visit and beyond is vital. First, track your client retention. It is extremely important to your business to understand if clients are returning and what your client retention percentage is.
Client retention is the number of clients you retain. To retain a client means to have a client return to you over a specified amount of time. Looking at client retention for a two-month, six-month and yearly time period is a good marker.
Calculate Your Retention
When calculating your percentage of client retention, there are two retention numbers to look at. New client retention is the total number of new clients and how many returned in a given time period, and total client retention is the total number of clients and how many returned in a given time period. For example, if you have 100 new clients and 60 returned, the new client retention is 60% for that time period. Or, if you have 100 total clients and 90 were return clients, your total client retention is 90% for that time period.
Two-month, six-month and yearly time periods are ideal. There are many computer programs that can track this. At the end of any given day, month or year you can see how many new clients returned and for how many visits. This is a great tracking tool for individual service providers and a spa as a whole.
Client Retention Vs. Requests
Client retention differs from requests. Request numbers may be high for a service provider, but how many first-time clients returned? The request numbers won't indicate this. Did a client come once and not return? That is a 'one hit wonder.' Do you have many clients who only had one visit? If a high percentage of clients have not re-booked with you or your spa, you don't need to wonder why. These are key areas to improve retention rate:
Education. A client may love you and the environment, but if the quality is lacking, they will not return. If you need to improve your skills, book classes! Esthetic school can only get you so far. Advanced education is vital if you are offering medically advanced skin treatments, waxing or lashes. Read, practice and find a mentor. A perfectly balanced eyebrow wax or stellar facial massage will be the reason a client will return.
Service. In a time of too much screen time, too much work and busy lives, people want to unplug and be pampered. This means your service must to be up to par. Set yourself apart by offering extras, like a posh waiting area, valet parking, refreshments or even small gestures like a warm neck roll from the hot towel cabby that has a couple drops of lavender added. Quality service rings true for all areas of the spa. From the receptionist to the cleanliness of the restrooms, all areas of the business should leave a positive impression on the client. They can't wait to rebook!
Attitude. A positive, upbeat and warm attitude is key. Even on off days. Sadly, the service industry isn't forgiving. We all have bad days. We live through breakups, crisis, deaths in our families or sometimes we just don't feel well. The last client of the day should receive the same quality and attitude as the first client of the day, on good days and bad. Clients also have bad days, keep your positive warm attitude regardless of the attitude of the client. Don't take it personal and give them a bad attitude back. Most likely whatever is happening with them has little to do with you. Leave your guest feeling better than when they arrived and looking better too.
Conversation. Let's ingrain this into our DNA—keep the conversation about the client and educating the client, not your personal life. People innately love to talk about themselves. Focus on the client and the reason they came to see you. Follow their cues as to if they want to engage in any conversation, especially during a facial service. Conversation should avoid certain topics, say politics. If the client wants to engage in a political rant, simply listen and eventually move to the next topic, skin care. If they genuinely seem interested in your life, keep it positive and basic and redirect the conversation back to the topic of esthetics. Going into details of your divorce or your money problems may be more than they bargained for. Keep it light. Ideally, the conversation should be on topic to the service they are there for. Talking about their skin concerns, the products they use, what products and services would benefit them like waxing or lashes and educating them on their skin is the goal.
Pre-book. Pre-booking the appointment prior to the client leaving is very important. It is proven that once the appointment is booked, the client is likely to keep the appointment, but if the client leaves without booking their next appointment, they will procrastinate scheduling or look for other options. Offer an incentive to clients to rebook. For example, pre-book their next appointment and be entered in a drawing to win a service, gift or receive a discount on their next pre-booked service.
Client loyalty program. A client loyalty program is an excellent way to retain new and current clients. With more and more brow bars, waxing salons, lash boutiques popping up, retaining clients you have worked hard to get is imperative. Offer an incentive that will keep them coming to you, for example, after three visits their fourth is free or discounted. If you don't like to discount services, offer products. Try a point system where each visit or dollar amount spent earns points to be used on services or products. Think about the Starbucks app, are you saving points for swag or a free lunch? It keeps you going back instead of swinging by a competitor. A loyalty program will drive the client back to you.
Referrals. Work on gaining referrals. How will referrals retain new clients? A random new client trying you out for the first time is different than a new client who was referred to you. A referred client is more likely to rebook. All her friends may already see you for services, she has heard about your talent, she already loves you.
After the hard work is done, celebrate high retention rates with a gift or bonus!