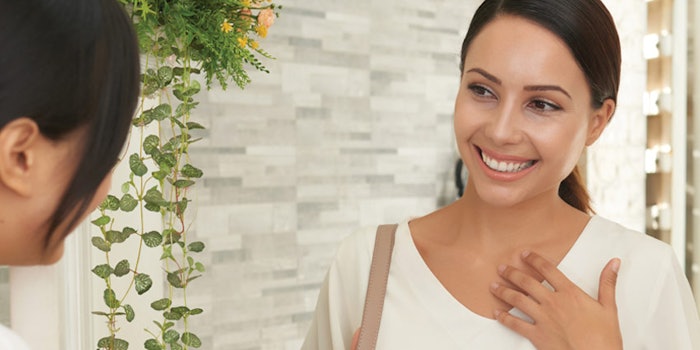 High client retention is like having your cake and eating it too! This is what every spa strives for; however, all too often we feel that focusing on new clients is more important. You would be sadly mistaken.
Did you know it's seven times more expensive to gain a new client than it is to entice back a client who has already been in to see you? A regular or repeat client is familiar with your spa; they know how you run your business. They are comfortable with your pricing and service offerings and likely had a great previous experience. So, why are so many spas focused on new client acquisition when most of us are sitting on our own little gold mines?
Many spas are spending too much time and money in this area. Imagine if you redirected some of those precious resources to client retention. Think about the lifetime value of your clients, versus just once a month. If you add up what your average clients are spending in a year, you might treat them differently and realize that is where your profitability truly lies. Loyal clients will fill your appointment books and fuel your referrals. If you could have these things, would you follow some basic steps consistently?
"A sale is not what we make; it is a result of what happens when we forge relationships that transpire as a natural result of trust and value." - Tazeem Jamal
Client Retention Importance
Did you know that the average global value of every single client lost in the spa is valued at $247? Personally, I think it's a lot more than that, but simply add that up. For every 10 clients that never return, you could be losing an average of $2,470 a month. Can you really afford to lose that amount of revenue every month? Below are the top six ways client retention improves your bottom line.
1. Studies show that repeat clients spend more in your business. In fact, they can spend up to 33% more (see Fund Your Skin Care Fun). They are much more likely to buy something new, as trust has already been established.
2. Increasing your client retention by as little as 5% can increase your profits by 25-95%. That's not a typo. Do the math on that!
3. The money you save on outbound marketing, you can invest back into your business and find new ways to offer client appreciation. Who does not love surprise gifts and promotions for their loyalty?
4. Repeat purchases from regular clients is a winning formula for higher profitability, especially if they are replacing a product that they have purchased in the past, as there is no additional time to educate on that product. However, be sure to take advantage of opportunities to reassess client's skin and hair to offer additional or alternative upgrades on what they are already using! Even a $10 upgrade can further impact your profit margins. Times that number by 10 clients a month upgrading, that can really add up.
5. Great referrals come from your best clients. When those clients come in, they are familiar with you and already trust you based on what their friend has shared! Leverage that to continue to "mine" your business growth.
6. Your regular clients fuel your business. Ask them what they love about your business and what additional things they would like. Be it products, services or amenities that you offer, they will help to shape your growth.
Consult Often
Things change with clients, especially if it's been more than a couple of months since you've seen them. This is also important if you are doing any treatments that could be a possible contraindication such as waxing, peels, lasers or microdermabrasion. Make sure you do a consultation every single time, asking them if they are taking any new supplements or medications and if their health has changed.
Plant the seed for future visits and specific treatments or product recommendations. Surprise them with occasional small, add-on perks to deepen the relationship and delight them. This makes them feel valued; be sure it's a high value to your client but a low cost to you.
Keep detailed notes on file about your clients. Include personal things about their families, likes and dislikes, career and vacations. Spoil them by remembering their preference for herbal teas or essential oils.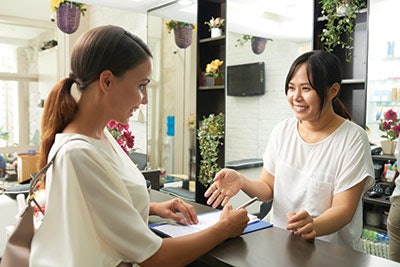 Pre-Book
Pre-booking is the key to a full appointment book Ask them what day and time works best for them to book their next appointment. If they say they are not sure, invite them to touch base as soon as they know. I will often ask their permission to follow up if I have not heard from them within a couple of weeks. This is one of my special ways to stay connected with them, and they always appreciate the reminder.
Make Them Feel Special
Roll out the "purple carpet experience" for your clients every single time! This is a term that I have coined and teach in my coaching practice. Literally, go above and beyond to create a wow experience for them. When they have a memorable experience from start to finish, they are not likely to want to go to any other spa.
Impress Right Away
You only have one chance to make that first impression. The first and last impressions are so important, and your front end staff are critical in mastering it. Often younger, less experienced staff are put up front, so be sure to train them well. One of the best ways to connect with anyone walking through the door is to smile; it's free and always well received.
Decor and Details
The first impression that the client has when they walk through the door is what they see. What does your spa look like? Be brutally honest with yourself. It's important that you keep this at the top of your mind every single day. Some areas of obvious neglect that our client might see are: clutter at the front desk, dusty or half empty retail shelves, a messy reception area, burnt out light bulbs, faded or ripped marketing materials around the spa (especially in the front windows), cobwebs in the corners and staff eating at the front desk.
Rev Up Your Retail
Even if your retail space is small, be sure that you place obvious importance on it by highlighting it to your clients. Be sure it's beautifully decorated and inviting to look at. Make sure prices are marked and that the visual cues are in place for clients to want to walk over and pick things up. Cues could be miniature signs enticing clients to "try our new SPF" or invite them to "ask about the current gift with purchase."
Gratitude and Follow up
Following up is actually when the sale and the relationship begins. People want to feel important, and they want to feel valued. I have always believed that clients have a choice, and we have to be the better choice.
What small thing could they actually leave with as they walk out of your spa? Could you give them a branded mini nail file, a lip balm or even a piece of chocolate with a hand written note for the client, as a way to say thank you!
Follow up with your clients within 48-72 hours of a treatment. This shows you really care as a professional. If something did go awry after their visit, you can handle it efficiently and with grace.
Send an E-mail
Do you know that e-mail marketing is probably the most overlooked form of marketing today? We live in a world that is so technology driven, especially with social media taking front and center.
Statistics show that for every one dollar that you spend on marketing via e-mail, you can expect, on average, a $38 return if you do the math. That's a huge number for a very small investment. Make sure your marketing stands out and your branding and colors are cohesive. When the client leaves your spa, invite them to check out your social media pages and follow you. Ask them to tag you and share about their experience or post a selfie.
Loyalty Programs/Spa Memberships
Many spas opt to create these, but my word of caution is really look at your revenue and do the math. They can work, but you have to be strategic in how they are structured. All too often, I see spas offer these at the expense of their bottom lines. At the end, they end up giving away their profits.
"Master your mind, know your products and services, so you do not get the nos." - Tazeem Jamal
Quality Over Quantity
It's better to have less clients that value your spa over more that do not and will always be looking for bargains elsewhere. The loyal clients will refer their friends and family and spend because they trust you, whereas other clients may not value you as a professional and will always be price shopping. My message is "Stand in your power, roll out the purple carpet experience, charge what you are worth and you will have a loyal client."