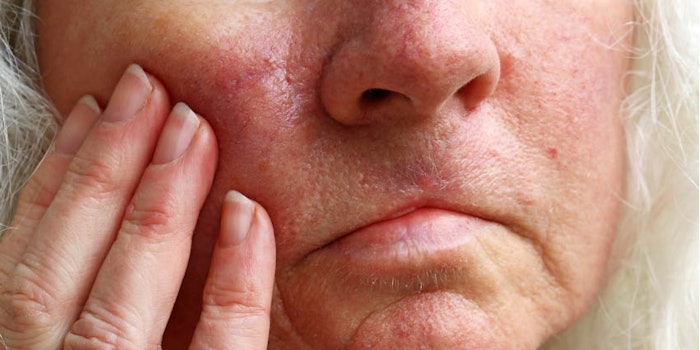 Congested skin is not a clinical assessment, meaning the term is used to describe a variety of ailments. It is typically used to describe skin that feels rough and bumpy, and while there is not a standardized definition, dermatologists should understand what congested skin means. Healthline discussed the condition and best practices to avoid congesting skin.
Related: How To Treat Psoriasis On The Lips
Congested skin can be caused by dead skin cell buildup, exposure to irritants, an allergic reaction to makeup, oily buildup, hormones, skin elasticity and irritable products.
Additionally, triclosan, phthalates, and parabens in products can cause allergic reactions and skin irritation, among other health risks.
Congested skin causes your skin to look visibly distressed. Symptoms can include whiteheads, blackheads, cystic acne, clogged pores, redness, rough, bumpy skin and a dull appearance.
Treatments for congested skin can range from home remedies to prescription-strength topicals.
Home remedies for congested skin may include natural exfoliation with homemade masks and scrubs, drinking water to stay hydrated, daily cleansing and dietary changes.
A simple skin care routine using over-the-counter products can help with patches of congested skin on the chin, cheeks, forehead, and nose.
Chemical exfoliators with salicylic and lactic acid can peel off skin cells and stimulate collagen production.
Serums that contain retinol or AHAs can boost skin elasticity, giving pores room to breathe.
An everyday facial cleanser that contains a gentle exfoliant can sweep dead skin cells away while also promoting healthy cell regeneration.
Sealing moisture into congested skin that's been cleansed and exfoliated can help restore balance to oil-prone areas.
Severe symptoms may require visiting a dermatologist for prescription products or clinical-strength treatments like high-grade chemical peels or laser skin resurfacing.