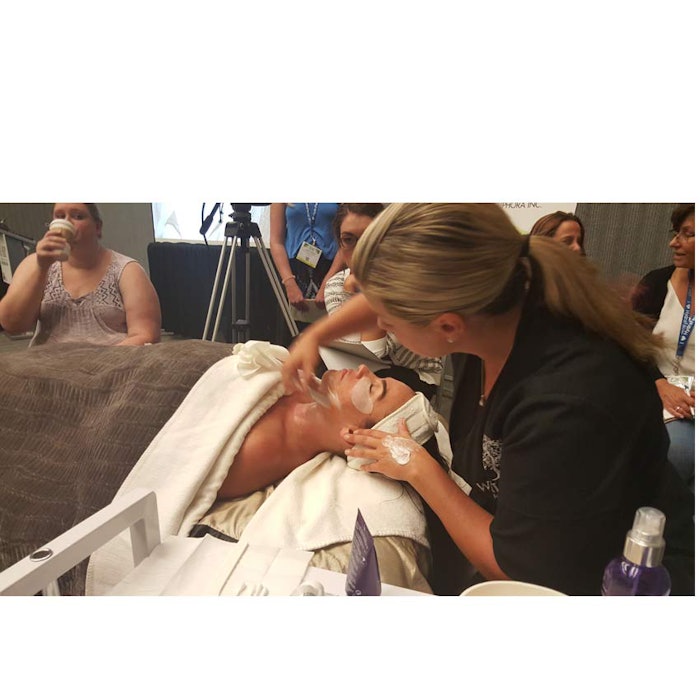 Face and Body Northern California Conference and Expo showed attendees that being in tune with your body, building "heart" connections with clients and creating the right atmosphere can help take your spa business to the next level.
Paying it Forward by Healing Yourself
During the advanced education sessions held at the San Jose Convention Center, Linda Bertaut of Bertaut Beauty held an interactive discussion on the "Anatomy of the Energy Body - Seven Levels of Awareness," in which she said spa professionals need to feed their own inner selves in order to best serve clients. Bertaut noted the seven chakras and the importance of meditation, exposure to nature and reiki to both heal oneself, clients and create a positive ambiance in the treatment room. "It's so important that we protect ourselves and clean the energy in our space," said Bertaut during a chakra demonstration. "It's important to do the things you love to do and ... have a more balanced and well-rounded way of life. 
Bertaut's main words of advice were: "We are all connected through energy ... [If] you do the work on yourself, people will notice the transformation."
Grounding for Success 
Joanne Berry of Spa Remedies Consulting showed session attendees how to offer clients a complete facial experience by paying close attention to ambiance, aroma, atmosphere and props. This includes a card with an affirmation for the client to focus on during the treatment along with aromatics that correspond with it. 
"Smell can change a treatment before you even put your hands on a client," said Berry, who also recommends 'grounding' techniques to detox clients from electronics as well as using yoga nidra music to unwind. "If you play [yoga nidra music] in your treatment room, your client will be like putty in your hands," she said.
Berry also says don't forget the bolsters, products and pillows. And add-on services, massage, tools like resurfacing devices and anti-oxidant scanners all can add more to the treatment because according to Berry, the more fine details that you can offer during the facial, the better.
Forming a Heart Connection 
But before even reaching the treatment room, the real work should begin with the client consultation, according to Douglas Preston who heads Preston Beauty Professional.
If you want to be great, "It is the interest in [the client] that makes such a difference," said Preston. "There's so much more than product and equipment."
The primary focus should be a close connection with the client that includes truly listening to the client, asking how she wants to feel (and what she doesn't want to feel) from the treatment. following up with referral phone calls and helping the client in the best way possible after the treatment.
"You want to get the emotional response," said Preston. "This is my love ... I love doing this work," he added. And you should too.