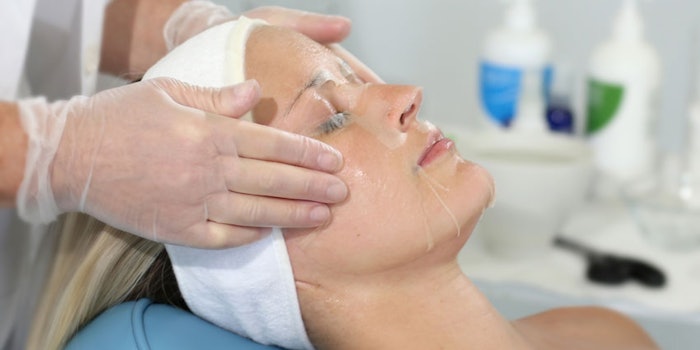 Repêchage recently debuted their new Peel and Glow Facial treatment on March 3, 2018. This facial treatment is designed to exfoliate, hydrate and brighten the skin. This 45 minute treatment can be used on all skin types and is recommended to be done once a week for six weeks and then monthly.
The Peel and Glow Facial
Step 1. Cleanse the client's skin from any makeup and residue, and remove any excess product with a cotton pad that has been dampened with warm water. Pat dry.
Step 2. Apply Repêchage's Biolight Luminex Mask or another clay-cream based mask that can provide the skin with a peel effect. Apply the mask by dumping the contents into a bowl and applying it with a brush to the face, neck and décolleté. Leave on for 10 minutes before removing and patting the skin dry.
Step 3. Apply Repêchage's Triple Action Peptide Mask or a sheet mask of your choosing that works to hydrate, brighten and firm the client's skin. Adjust the mask to fit tightly on the contours of your client's face and leave this on for 10 to 15 minutes.
BONUS. Use galvanic iontophoresis current for seven minutes and leave the mask on for an extra five minutes. 
Step 4. Remove the sheet mask and perform a 10-minute facial massage on the clients face to work the serum on the mask into the skin. 
Step 5. Apply an environmental-defense moisturizer to the skin.