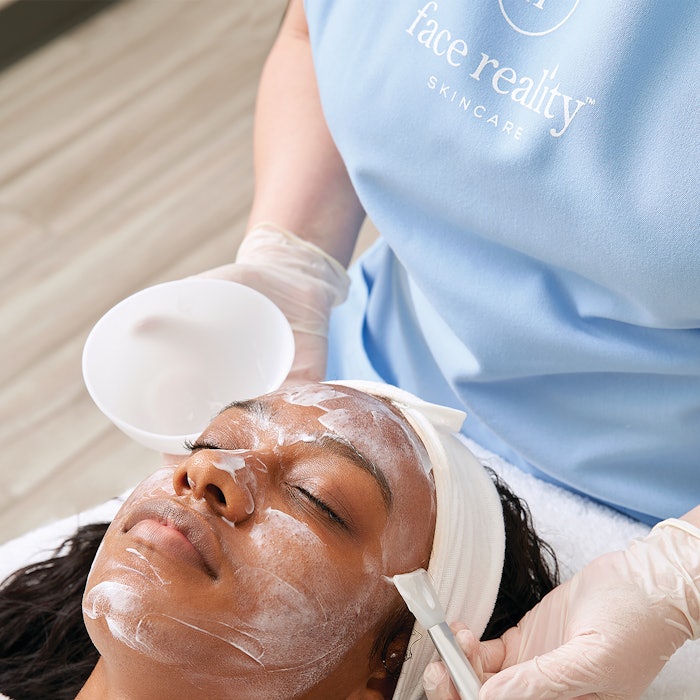 Acne is the number one skin condition in the United States, affecting up to 50 million people every year. Although it is estimated that 85% of people 12-24 experience some type of acne, the causes, severity and skin characteristics of those vary so greatly that customized care is really the best approach. Founded in 2005, Face Reality Skincare figured out this approach early. In the time since, it has developed such robust training for its professionals that they have become known as "Acne Experts," and catapulted the company and its formulas to become a leader in professional acne care. Skin Inc. sat down with the company's lead educator and licensed esthetician, Alex Hernandez, to learn more about how Face Reality treats acne like no one else.
Skin Inc. (SI): How does Face Reality approach acne?
AH: Face Reality has a customized and adaptive approach for treating acne. We assess the same things in all our clients like their skin type, acne type, acne severity, etc., but each client will get a customized routine based on those unique observations. Many clients and professionals make the mistake of doing too much, too soon. Without this adaptive approach, the skin can quickly become excessively dry and irritated, leading to further skin issues and delaying the clearing process. Our goal is to maintain healthy, glowing skin while getting our clients' breakouts under control.
SI: Do you use the same ingredients as other skin care companies, or are your acne formulations different?
AH: We have proprietary formulations that are unique to our brand but use many ingredients that are standard across acne fighting products. We offer retinols, salicylic acid, and benzoyl peroxide options, which are considerably more mainstream when it comes to acne formulations.
All of the products in our line are free of comedogenic ingredients but are full of antioxidants and hydrators. Many acne products on the market today contain pore-clogging ingredients and can be extremely drying, which can make acne worse. Since our principal focus is acne, each of our formulations is carefully crafted specifically to heal and treat acne-prone skin.
Among the many active ingredients used to treat acne and other skin concerns, none compare to l-mandelic acid. At Face Reality, we often refer to it as "liquid gold" because it has proven to be one of the critical main ingredients to our successful adaptive acne treatment protocol. We use l-mandelic in several products including (but not limited to) our best-selling L-Mandelic Serum and L-Mandelic Face and Body Wash.
SI: What makes l-mandelic so great at treating acne?
AH: L-mandelic acid is an alpha hydroxy acid (AHA) that is perfect for the treatment of acne because of its anti-inflammatory and antibacterial properties. We have found that the P. acnes bacteria has truly met its match with this antibacterial wonder. The condition of acne is defined by an overactive shedding of skin cells, causing build-up and you guessed it: breakouts. L-mandelic exfoliates the skin, helping slough away dead skin build-up that comes with acne-prone skin. This active ingredient doesn't just remedy existing lesions, but prevents breakouts from forming because of this consistent exfoliation. Importantly, l-mandelic has a larger molecular weight than other AHAs, which allows for a slower epidermal penetration, resulting in a more even exfoliation with less irritation.
SI: What education do you give clients to maintain their results at home?
AH: Each of our clients is given a thorough consultation, so they know exactly what is going on with their skin and exactly what they will need to do to get clear. A client's dedication to their home care is key in clearing acne. We provide a personalized at home treatment plan for each client to help them achieve their goals. We provide a pore-clogging ingredient list to ensure any cosmetics, hair products, etc. are acne-safe. Once a client has cleared, they are given a keepsake Maintenance Guide to remind them of the most crucial lifestyle tips to maintain clear skin.
SI: How do you ensure that the client maintains results?
AH: Client compliance can be one of the most difficult factors during the clearing process. We are asking our clients to be mindful of their lifestyle, check ingredients and perform a full home care routine twice a day–it's a lot of work. We always lead with empathy and work with them to ensure that what we're asking of them works with their lifestyle. Educating clients on acne is another crucial step for compliance. If they don't know what's going on with their skin, how to correct it, and how to maintain it, then they might not see the long-term results. We must also remind clients that there is no cure for acne; we can only control it. Education empowers clients to make better decisions for their skin and lifestyle. We also want to check in periodically to ensure that the home care products are still appropriate for the current state of the client's skin. Adjusting when needed to ensure the skin is happy and healthy is the best way to keep someone on a routine long-term.
SI: Do you often see clients sticking with their professionals because of the results?
AH: Clients and their acne expert build a trusting relationship, and this partnership provides consistent and lasting results.
SI: Where can an esthetician find this training?
AH: One of my favorite things about the Acne Expert Certification Course is that it is self-paced and online. After purchasing the training on pros.facerealityskincare.com, estheticians have access to all the resources and training modules. Once the training begins, there is no pressure to complete it within a certain amount of time. Videos can also be re-watched at any time after becoming certified to review or get refreshed on a topic.
SI: What sets this training apart?
AH: What really sets Face Reality training apart is how thoroughly we educate our Acne Experts. The training is focused on acne and related concerns (post-inflammatory hyperpigmentation, for example), so you're not overwhelmed by information. We provide education on the process of treating an acne client all the way from their first consultation, up until they're clear and beyond. Everything an Acne Expert would need to know about products, protocols, diet, lifestyle, etc. is found in our training modules and business resource center. After becoming certified, estheticians also gain access to our Acne Expert Success Team. These licensed estheticians and Certified Acne Experts on our team are always available for support.
SI: Once you become trained in the Face Reality Method, how do you put it into practice?
AH: Following certification, Acne Experts can order retail and back bar products to start treating clients! It is not mandatory, but it is highly recommended that new Acne Experts attend our weekly Zoom orientation. Members of our Acne Expert Success Team walk them through exactly how to get started and answer any questions. Another bonus to virtual orientation is the opportunity to meet other new Acne Experts. In our business resource center, we offer all kinds of badges and marketing images to begin promoting their acne business.
SI: Does the practitioner have resources to incorporate this training?
AH: It's really important to set up all Acne Experts for success when they're beginning their acne business. We want all of our Acne Experts to feel confident and prepared to help clients reach their skin goals. We provide all client forms, marketing images, business tips and more to ensure our Acne Experts have all that they need to get started. We also have guidance and tools like Direct-to-Client Shipping to help Acne Experts provide virtual services for acne clients. We also know how important it is for Acne Experts to be able to troubleshoot with a fellow expert. Our Acne Expert Success Team provides that personal one-on-one guidance to support Acne Experts in their day-to-day businesses. For those that just want routine guidance or reassurance, we have an online tool that will guide Acne Experts in choosing the right home care routine for their clients. This can be one of the more stressful steps in getting started with a new client, so we want to make sure that our Acne Experts have this easy-to-use and reliable tool at their disposal.
SI: Is there a community of Face Reality practitioners to help support their treatments?
AH: We offer a private Facebook group where all our Certified Acne Experts are welcome and can post pictures, ask questions, share successes and support one another. Not only do Acne Experts have access to our in-house estheticians, but can contact over 1,000 licensed estheticians across the country.
SI: What kind of difference have you seen it make to the practitioners' business and to their client retention?
AH: We have several estheticians whose businesses have seen skyrocketing success since introducing Face Reality. One of our main priorities is to see our network of Acne Experts succeed, so we constantly feature them and their businesses in social media, trade publications, e-mail campaigns and more.
SI: Why do you think Face Reality is a company so needed right now?
JS: COVID-19 has unfortunately contributed to record levels of anxiety and low self-confidence, and we know that people with acne are much more likely to suffer from both. And most of those people are also frustrated because most one-size-fits-all acne products have a very low success rate. But more than 90% of clients who see a Face Reality Acne Expert get clear—due to our customized approach for each client, thorough education around acne triggers, and access to a much broader group of products than most skin care companies can provide. We get up every day thinking, "How can we help our Acne Experts to be more successful estheticians and business owners?" This approach of true partnership is something that defines the foundation of our culture. It guides everything we do, and it's something that can't be faked.
SI: How do you see Face Reality raising the bar of professional skin care in the future?
JS: Face Reality is working hard to grow the professional category, and to lead the way with innovation. First, we're working to build overall awareness in the effectiveness of professional estheticians. For acne, I'm convinced that the vast majority of the more than 50 million people who experience acne won't get clear with one-size-fits-all products. Getting clear requires the dedication and expertise of trained professionals. For most people, the first option to get clear is not to seek out an esthetician, it's to try a drugstore product. Why can't we build awareness that skin care professionals are, and should be, the first option? We're investing advertising dollars to build consumer awareness—so we can then direct those consumers to our Acne Experts. It's really rewarding to get a note from one of our Acne Experts thanking us for the referral! Second, how can Face Reality help newer estheticians to be more successful more quickly? We heard this request so frequently that we developed an app called Acne Assist, which is built on proprietary technology, and provides immediate customized product routines for clients based on the current condition of their skin. Acne Assist can be used in the treatment room, and it provides real-time support to our Acne Experts, so that they can have the assurance they're giving their clients the right guidance. Acne treatment will never be a perfect science…but this tool gives that extra level of assurance.
Disclaimer:
The above paid-for content was produced by and posted on behalf of the Sponsor. Content provided is generated solely by the Sponsor or its affiliates, and it is the Sponsor's responsi­bility for the accuracy, completeness and validity of all information included. Skin Inc. takes steps to ensure that you will not confuse sponsored content with content produced by Skin Inc. and governed by its editorial policy.