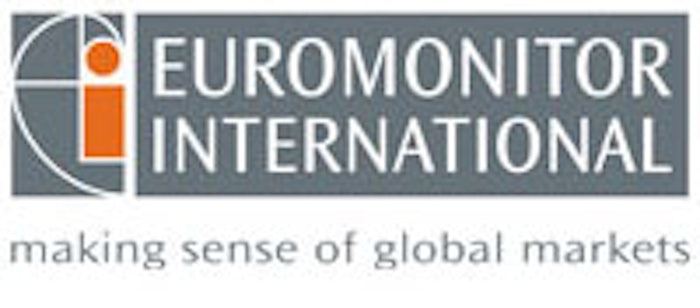 Facial skin care, and anti-aging products in particular, have arguably been the saviors of the beauty and personal care industry during an otherwise dismal economic period. As the lipstick theory fell apart for color cosmetics, which suffered value and volume sales declines, facial skin care proved itself to be made of far sterner stuff.
According to global business intelligence provider Euromonitor International, with a value growth rate of 6% during 2007–2008, facial skin care products outperformed the beauty and personal care industry as a whole, which weighed in at 5%. Euromonitor also noted anti-aging products maintained a double-digit growth of 10% during that time as well, and it was one of the few categories whose performance remained unchanged from the previous year.
Additionally, in the key region of Asia, whitening remained a major growth driver for the facial care industry.
Age before beauty?
Euromonitor data shows anti-aging products were one of the biggest drivers of global skin care during the past five years, accounting for 29% of the global facial skin care industry, which was worth $60 billion in 2008. The anti-aging category was also the largest contributor to growth of any facial skin care category in absolute value terms, adding an impressive $7 billion between 2003 and 2008.
And developments continue to take hold. Despite the fact that the anti-aging segment is beginning to show signs of maturity, manufacturers are tackling the issue from all sides. One method of doing so is to expand the products' consumer base and push up value with eye-catching new product claims. Consistent consumer demand has also become apparent as consumers prioritize anti-aging and refuse steadfastly to cut back.
Facial whiteners in Asia
In Asia, the booming Chinese and Indian markets are helping to keep sales of facial skin care buoyant, thanks primarily to the Asian obsession with facial whitening products. Whitening agents appear in most types of facial skin care products in the Far East, and have been strong contributors to the 15% and 16% value growth achieved in the key Indian and Chinese markets, respectively, during 2007–2008, according to Euromonitor.
Future developments are set to target male consumers as male skin whiteners, currently a niche category in facial skin care, become increasingly popular, particularly in the Indian market. In Asia, pale skin is considered beautiful and has traditionally been associated with sophistication and wealth.
Because of this cultural ideal, there has always been strong demand for skin whiteners. The key difference is that now Chinese and Indian consumers have more money than ever before to spend on them. This is generating interest from multinational players keen to gain a share of the market.
An influx of new whitening product launches from facial skin care brands are being introduced in China, with many of the leading personal care players heavily promoting their whitening facial skin care products in 2009. The key consumer base for whitening products remains young women, particularly those in urban areas who typically earn more and are willing to pay extra for premium whitening products.
Whitening to brightening
Skin whiteners have even made the surprising transition from Asia-Pacific to Western markets, where they are marketed as a product that makes skin look younger, and key skin-whitening ranges have been adapted for Western markets, such as the United Kingdom, by calling them "brighteners" as opposed to "whiteners." In markets such as the United States and the United Kingdom, they are being marketed as improving skin tone as opposed to whitening the skin, although they often contain similar ingredients.
Many skin care firms are working to attract women who are coming to accept they are aging and are looking only to bring out the best in their mature skin. For consumers aged 55 and older, brightening products are a more realistic option to traditional wrinkle-erasing anti-aging products, bringing health and youthful radiance to dull and aged skin.
Color cosmetics
While inroads have been made by skin care to boost beauty industry figures, it was a rather different story in many countries for color cosmetics. Euromonitor notes that sales were particularly badly hit in key mature markets such as the United States and the United Kingdom, where consumers shunned department stores and the lure of premium beauty counters. In the United States, for example, sluggish value growth of just above 0.5% during 2007–2008 in color cosmetics had strong implications for the global growth of the category, because the United States alone accounts for 20% of global color cosmetic value sales.
It was not all doom and gloom for color cosmetics, however. Facial makeup—foundations and powders—put in a respectable performance, with the category still managing to register 5% value growth during 2007–2008 in recession-hit Western Europe, according to Euromonitor.
This is largely linked to the concept of facial color cosmetics being an extension of skin care. With many foundations now promising sun protection and anti-aging benefits, the line between skin care and color cosmetics is becoming increasingly blurred. Furthermore, due to the fear of wearing a foundation that does not match their skin tone, many consumers refused to trade down to cheaper options and continued to opt for premium-priced products, many of which are now formulated to automatically match skin tone.
The dwindling sales of color cosmetics in mature regions were offset to an extent, however, by double-digit growth in emerging regions such as Eastern Europe and Latin America. Euromonitor notes that, with 10% and 11% value growth, respectively, during 2007–2008, these regions should be high on the agenda for players in color cosmetics in the coming year.
Positive outlook
The desire for beauty and young-looking, healthy skin has also translated into a need for the occasional rejuvenating spa visit, and consumers with less discretionary income are still looking for ways to treat themselves.
According to the Professional Beauty Association's Performance Index, which surveys 700 salons and spas in the United States and is based on information such as customer flow to spas, retail sales and spa owners' outlook on the industry and the future of their businesses, the current index rose by 0.9% during 2009, indicating that spas seem to be weathering the recession. The impact of the global economic crisis, along with hectic lifestyles and increasing urbanization, are just some of the factors behind the trend toward an increased spa demand.
Another factor in the spa market, however, is that the global traveler is scaling back on purchasing. Consumer price-sensitivity has increased, and more than ever, consumers are demanding high-quality services at more affordable prices. Moreover, consumers are forgoing all luxuries and consoling themselves with smaller spa treatments, such as facials and mini vacations at hotels with adjoining spas, as opposed to long holidays in far-flung locales.
Faced with growing competition, many hotels and key market players have identified spa facilities as a deciding factor when hotel guests choose accommodations for events or vacations. As a result, beauty industry players have begun to focus their attention on the spa industry, and further growth in this area is likely to continue.
Spa opportunities
Among affluent consumers in Asia, Thailand is gaining popularity as a spa destination, and the Middle East and Africa are also strong regions to consider in terms of health and wellness sales, with Euromonitor noting its recording of $5.6 billion in 2008. This positive performance is directly related to growth of luxury hotels and spas in countries such as Jordan, Oman and the United Arab Emirates, and Dubai is set to become the regional and global spa capital by 2010. Additionally, a population of young expatriates and the increasing stresses of modern life are likely to contribute to a boom in wellness retreats and spas.
Eastern Europe is expected to see strong development in health and wellness activity by capitalizing on increasingly health-conscious inbound tourists, mainly from Italy and Germany. Spas in Bulgaria, Slovenia, Poland and Hungary are becoming popular spots for short breaks for Western European tourists due to lower prices, developing infrastructure and natural mineral water springs known for their healing properties. For example, Bulgaria has 600 mineral springs in more than 300 locations, bringing in tourists and spa-goers from around the globe.
In 2010, these up-and-coming countries will all offer good sales potential not just to spas themselves, but also to spa industry suppliers. Organic and environmentally friendly products will continue to prove especially popular, and targeting the right countries with the right products will be the key to success in 2010 for spa players.