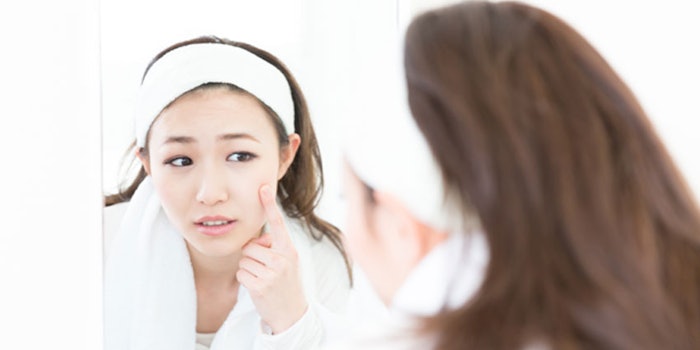 Clear, healthy skin is what everyone wants and yet even with today's advanced science such a simple desire eludes many people. In fact, 60 million people in the U.S. suffer from acne of whom 20 million will scar. Following are the statistics of acne sufferers.
11% will see a physician.
20% will see a skin care specialist.
30% will use an over-the-counter medication.
39% will do nothing.
Acne not only affects self-esteem, but also has other far-reaching consequences. A recent British study showed the following information.
One in five have considered suicide.
95% of acne sufferers said acne had an impact on their daily lives.
More than 40% have been bullied due to their condition.
20% say their acne has caused a relationship to break down.
Nearly 40% of acne sufferers have been verbally abused by another member of the public.
Add the physical pain acne causes and it is easy to see why those with the condition will resort to any acne solution offering hope, including drugs that may have a permanent impact on their health. Costs associated with the treatment of acne exceed $3 billion.
The causes of acne are many and span age groups from 12 years to post-menopausal—80% of adult acne occurs in women.
The prime causes are: heredity/genetics; excess sebum; bacterium Propionibacterium acnes (P. acnes) bacteria, which is present on everyone's skin; hormonal imbalances; internal toxins and food intolerances.
With regard to food intolerances, some people have found eliminating dairy and/or high glycemic foods—such as sugar and white grains—have had a positive impact on their acne. Eliminating certain types of food is not the only way to help the skin. Actually, feeding it the right kind of nutrients can make a huge impact on its overall health.
At Iredale Mineral Cosmetics, we have adopted a three-step process which we call Feed, Fortify, FinishTM to describe what we believe has the potential to benefit most types of acne and to result in clear, healthy skin.
Feed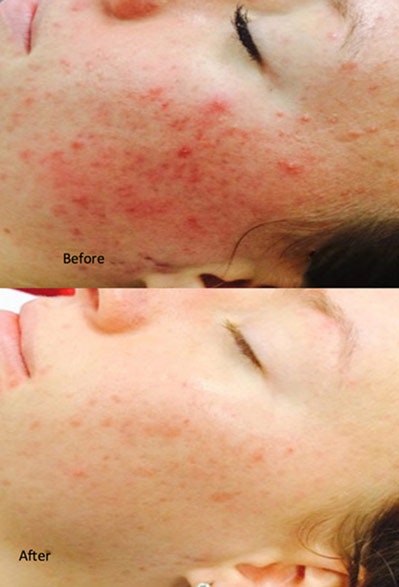 Before and after pictures provided by Stirling Skincare, Casper, WY. Results shown are after taking Skin Accumax for 15 weeks. (Photos have not been retouched).
This refers to what we actually put in our bodies to nurture the skin and bring it to its optimum health. The right nutrients are more absorbable than creams, reach the deepest layers of the skin and nourish skin all over the body, not just where you put the cream. That is why we have been carrying a nutritional supplement for the past two years from the U.K. called
Skin Accumax
. It contains vitamins and plant nutrients in an absorbable form that literally feed the skin.
Skin Accumax contains vitamin A, vitamin E, vitamin C (long known to have major benefits for the skin), diindolylmethane (known as DIM and found in cruciferous vegetables) and phosphatidyl choline (a phospholipid and a major constituent of cell membranes). These natural ingredients are blended in a synergistic formula, which addresses the underlying factors of problem skin. The formula is patent pending.
Skin Accumax is not an over-night acne solution. It takes time for the body to assimilate and use the nutrients—we have seen results as early as four weeks and as late as three months. On average, we expect to see significant results in 12 to 14 weeks. These results have not only benefited the acne sufferer, but also the professional who now has a tool that works in partnership with the topical products she/he recommends.
A recent testimonial to us said:
"Skin Accumax is the 'missing link' for overall healthy skin. It is the perfect complement to any skin care regimen. We recommend Skin Accumax to all of our clients, whether we are treating teenage acne skin or peri-menopausal skin. Skin Accumax has made me a better esthetician because now I can correct skin issues from within." –Amy Wilder, esthetician and skin care consultant and Dr. Cynthia Glass, board certified plastic surgeon, Coccolare Spa, Layfayette, LA
Fortify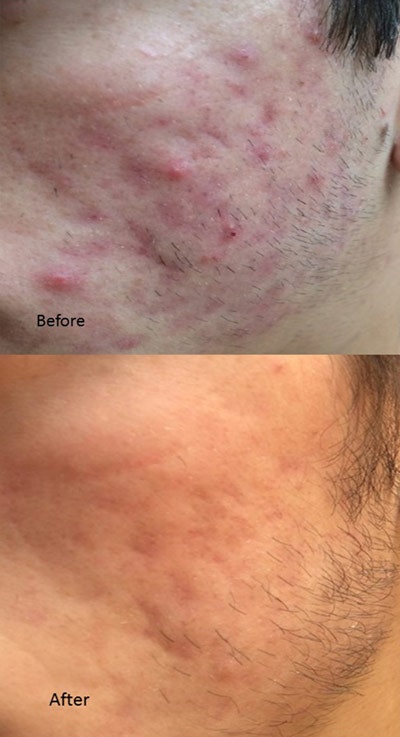 Before and after pictures provided by Cristy Monteiro, Peoria, AZ. Results shown after taking Skin Accumax for nine weeks. (Photos have not been retouched).
Acneic skin should be supported topically with regular visits to an esthetician and daily home care—preferably with those products recommended by the professional. These products will have been researched and used over a period of time and on different skin types to prove their efficacy. The professional can take the guesswork out of which products to use saving time and money. Vitamin A is an important ingredient in many effective skin care products. It really is the skin's vitamin on the inside and the outside.
Other ways of fortifying the skin include the following.
Eating plenty of fruits and vegetables and staying hydrated.
Washing makeup brushes and sponges at least once a week. It's easy for bacteria to multiply on makeup tools.
Not sharing makeup tools.
Using a clean washcloth on your face—because bacteria love warm, damp places—or use the jane iredale Magic Mitt, which is a micro-fiber and will dry overnight and be sterile. It also leaves the acid mantel intact.
Not over-cleansing because it stimulates the sebaceous glands.
Avoiding alcohol-based cleansers.
Finish
It is possible to undo all the good work feeding and fortifying the skin can do by using a makeup or concealer, which blocks the pores or does not allow the skin to breathe the way it should. It is surprising how many women of all ages use makeup to help conceal problem skin without knowing it is contributing to the cause of their break-outs.
We have been able to transform the health of some skins just by the regular use of our mineral makeup. Why? Because it allows the skin to breathe and function normally, it does not block pores, it contains no sensitizers and it contains ingredients to calm and nurture the skin.
Always choose face makeup containing no chemical dyes (the label will say FD&C) because these can be comedogenic, especially the reds. If you are breaking out in your cheek area, it probably has something to do with your blush.
Choose concealers that can help what you are trying to cover rather than exacerbate it. For example, we have a concealer called Zap&Hide. This contains vitamin C and tea tree oil—together they can actually do something about the eruption as well as cover it up.
And always remember, what you put in and on your body can have a powerful positive effect. It all works together in one big wonderful miracle.
Disclaimer:
The above paid-for content was produced by and posted on behalf of the Sponsor. Content provided is generated solely by the Sponsor or its affiliates, and it is the Sponsor's responsi­bility for the accuracy, completeness and validity of all information included. Skin Inc. takes steps to ensure that you will not confuse sponsored content with content produced by Skin Inc. and governed by its editorial policy.