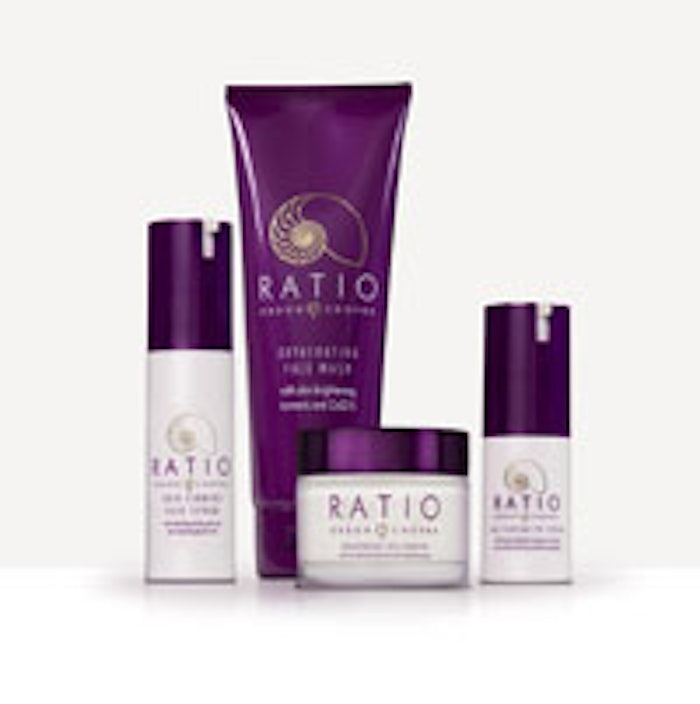 The healing powers found within the natural environment of the East feature a multitude of benefits of botanical extracts for skin care and protection. When these time-proven extracts are synergistically combined with active Western ingredients, anti-aging formulations can be formulated with the perfect balance and symmetry of science and nature.
Synergistic ingredients: facial cleanser
It's been said a million times, because it's true: One must always begin with a clean face. Some active ingredients for a powerful facial cleanser include turmeric, panthenol, aloe vera and glycerin.
Turmeric. In ayurvedic practices, turmeric contains tetrahydrocurcuminoids (THC). THCs are colorless compounds that have antioxidant and skin-lightening properties, and are used to treat skin inflammation.
Panthenol. This is a nonirritating form of vitamin B that is usually derived from plants. When this natural, hydrating vitamin is applied externally, it penetrates lower skin layers, is absorbed into skin cells and turns into pantothenic acid (commonly known as vitamin B-5). Because panthenol is absorbed deeply into the skin, it adds essential moisture and has a desirable plumping effect. Using panthenol on clients' skin will keep it smooth by helping to maintain its natural moisture balance and counteracting surface bacteria. Panthenol reduces inflammation, soothes irritation and initiates the rebuilding of the skin.
Oxygenating Face Wash from Ratio Skincare is one of the only oxygenated facial cleansers on the market, and is effective for all skin types. It purifies the skin with a gentle foaming action and opens the pores with revitalizing nutrients derived from plant, sea and mineral extracts, thereby allowing the skin to breathe for a deep down extraction of impurities. This product contains the synergistic ingredients of turmeric and panthenol.
Synergistic ingredients: facial serum
Some active ingredients for an effective anti-aging facial serum include retinol, tetrahexyldecyl ascorbate, and several organic and natural compounds.
Retinol (vitamin A). Retinol is also called the anti-wrinkle vitamin. Vitamin A is responsible for the normal texture and functioning of tissues and skin. It activates the natural regeneration of dermal tissue and improves its elasticity. This miracle vitamin also delays the formation of premature wrinkles. Pure retinol is the original form of vitamin A, which the body can use directly.
Tetrahexyldecyl ascorbate (vitamin C). This is found in citrus and other fruits, and is known to help reduce fine lines and wrinkles, as well as act as a natural healing agent.
Organic and natural components. In an effective facial serum, beneficial organic and natural ingredients include prickly pear, alfalfa extract, lavander oils and hibiscus flower extracts. Hibiscus botanical peptides combat wrinkles in a similar way to botulinum toxin, by inhibiting the mechanical factors responsible for the appearance of expression lines on the face.
Ratio's Skin Firming Serum boasts a special blend of active antitoxins and natural skin-firming agents, including retinol and tetrahexldecyl ascorbate. It's specially formulated to combat wrinkle depth, density and volume while helping restore skin elasticity and tone. This anti-aging face serum helps improve the places on the skin's surface occupied by deep wrinkles, wrinkle density and wrinkle volume while recovering the skin's elasticity and tone. The serum is applied all over the face, and can also be used on the hands and chest.
Synergistic ingredients: eye serum
Some active ingredients for an effective anti-aging eye serum include shiitake and reishi mushrooms, bamboo extracts, glucosamine HCI, pea extract, vitamin A, vitamin C and soybean extract.
Shiitake and reishi mushrooms. Often referred to as "the elixir of life" for their remarkable healing properties, the extracts from these mushrooms help boost collagen and elastin production to create a firmer appearance. Reishi mushroom extract also helps to increase the delivery of nutrients to the skin. They are among the few rich organic sources of germanium, a natural oxygen-efficiency booster that aggressively fights the aging process, with the additional benefit of helping control acne and minimize age spots.
Bamboo extract, glucosamine HCI and pea extract. This potent mixture is rich in powerful peptides that help dramatically reduce appearance of wrinkles. Natural exfoliation gives skin a smoother, sexier look.
Vitamin A, vitamin C and soybean extract. These ingredients help prevent fine lines and wrinkles, stimulate collagen production, and moisturize to keep skin texture smooth and soft
Ratio's Eye Serum is an effective anti-aging eye serum that helps to neutralize free radicals to prevent skin cell damage upon application, featuring vitamin A, vitamin C and soybean extract. Used on a continuous basis, the extract blends and anti-inflammatory agents protect and smooth to produce a younger appearance. The serum's ingredients act in sync to hydrate, tone and renew skin, as well as decrease dark circles under the eyes.
Synergistic ingredients: anti-aging moisturizer
Some active ingredients for an effective anti-aging moisturizer include hibiscus extract, licorice root extract, shea butter and algae extract.
Hibiscus extract. This contains botanical peptides that combat wrinkles in a similar way to botulinum toxin, by inhibiting the mechanical factors responsible for the appearance of expression lines on the face.
Licorice root extract. This provides calming benefits to the skin.
Shea butter. Shea butter soothes rough, dry or chapped skin on contact, and is naturally rich in vitamins A, E and F. It balances and normalizes the skin, while helping to keep it clear and healthy. And for clients who get too much sun, it's particularly beneficial for dry or sun-exposed skin.
Algae extract. This is a cellular nutrient with anti-inflammatory properties that promotes skin hydration, as well as tightening and activating the forming of collagen and elastin.
Hydration is vital for healthy and youthful skin. Ratio's Regenerating Skin Hydrator is a blend of active vitamins, shea butter, licorice root extract, and hibiscus and algae extracts that stimulates the growth and regeneration of cells while maintaining the proper moisture level of the epidermis. The natural botanicals and antioxidants gently soothe and hydrate the skin, build healthy collagen for excellent skin support and protect from harmful pollutants.
A complete regimen for spa clients
Ratio Skincare, named for the special blend of the formula that combines just the right ratio of organic compounds with enhanced antioxidants, features products that contain organic ingredients that provide a natural balance between New World medical technology and Old World ideals of health and beauty.
The line, founded by plastic surgeon Andrew Ordon, MD, FACS, co-host of TV's The Doctors, and Ritu Chopra, MD, is not only effective for a daily routine to minimize lines and wrinkles, but also is excellent in maintaining the vitality and health of skin post-surgery.
Ratio products are a true example of a natural hybrid skin care line. With Ratio, skin care professionals can offer their clients a complete skin care regimen based on this noninvasive approach to anti-aging. Ratio is ideal for professionals to use on their clients because it has no parabens and is gentle enough for most, if not all, skin types, with proven results. Best of all, with the Ratio Skincare line, estheticians and skin care professionals can treat their clients with a superior product line in the spa, while giving clients the ability to continue the routine at home.
Ratio Skincare is comprised of four products: Oxygenating Face Wash, Skin Firming Face Serum, Age Fighting Eye Serum and Regenerating Skin Hydrator. The beauty of the line is ease and simplicity. For more information, contact Ratio Skincare today at 877-631-4123 or online at www.ratioskincare.com!
Disclaimer:
The above paid-for content was produced by and posted on behalf of the Sponsor. Content provided is generated solely by the Sponsor or its affiliates, and it is the Sponsor's responsi­bility for the accuracy, completeness and validity of all information included. Skin Inc. takes steps to ensure that you will not confuse sponsored content with content produced by Skin Inc. and governed by its editorial policy.