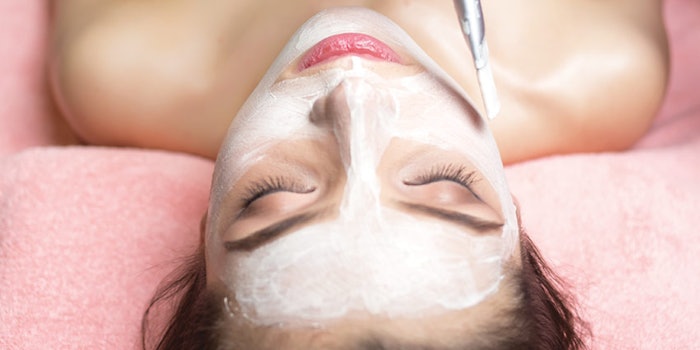 If you thought peels had lost their appeal, think again. There were 1.3 million chemical peel procedures in 2016, which is up 5% from 2014 and 14% from 2000.1 With the average cost of a chemical peel in a medical spa or doctor's office averaging $673, that's almost $1 billion of business for one procedure alone. Just as peels are becoming more and more prevalent, so are signs of irritation and possible over-exfoliation. In fact, irritated, over-exfoliated skin from over-aggressive peels, or at-home peels performed incorrectly are now main reasons clients come to see an esthetician.
Signs of over-exfoliated skin include itchiness; redness; dry, scaly or crusted skin; the appearance of small, fluid-filled blisters that might ooze when scratched; and even infection. Rather than opting to see a dermatologist to help fix the problem, clients should know that there are gentle and effective options available through the esthetician that cost less and provide real results.
The newest peel formulations are an entirely new concept—an express facial peel combined with buffering natural ingredients in an easy-to-apply form, such as a clay-based mask that combines AHAs with mild, exfoliating kaolin clay to gently help reduce the appearance of a dull and uneven complexion with visible spots and fine lines and wrinkles.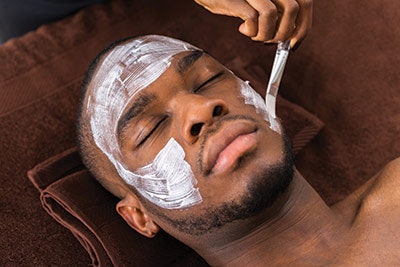 Peel Basics
While skin exfoliation is a naturally occurring process (shedding every 28 days), most skin types still need some help, based on the skin type and age. These skin types include: aging skin, as natural exfoliation tends to slow; photo-damaged skin, which often displays an abnormal texture; oily skin, with excessive oil/cell accumulation; and dry skin, which also accumulates dead cells.
Depending on their level of exfoliation, peels can provide dramatic results. If not handled properly, however, peels could leave skin in a vulnerable state. This can mean raw, thinner, more sensitive skin that will be more difficult to manage.

Facial peels in acidic pH formulas may vary in their level of irritation. The lower the pH value, the stronger the acid activity. Acids are effective exfoliants, but acid-based peels that contain more than 10% total acid and have a pH below 3.5, should be done under the guidance of an esthetician.
In general, peels are placed in three categories: deep, medium and superficial, as explained in Peel Levels. More intense peels should only be considered for severe cases and after a great deal of research. The safest alternative to getting such harsh peels is receiving multiple sessions of superficial peels. Superficial peels can be found in significant strengths like 30% acid strength with 3.5 acidity levels when visiting a professional, or find them in 8–10% levels for home use. This minimizes the risk of overdoing it, and the client will be satisfied with fewer peel sessions than they may have thought.
In general, chemical peels that contain more than 30% total acid and have a pH below 3.5, should always be done under the guidance of a skin care professional. If left on long enough and in high concentrations, even superficial peels from fruit acids can be caustic. A trained skin care professional knows the amount and duration necessary for the skin.
Benefits of Superficial Peeling
Unlike chemical peels in a medical office, everyone can benefit from mild peels. These peels can be performed in no time and will leave the client with visible results and refreshed skin. Other benefits of superficial peeling are: lower cost, little to no recovery time, low risk and the flexibility to include them in other services.
Hybrid How-to
Glycolic peels were typically used in the past to help treat hyperpigmentation and uneven skin tone, but the newest versions combine alpha hydroxy acids (AHAs) with deep cleansing kaolin clay to create a peeling effect without potential irritation. Follow that with a sheet mask that combines peptides and seaweed to help hydrate, firm and brighten the skin's appearance. Skin will look brighter, texture will be refined and the appearance of wrinkles will be lifted, while skin remains hydrated and supple.
Step 1. Remove any eye makeup with gentle non-oily eye makeup remover.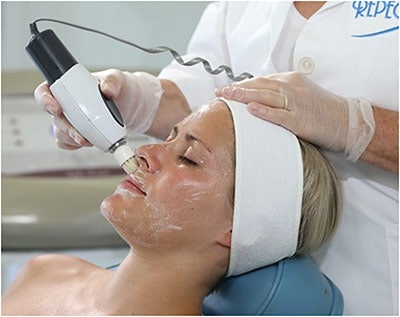 Step 2. Cleanse skin with a cleanser that also contains mild, hydrating oils. Use a mechanical brush to further help with removal of makeup. Remove any excess with cotton saturated with warm water and pat dry.
Step 3. Dispense contents of mask into a glass bowl and apply with brush to face, neck and décolleté area, avoiding eye contour area. Leave on 10 minutes.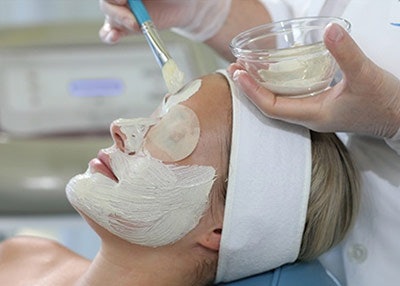 Step 4. Remove with wet cotton mummy mask and pat dry.
Step 5. Apply a sheet mask saturated in peptides, seaweed and aloe to client's face. Once mask is in place, peel off paper backing at the notch and discard. Adjust mask to fit tightly to the contours of the face and leave on for 10–15 minutes.
Bonus. Try using galvanic iontophoresis current for seven minutes, then leave mask on for additional five minutes.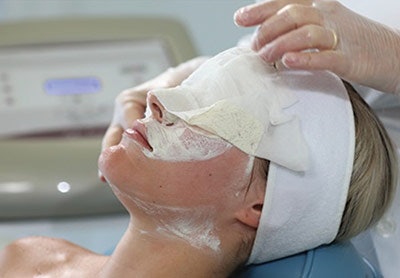 Step 6. Remove the sheet mask and proceed to perform a five-minute facial massage to work in the rest of the peptides, seaweed and botanicals from the mask into the skin. Incorporate effleurage, petrissage and tapotement for an added boost. Skin will look younger and feel firmer instantly.
Step 7. To finish, apply a full-spectrum, hydrating cream to the face for complete protection.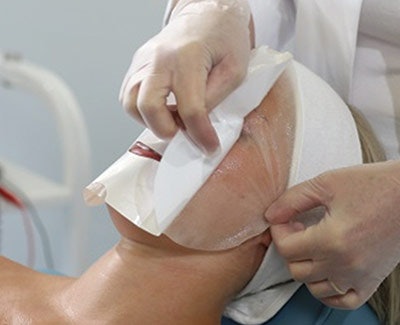 Contraindications
There are several preconditions that may preclude a chemical peel. For example, it is advised to avoid chemical peels if you are experiencing any kind of skin infection, any open wound, severely damaged skin, sun damaged skin, inflammatory dermatoses (dermatitis, psoriasis, etc.) and skin cancer (or any other kind of cancer during and after treatment, until approved by your doctor). Also, pregnant or nursing women will want to avoid glycolic peels, as skin sensitivity is increased, and should always consult a doctor prior to treatment.
Mild Exfoliation
As peels continue to be a popular skin treatment, new formulations and treatments are being developed to create gentle services that can quickly and easily reduce skin sallowness, make skin appear more luminous and reduce the appearance of wrinkles. Using natural ingredients to buffer the AHAs helps to create less irritation, while also providing a deep, effective cleanse to the skin. These treatments, incorporating cream and sheet masks, can even be offered in conjunction with other popular services, including manicures, pedicures and waxing.
REFERENCES
American Society of Plastic Surgeons.