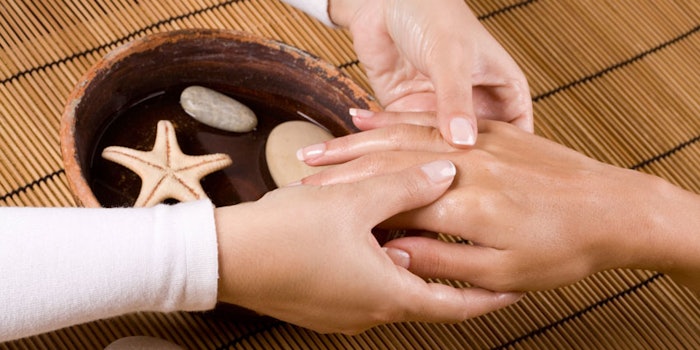 Your hands speak. Second only to your facial expressions and your voice, you tell your personal stories with your hands. Across all cultures and throughout history, human hands have also symbolized intention and personal power, from the sacred mudras of India to the traditional hula hand positions of ancient Polynesia. In a sense, everyone knows contemporary sign language; you gesture constantly, when words will not suffice.
Your hands are also ruthless timekeepers. Spots, roughness, dryness, lines and the flattening of the once-plump tissues—making hands look sinewy or skeletal, with prominent veins—not only tell the tale, but may even exaggerate the facts. The skin on the hands is the thinnest on the body; only the skin around the eye is more delicate. Combine this with the fact that hands contain no sebum glands, and that they are exposed to the elements, unprotected, for much of the year. And the integrity of the fragile lipid barrier of the hands is also regularly compromised by the use of alcohol-based antibacterial products to prevent the spread of infectious disease.
This means that hands not only tell a person's actual age, but they may look older than skin on other areas of the body that are more abundantly nourished by sebum protection, are not subjected to frequent washing with harsh surfactants and are usually better protected from UV, such as the thighs and mid-body. Hands now are a key focus for cosmetic rejuvenation procedures, including resurfacing and the injection of fillers to restore volume and "lift" to tissues for a younger, smoother look with fewer visible veins and smaller knuckles.
Today's professional skin care client is a holistic thinker who views smart aging as a total-body experience. And, clients start younger and younger, meaning that hand care makes sense now more than ever. Professional hand care treatments can be especially lucrative since they require no disrobing, are comparatively brief, and may be offered spontaneously, without an appointment. In addition, treatment of the hands, wrists and arms is a deeply soothing and de-stressing practice that helps to move lymphatic fluid more effectively, as well as relieve tension and discomfort from repetitive motions such as typing—especially true now in the world of constant digital dialoguing. This common phenomenon is exaggerated when ergonomics, such as work station posture, is not perfect. And whose is?
Hand massage
Children and teens are among the most frenetic texters and some even develop inflammation of carpal joints, especially the thumbs used in gaming. This includes boys! (For more information about hand injury-issues among tweens and teens, see www.kidzworld.com/article/15036-carpal-tunnel-syndrome.)
Offering therapeutic hand treatments for kids may be doubly beneficial to your business. Offering this service may allow more mothers to book their own appointments when they don't have a babysitter lined up. They can bring their youngsters with them to the spa. And, introducing young clients to the benefits of massage builds the basis for future clients.
What is the carpal tunnel? The carpal tunnel is a narrow tunnel formed by the bones and other tissues of the wrist that protect the median nerve. The median nerve provides feeling in the thumb, index, middle and ring fingers. But when other tissues in the carpal tunnel, such as ligaments and tendons, get swollen or inflamed, they press against the median nerve. Compression of the nerve can result from the repetitive use of the hands and wrists, diabetes, and/or hormonal changes, such as those pregnancy brings. That pressure can make part of the hand hurt or feel numb. Symptoms, such as numbness or tingling in the fingers, pain radiating up the arm and night pain are common. They can be evident when driving, holding newspapers and dropping objects. Data-entry workers were the first to report this phenomenon en masse, and today it is a common repetitive injury.
Nourishment and treatment
Customize—or literally hand-pick—a combination of your professional body and face products to address multiple issues on the hands, such as dryness, brittle nails, aging, hyperpigmentation, irritation and even more serious disorders, such as eczema. For example, begin with body washes, exfoliating body scrubs, massage oils and hydrating body lotions for your core protocol. Then kick it up a notch when it comes to addressing dryness, hyperpigmentation, inflammation and aging. Incorporate condition-specific concentrated serums, boosters or masks into your hand treatment to power up results while also using the opportunity to introduce problem-solving products for home use. Utilize electrical modalities when possible to help intensify the treatment: electric brushes and ultrasonic for the cleanse, and microcurrent or galvanic iontophoresis (positive polarity) to "push" active ingredients into skin to correct pigmentation issues.
Seek out some of these key ingredients in your treatment products.
For overall aging. Sunflower seed oil; retinyl palmitate; retinol; hydroxypinacolone retinoate (vitamin A derivatives); linoleic acid (vitamin F);
ascorbyl glucoside (vitamin C); palmitoyl hexapeptide-14; arginine/lysine polypeptide; palmitoyl oligopeptide; grape seed extract; hyaluronic acid; and grapefruit, orange peel and lemon essential oils.
For hyperpigmentation. Oligopeptide-34, zinc glycinate, phytic acid, licorice root, lactic acid, niacinamide, white tea and magnesium ascorbyl phosphate (MAP-vitamin C).
For extreme dryness. Almond oil, evening primrose oil, apricot kernel oil, borage seed, jojoba seed, cocoa seed butter, shea butter, argan oil, tocopheryl acetate (vitamin E), panthenol, and allantoin.
For inflammation and eczema. Colloidal oatmeal, zinc oxide, Avena sativa (oat), kernel and kernel oil, silicones, ginger, red hogweed, bisabolol and Portulaca oleracea extract.
More than a mani
Few high volume/low ticket nail salons offer skilled hand massage, nor do they use products that truly promote skin or even, for that matter, nail health. On the contrary, sorry to say, most bulk-type products are artificially fragranced and colored, and loaded with filler ingredients that could potentially be irritating. That's because the focus is more cosmetic like unifying nail length, taming cuticles, creating the latest fashion color combo or the longest-lasting gel. This "perfect storm" of difference represents a key opportunity for your skin care facility or spa. Although your menu may not include nail services per se—especially if you don't want the chemicals, fumes and dust of enhancement in your treatment space—professional healthy hand care is a viable addition.
Consider creating a hand bar at which clients, including teens, can experience the therapy of hand care services. Seasonal angles add to the appeal, such as exfoliation in spring; solar protection in summer (even though hands need year-round protection); skin renewing and brightening in the fall to address hyperpigmentation from UV exposure; and nourishing and warming, complete with a paraffin dip or warm mask, in the winter. The hand bar is an especially appealing offering for events at your space, such as fundraisers, girls' nights out, bridesmaids parties, bachelorette—and bachelor—parties.
Design a therapeutic hand treatment
When conceptualizing your new hand treatment, focus on nourishing the skin of the hands, the pleasures of holding hands and how our hands "speak" for you. Rough, ungroomed, weathered hands may suit a cowgirl or a lumberjill, but most want to minimize the dark spots, creases and overall tissue fatigue that mature hands experience.
In your menu offering, also allude to hard-working hands, starting with digital overuse in the high-tech world. Describe the therapeutic effects of hand massage as a method of relieving tension and pain in the hands, wrists and arms. Anyone who has ever washed a dish without gloves, changed a diaper (or a tire), driven on a freeway in blazing sun, shoveled snow or cleared a frosty windshield bare-handed can relate! See Treatment How-to: Customized Hand Treatment.
Most of all, remember that skin care professionals are privileged to touch their clients every day with their own bare hands. The art, science and craft of the skin care profession grants a unique human connection, and your hands must by appreciated and valued not only as tools, but also as powerful and healing communicators.

Annet King is the director of global education for The International Dermal Institute (IDI) and Dermalogica. She develops, writes, presents and monitors the success of all classes that comprise the IDI curriculum, and is CIDESCO-, ITEC- and CIBTAC-certified. King's initial career as the operations director for Steiner involved overseeing spas onboard several luxury cruise liners. This parlayed into extensive work in the skin care field in Singapore and other areas of Southeast Asia. She can be contacted at 310-900-0811 or [email protected].