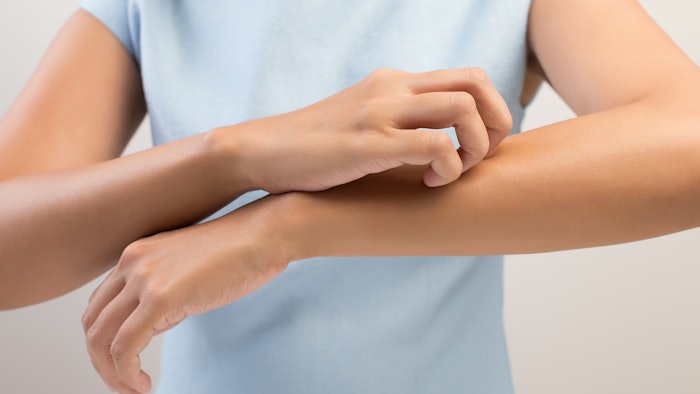 A literature review published in Plos One (February 18, 2022), found a significant and positive association between eczema and the risk of depression or anxiety. The authors posited that these associations may be due to loss of sleep, social isolation and itching, but also found evidence of physiological links.
Related: Psoriasis Linked to Mental Health Disorders
These included an association between enhanced inflammatory states and increased depression and anxiety, a positive association between the expression of cytokines in response to ex vivo stimulation of blood by lipopolysaccharides with current or previous depression/anxiety, as well as increased inflammatory markers and systemic oxidative stress in patients with eczema.
The literature review included 20 relevant cohort and case-control studies comprising 141,910 patients with eczema and 4,736,222 control participants. The authors also cited two animal studies that supported the physiological links between eczema and depression/anxiety.
Related: The Impact of Skin Imperfections on Consumer's Mental Health
Research in a mouse model of eczema found that the mice displayed anxiety and depression-like behaviors associated with changes in parts of the brain involved in processing reward. Another study found that antidepressant fluoxetine reduced symptoms of eczema in mice and relieved their anxiety-like symptoms by suppressing the psychological stress and inflammatory responses.
Related: Botulinum Toxin as Effective as Oral Antidepressant for Depression
In addition, a phase 3 trial of dupilumab by Simpson, et al, in the New England Journal of Medicine, found that treating patients with eczema with dupilumab can ameliorate the skin condition and improve symptoms of anxiety.
The authors encourage adoption of relevant protective/preventative measures to address the growing number of patients struggling with both eczema and depression/anxiety.