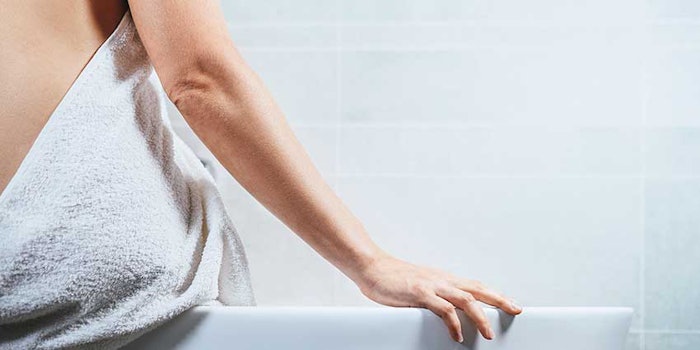 Say goodbye to bleach baths. A recent review in Annals of Allergy, Asthma and Immunology found that not only was there no difference in effectiveness of a bleach bath compared to water baths in the treatment of atopic dermatitis (AD), but also that bleach can present a host of side effects, such as stinging, burning and asthma flare-ups.
Clinicians commonly recommend bleach baths to those with atopic dermatitis because of their accessibility, low cost and relative safety. Bleach baths involve the following steps:
However, the systematic review and meta-analysis showed that water baths were equally effective at reducing severity of AD symptoms as the bleach baths described above.
Four of five studies examined in the review reported significantly decreased AD symptoms in patients treated with bleach at least once. However, other results spanned the board while comparing water and bleach baths. Pooled analysis resulted in no significant differences at four weeks versus the subjects' baselines for the Eczema Area and Severity Index.
Researchers noted that further, large-scale testing with randomized controlled trials are needed for further insight, and hope that results encourage hesitant eczema and atopic dermatitis patients to bathe regularly, something many avoid in fear of drying out their compromised skin.