Every aspect of the skin is a reflection of the body's overall well-being. For successful long-term results in maintaining skin wellness, a holistic approach is essential. Lifestyle, a proper skin care regimen, a balanced nutritious diet, stress management and physical activity all contribute to promoting healthy skin. The perfect synergy of maintaining youthful and clear skin is a matter of treating the skin from both the outside in and the inside out.
Acne
There are four grades of acne. The basic blackheads or comedones in the common t-zone area are grade I. Grade II acne is where inflammation appears, and papules and pustules populate in areas beyond the t-zone. Grades III and IV are often hormone-related. Acne is a skin condition that people of all ages and backgrounds suffer from. Individuals who deal with acne often do not feel great about themselves. They may be introverted not by choice but because of the severity of their acne. Unfortunately, acne is a skin condition that causes great vulnerability in people and creates desperation, which may lead to improper care in search of an easy or quick solution. The truth is, whether the concern is acne or aging, striving for balance is critical.
Digital Edition Link: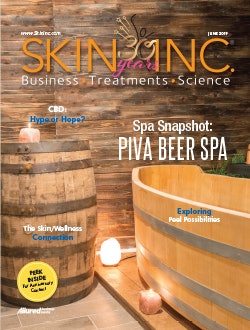 Treat acneic and aging skin holistically and see exactly how to do this in our digital edition!