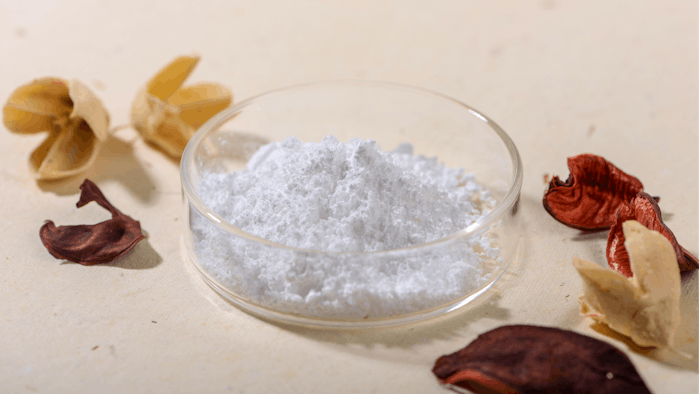 Allantoin is a naturally occurring chemical compound present in many living things and typically used in skin care products to reduce irritation and sensitivity. Due to its flexible effects occurring when combined with different substances, it can be used in a variety of products, including cleansers, lotions, masks and serums. An article from Medical News Today detailed the benefits and risks of the ingredient in skin care.
Related: Research Reinforces Indian Sandalwood Oil as Powerful Antioxidant
Pure allantoin is a white, odorless powder. Due to allantoin's anti-irritant properties, it is widely used in hydrating products and is suitable for sensitive skin. The ingredient is also commonly used alongside medication in child eczema treatments to soothe skin and reduce inflammation. Allantoin can be extracted from plants, but the most common method is to create it from urea and glyoxylic acid, according to the article.
A 2015 study cited in the article compared the anti-irritant effects of pure allantoin and comfrey extract, which also contains naturally occurring allantoin. While both substances reduced irritation, the comfrey extract that contained a combination of compounds was more effective than pure allantoin.
Combining allantoin with other substances produces different and often stronger effects, making it a valuable treatment for more than just dry skin. Aluminum salt of allantoin is an effective antiperspirant and acne treatment. In a small 2020 study of 31 women, respondents noticed a reduction in acne symptoms and improved skin barrier function when using a regimen containing allantoin and a blend of ceramides.
The combination of allantoin and onion extract is a common scar-treatment gel for onion's anti-inflammatory properties and allantoin's hydrating and epithelizing effects, helping to grow new skin cells. A 2018 study of 125 participants found that their scars were less noticeable after wearing an allantoin and onion extract patch after skin surgery.
A 2020 study found that pectin-allantoin films sped up healing time by 25% in rats with skin wounds, but research has mainly focused on animals and might not translate to humans.
There is currently no evidence that allantoin is toxic to humans, causes cancer, accumulates in the body or negatively affects the environment. Allantoin does not often cause adverse effects when someone uses it according to the product instructions, although irritation or an allergic reaction is possible.