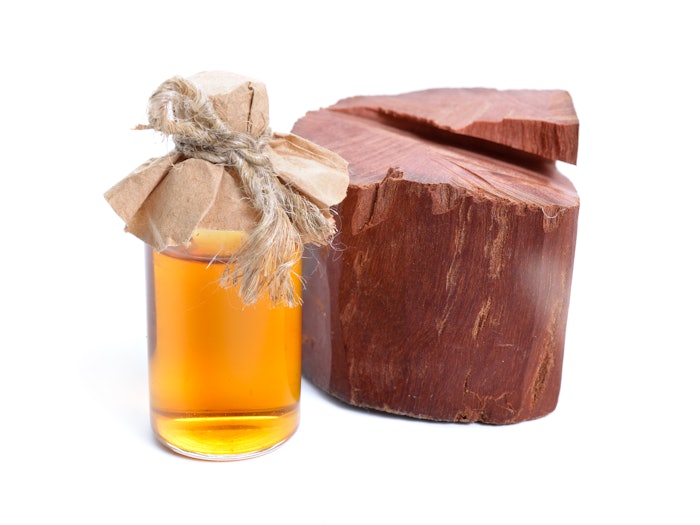 Clinical research published in Cosmetics Journal and commissioned by Quintis Sandalwood reinforced cellular research done by Quintis in 2021 that found Indian sandalwood oil to be more potent than vitamin E and offer protection from blue light damage. The study is the first clinical trial proving that Indian sandalwood oil at a concentration between 1% and 10% protects the skin against the oxidative stress induced by ambient dust and blue light exposure.
Related: The Healing Properties of Sandalwood
Indian sandalwood oil is the essential oil obtained by steam distillation of the aromatic heartwood of Santalum album. The study assessed the protective effect of a cosmetic product containing Indian sandalwood oil against cutaneous oxidative stress induced by environmental pollution such as ambient dust and blue light at a wavelength of 412 nm. To evaluate the effects of Indian sandalwood oil on skin, the level of oxidized squalene was monitored as a measurement of skin oxidation.
The results indicated that there was a dose-dependent decrease in the levels of free radical damage, with a concentration of Quintis Indian sandalwood (1%) representing a 24% decrease in Squalene monohydroperoxide (SQOOH) compared to non-treated study areas.
Dhanushka Hettiarachchi, Ph.D., technical products specialist for Quintis Sandalwood, said, "The clinical trial reinforces our previous peer-reviewed cellular research that found Indian sandalwood oil protects against oxidative stress in vitro. Given these ongoing reinforced results, the benefits of Indian sandalwood oil are clear, and there is a significant opportunity for cosmetic brands to consider incorporating Indian sandalwood oil into their formulations as a protective and anti-aging active with multifunctionality ingredient in cosmetics and dermatology, opening up the potential to offer those benefits to consumers through a range of topical products."